Project Summary
Photography by: Jessica Toale
WORDS by: Jessica Toale & Martha Molfetas
edited by: MARTHA MOLFETAS
April 2019
On the ground: August 2018


In August 2018, Jessica Toale spent about two weeks in Cape Town, as part of a journey she took to spend time living and working in ten different countries last year. During her time in Cape Town, she worked closely with Impact Human staff to collaborate on this unique and pressing project. She interviewed seven people, both in Cape Town and in surrounding areas. She spoke with a water management expert, farmers impacted by long term drought, community activists, and others all adapting to life at 50 liters a day.
In February 2018, the City of Cape Town set out restrictions to manage an increasingly scarce and vital resource - water. After dam levels reached just over a third of capacity, the City implemented a strict 50 liter per person per day water ration. Using in excess of this results in fines. But some who call Cape Town home do not have full access to water. Many in poorer areas have to queue up to collect water everyday, and rarely use more than the 25 liters they can carry. The water crisis has underscored the social inequities and disparities between those with the least and those in the middle classes. Cape Town is the wealthiest city in South Africa, with the highest income inequality. Nevertheless, lining up to collect water will become a reality for everyone if dam levels reach 13.5% of capacity - making Day Zero eminent. Day Zero would mean taps across Cape Town are shut off. Residents would have to go to one of 200 water collection points, and be limited to 25 liters per person per day.
All around Cape Town, visitors and locals are reminded to limit water use through the Think Water and other initiatives via billboards and signs. Businesses are also doing their part to remind patrons to limit water use when using the lavatory. Thanks to public education efforts, recent rations, water management efforts, and a very welcome amount of rain; Cape Town avoided Day Zero, which was anticipated for April 2018. Now Day Zero is anticipated for August 2019, thanks to a very strong El Nino that brought dam levels back up.
In March 2019, the City increased water allowances to 105 liters per person per day. It's unclear as of yet if this increased allowance will help or harm communities in the long run, as the reality of climate change means a world with water displacement, where many areas face drought while others see drastic flooding - both occurrences unprecedented respectively.
Cape Town is planning to spend up to $1.5 billion to construct four water desalination plants to provide water for residents. Currently, these plants rely primarily on fossil fuels. Meaning that the City's response to adapt to climate change is actively contributing towards climate-causing emissions.
Addressing Cape Town's water crisis will require a long-term plan that takes into account the co-benefits of: climate resiliency and mitigation, emissions reductions, community engagement, and fostering social equity. Right now, the world is watching to see just how Cape Town will rise to the new reality of water scarcity in a climate-changed world. What Cape Town does can serve as a learning opportunity for future cities and communities also running towards their own Day Zeros.
Research Brief
Learn more about what has led to Cape Town's water crisis, the solutions the City is implementing, and what future solutions the City could inact to avoid Day Zero.
Stories from the Field
The reality of life at 50 liters per person per day has been an awakening. For those in the City, it has meant the realization that water is a finite resource. But for those in agricultural areas, prolonged drought has been an ever-present force for years; it's even crippled some small farms. The dichotomy between income levels, between rural and urban water access will be something the City and the nation of South Africa will have to address in the years to come. Below are the stories from Cape Town, showcasing the challenges of access to water and to life below 50 liters.
Sikelele Dimbela | Khayelitsha
Sikelele is a community activist and the owner of Siki's Coffee Café in Khayelitsha, Cape Town's largest township. After working for one of South Africa's biggest coffee chain brands, Siki decided to set up on his own out of his mother's garage two and a half years ago. He has seen first-hand the challenges of accessing water for these communities. He plans to expand his business and make it a hub for creatives and entrepreneurs in the Township.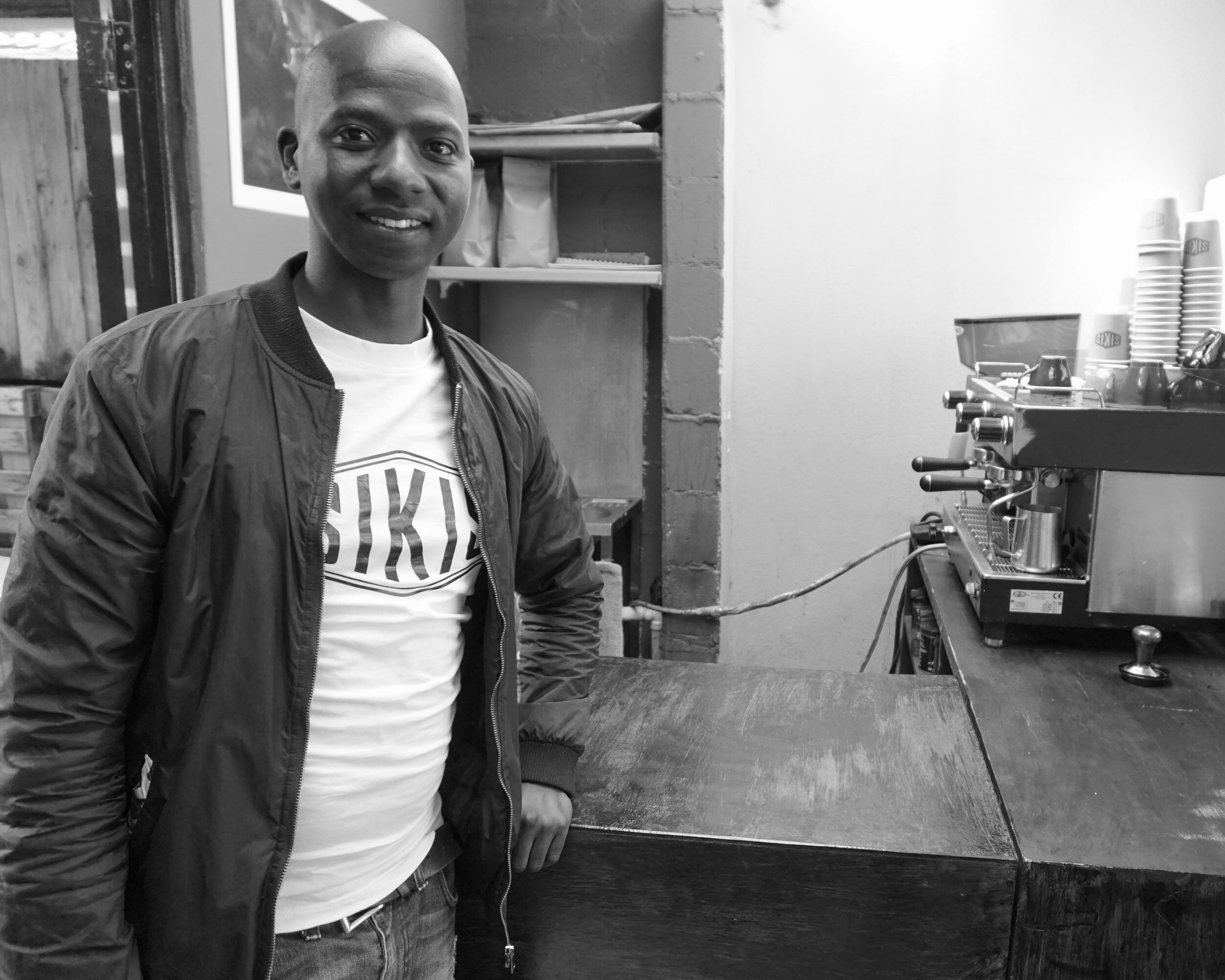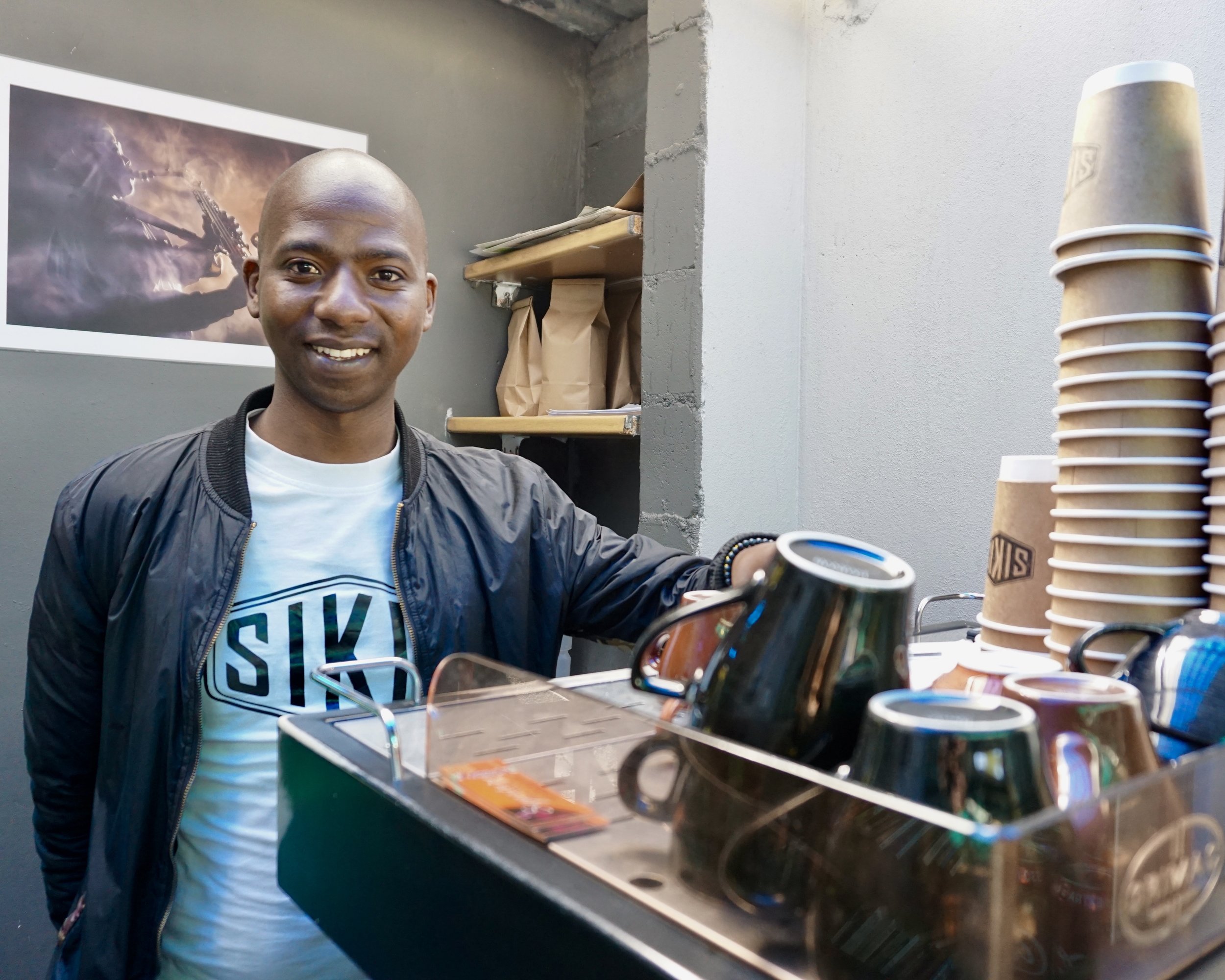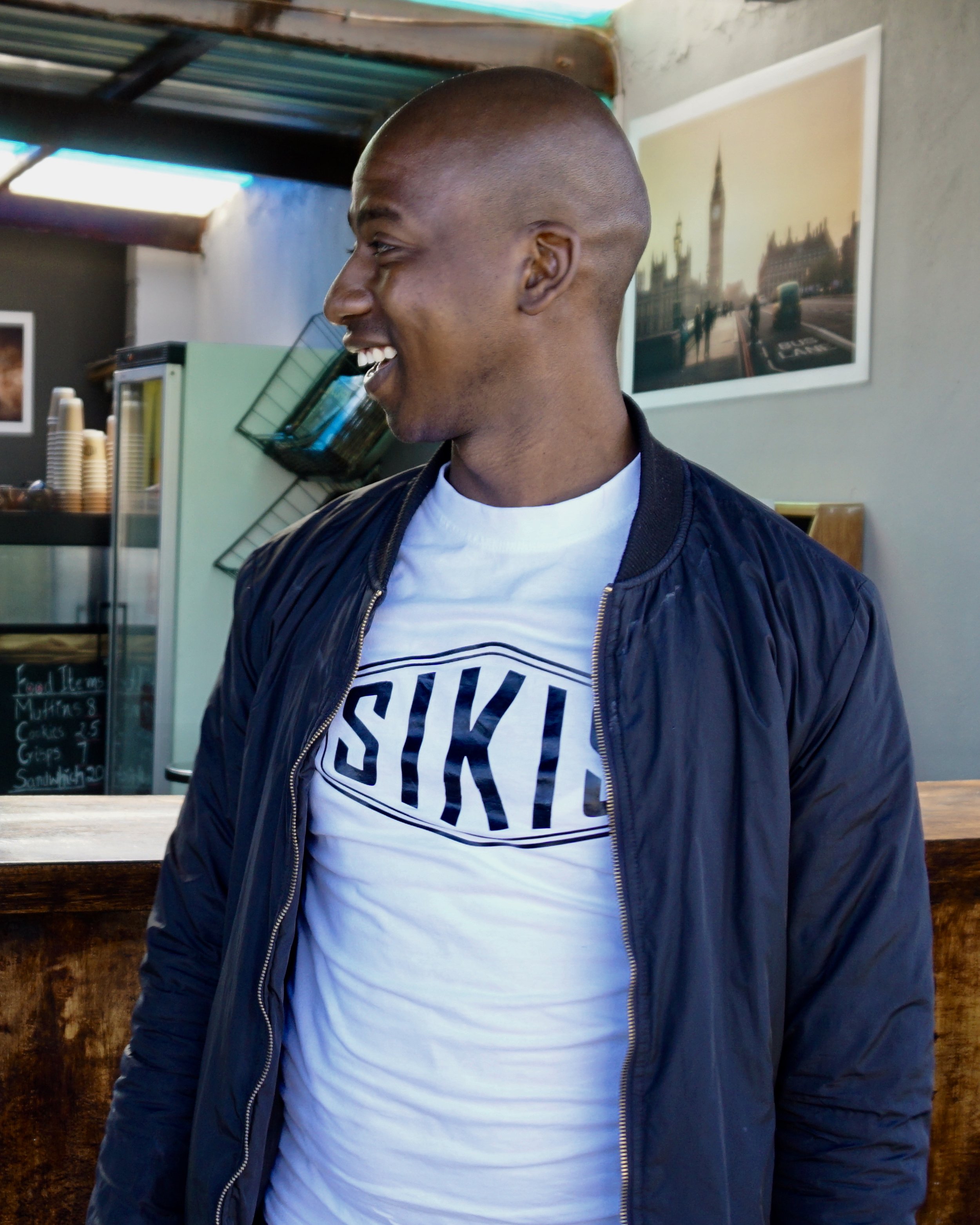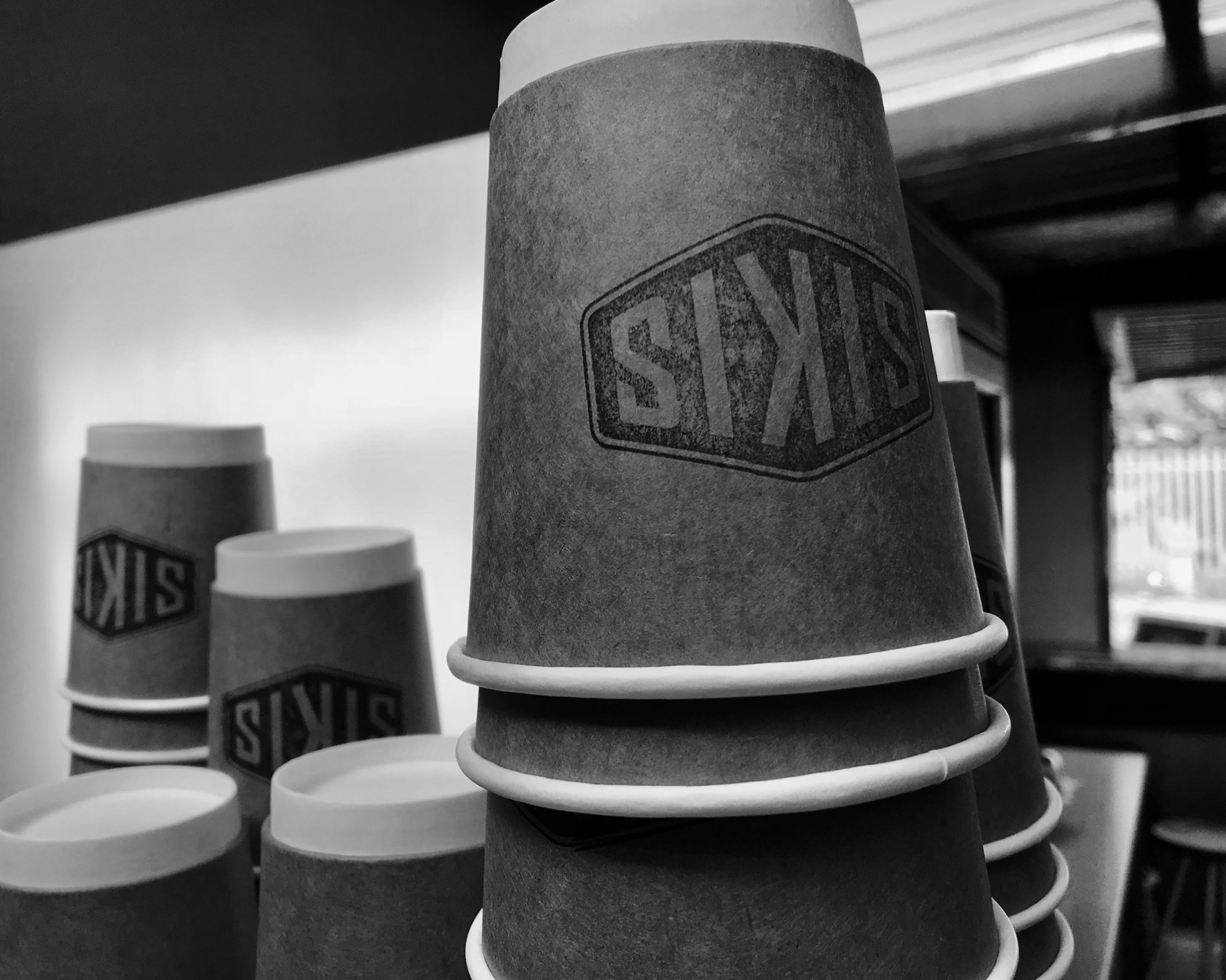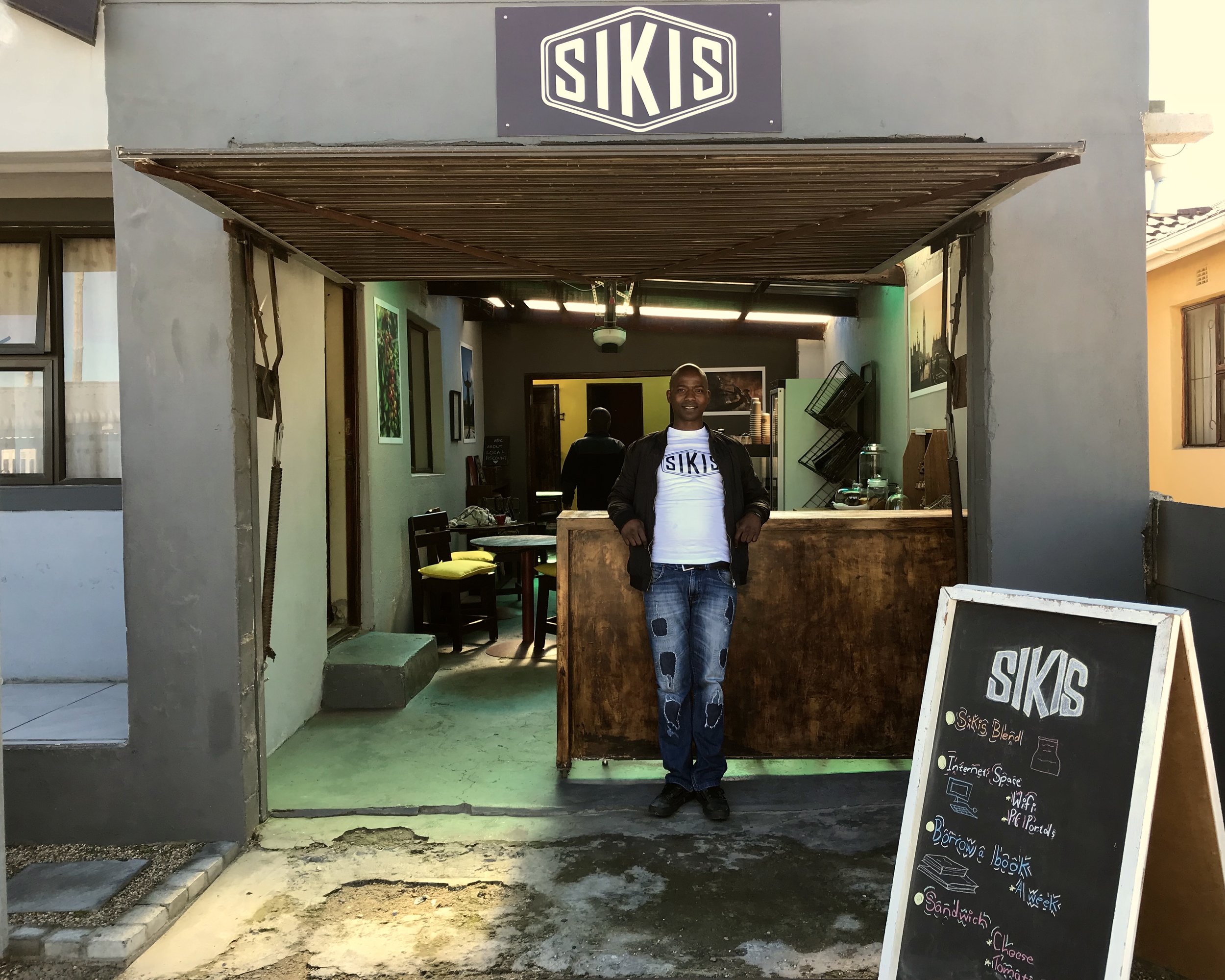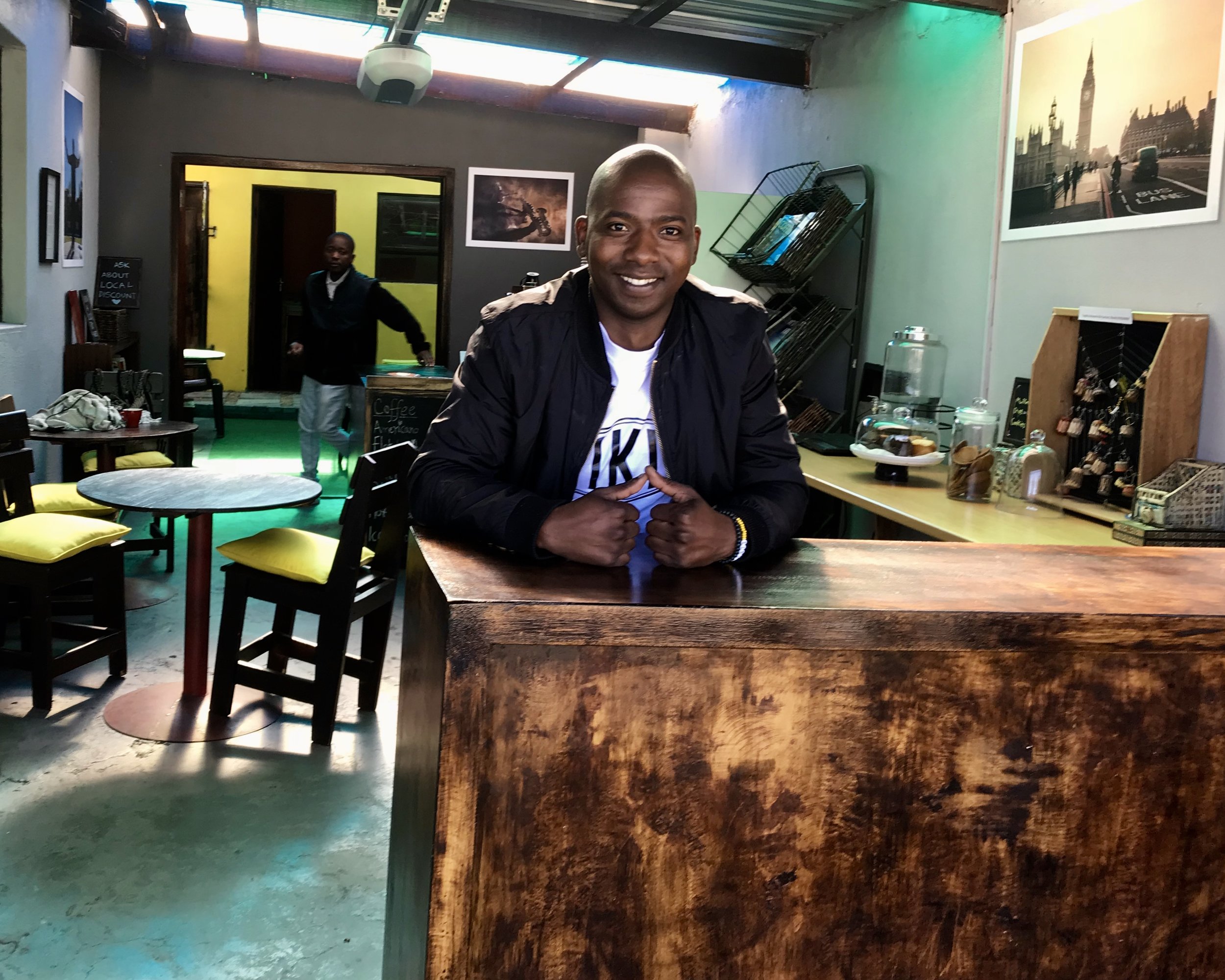 Hover your mouse over the image to see interview quotes and descriptions.
Natalya Nesbit | Klein Karoo
Natalya is a farmer in the Klein Karoo. She and her partner own a small farm near Ladismith. They moved to the area from Cape Town three and a half years ago. There has been no rain, and they are now on the verge of losing their farm and their livelihood. Natalya also runs a business bringing fresh farm produce to the Cape Town metro area. However, this business has been suffering since the drought hit in 2015.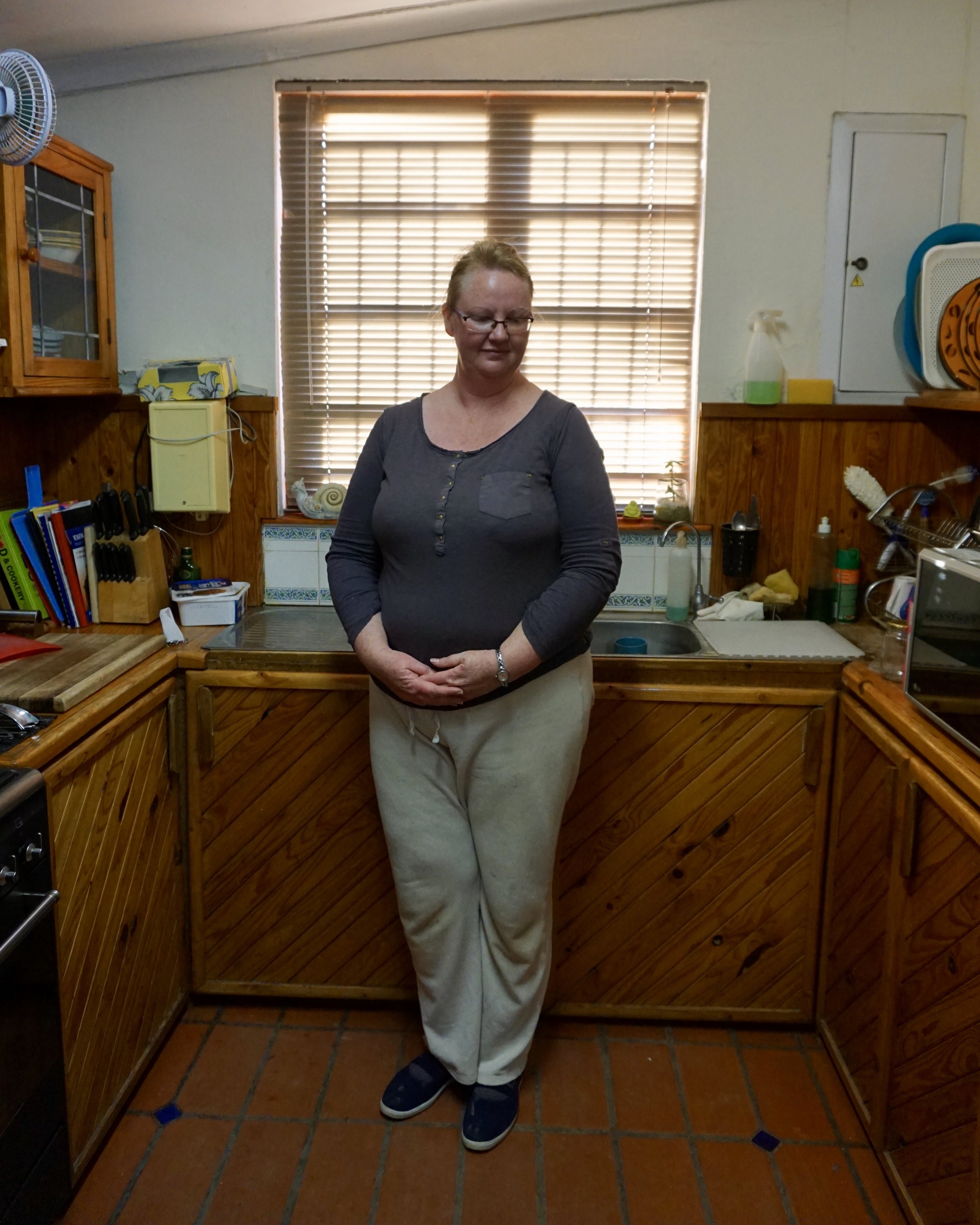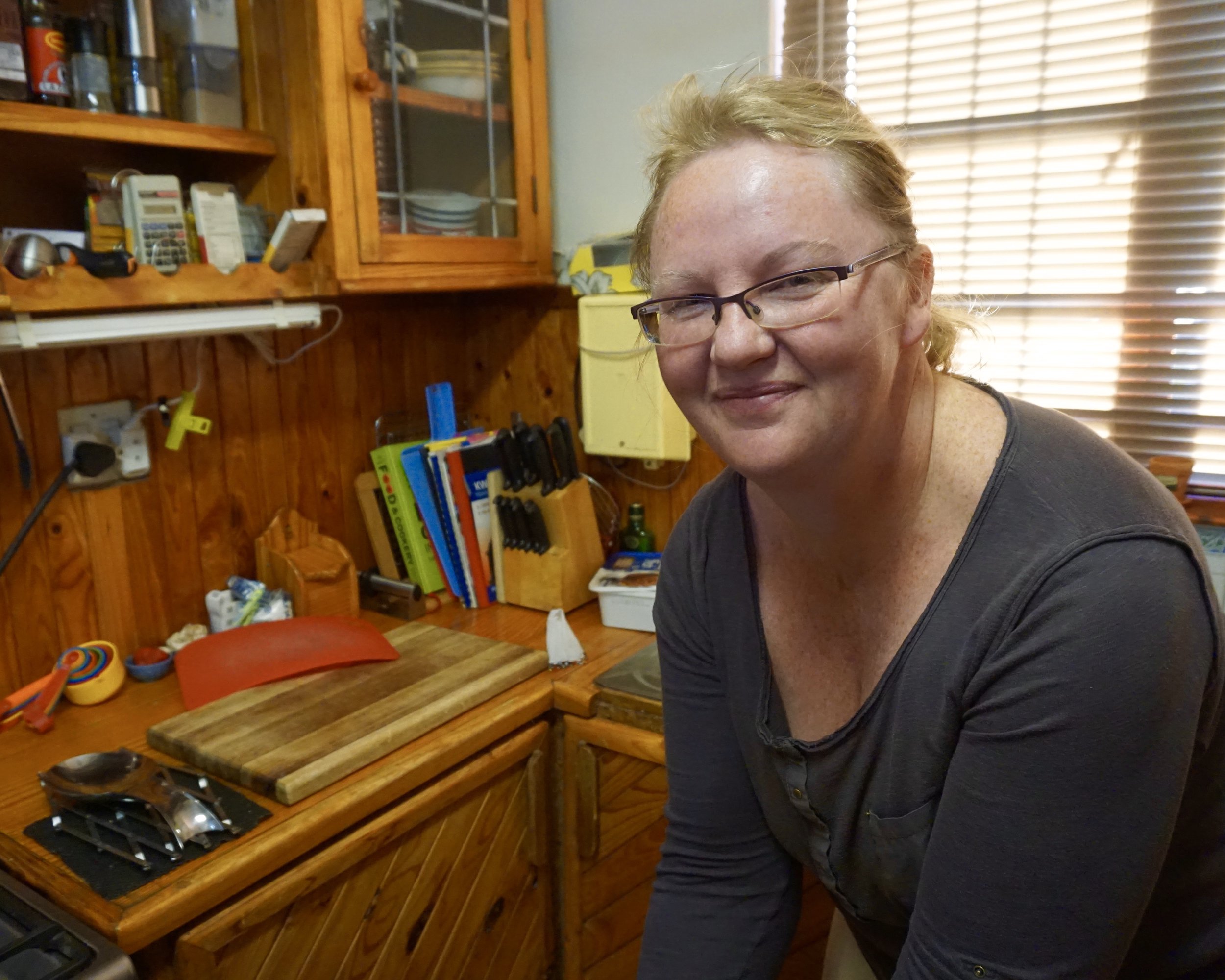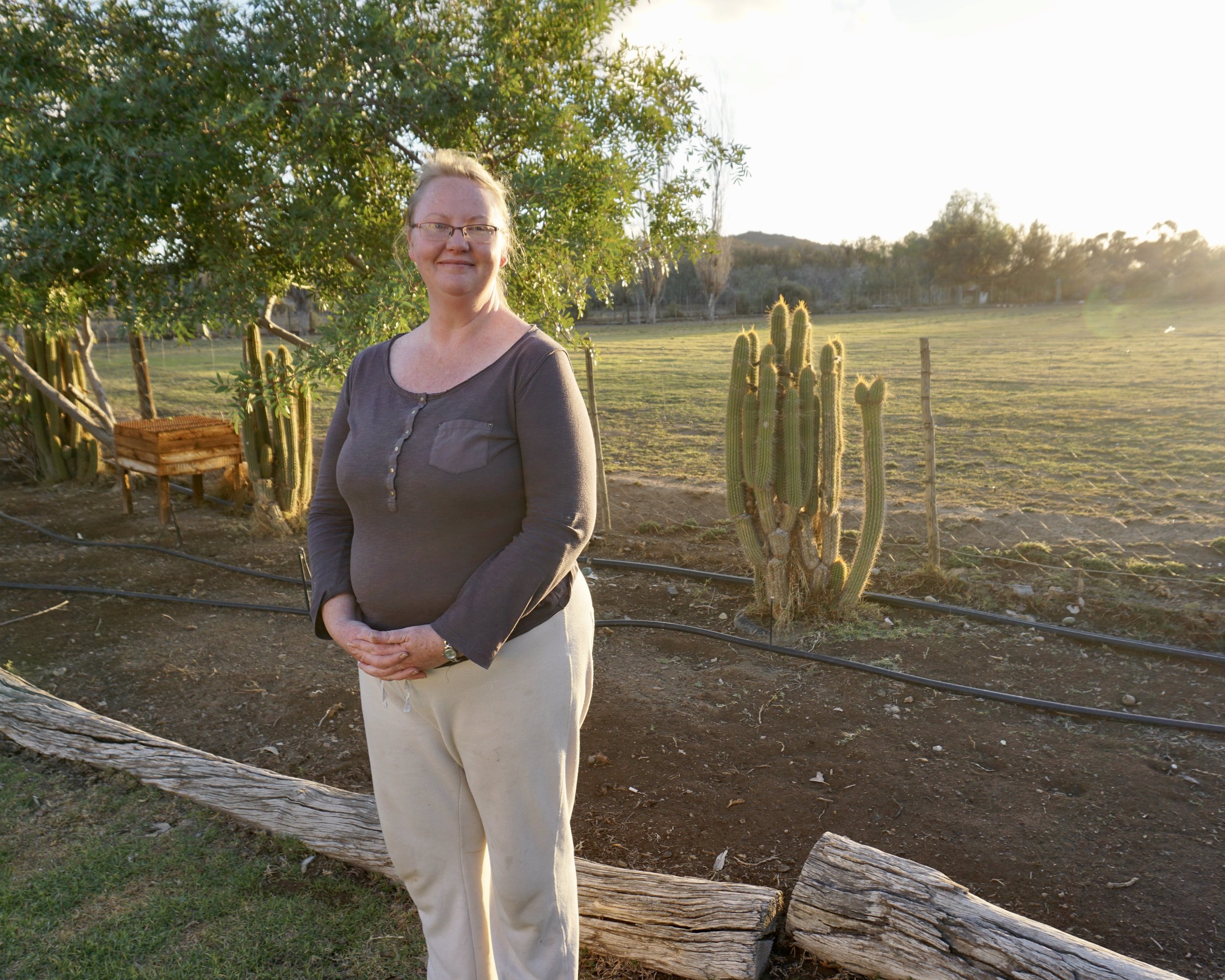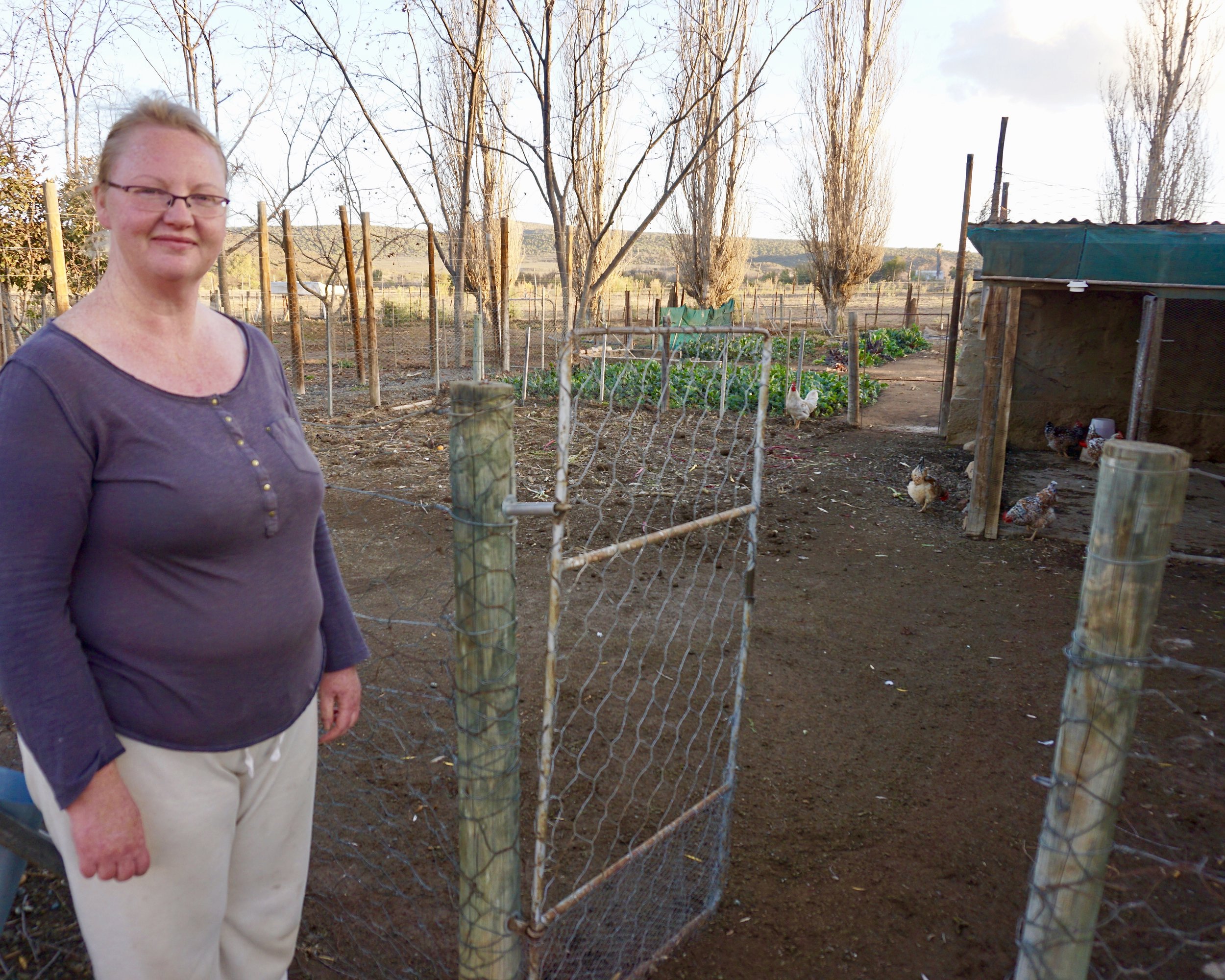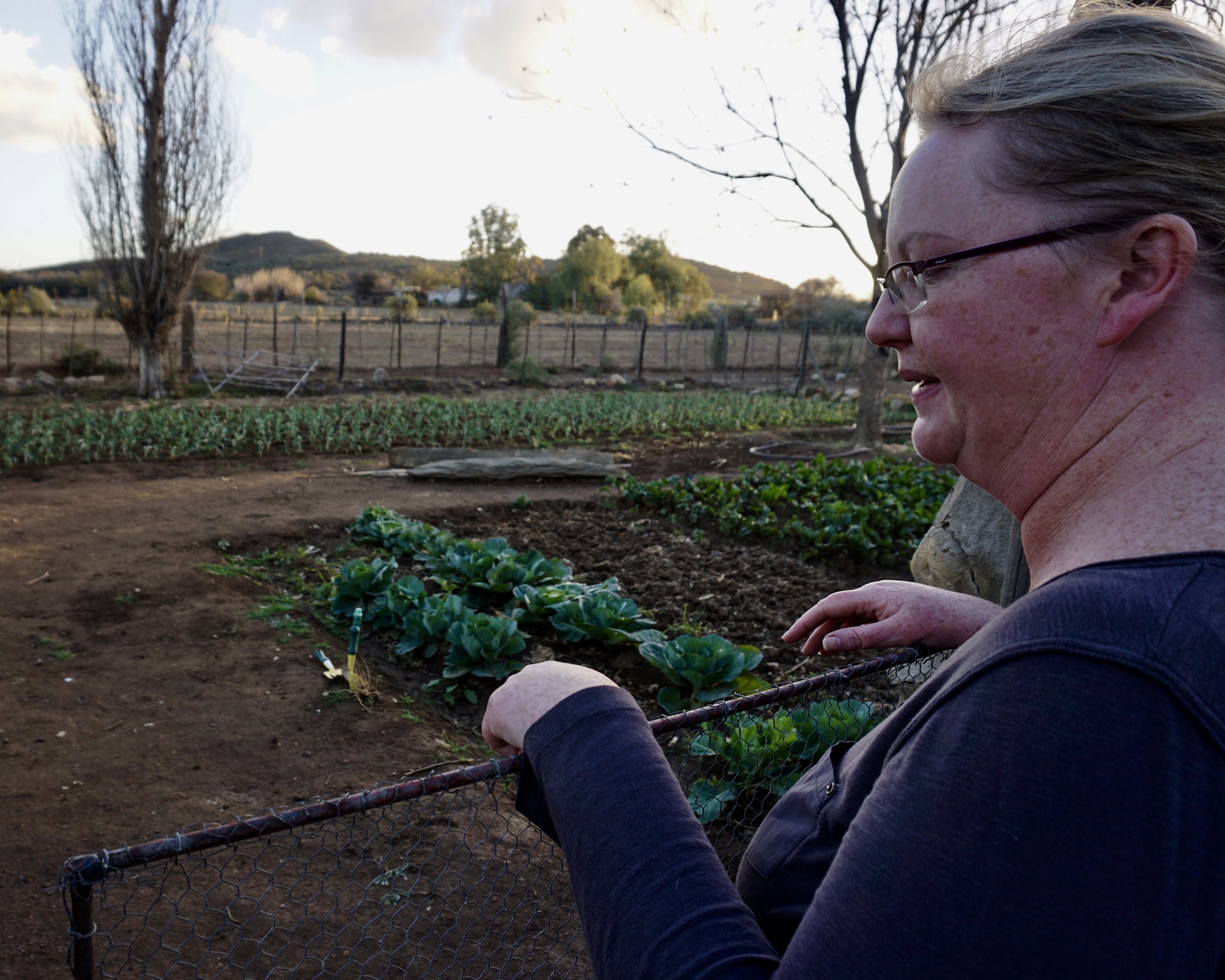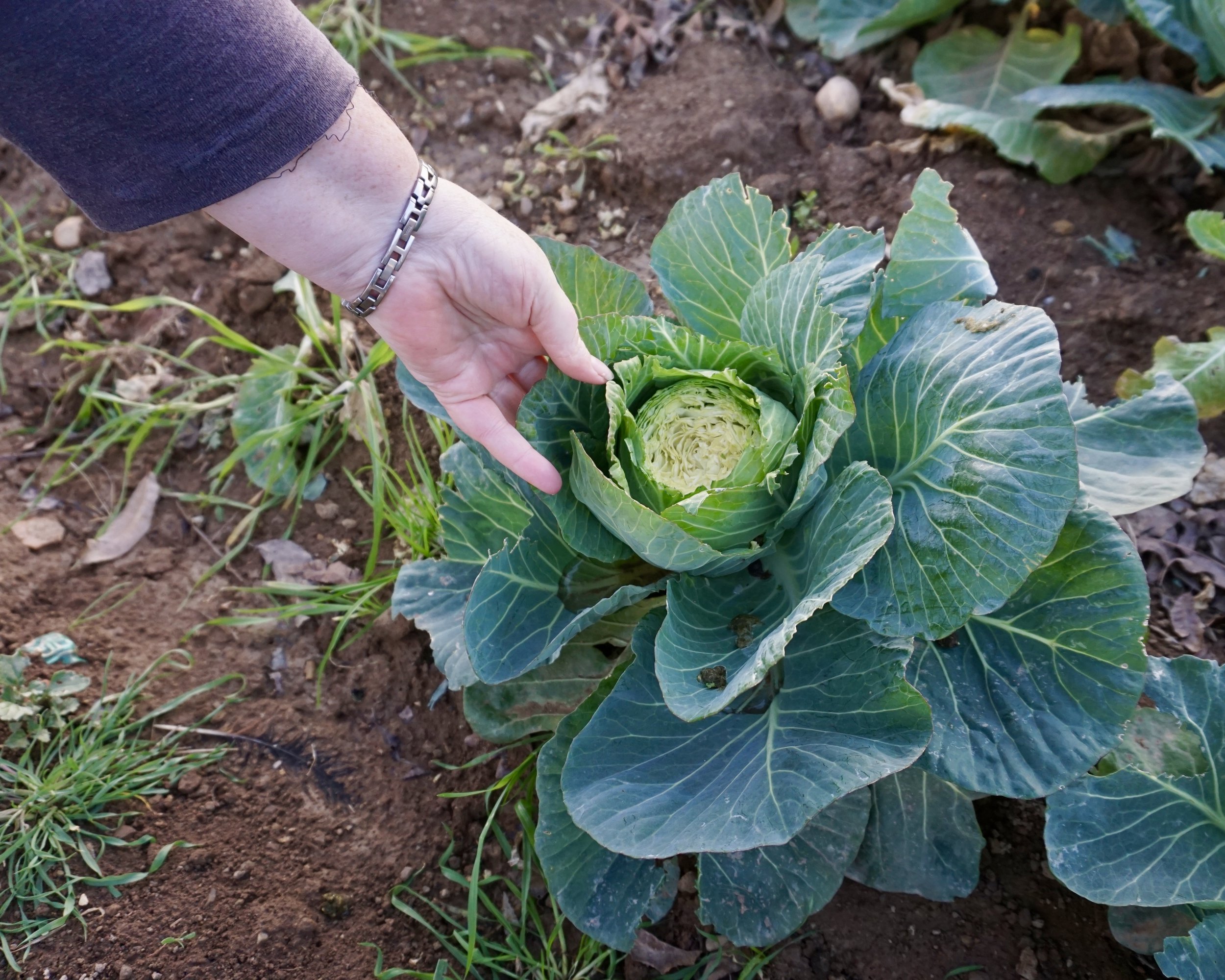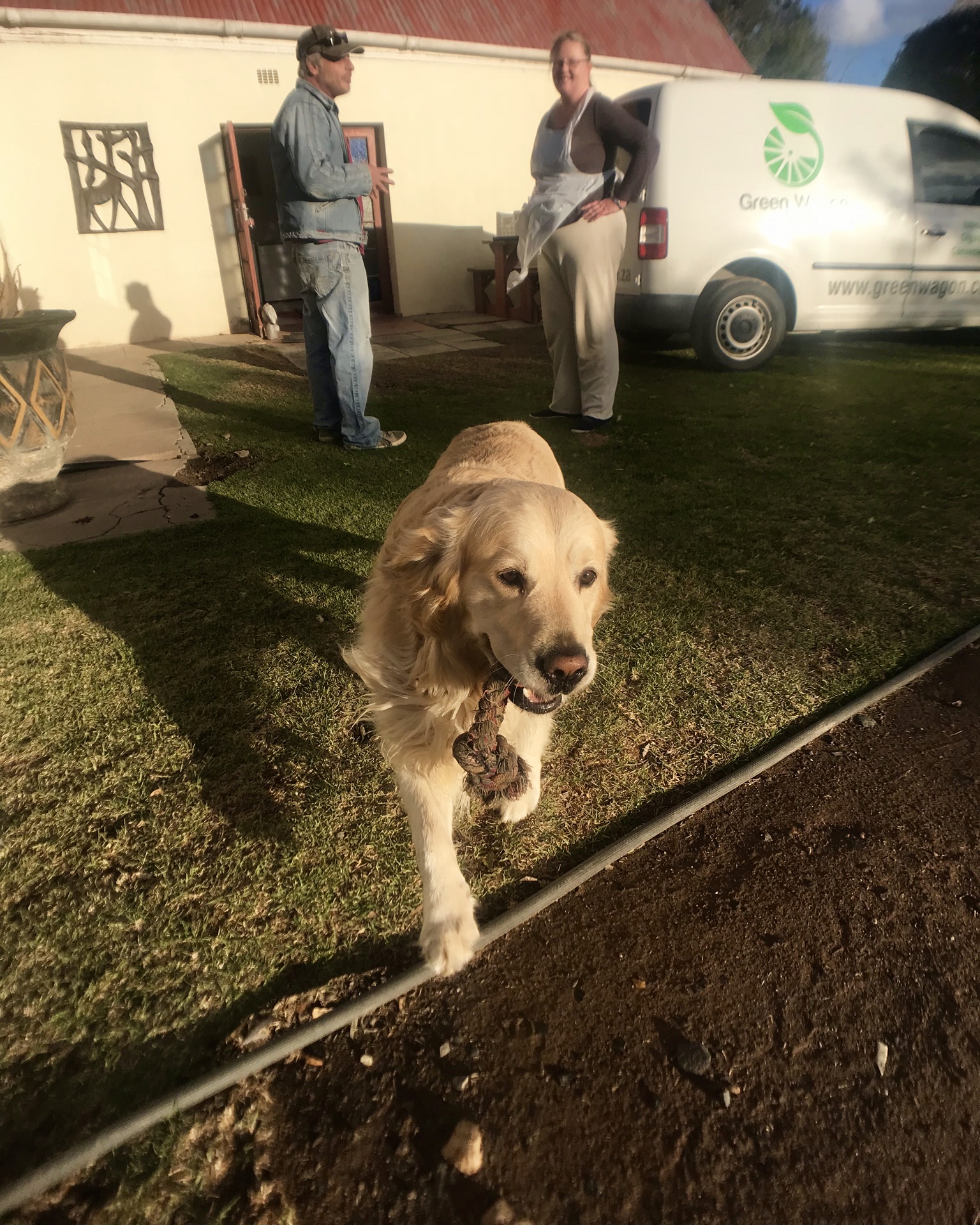 Hover your mouse over the image to see interview quotes and descriptions.
Carl Buckle | Klein Karoo
Carl is a farmer in the Prins River Valley in the Klein Karoo. Carl and his family have been in the area for the past seven years. Originally Carl grew alfalfa, known locally as lucerne, and raised sheep, goats and ostriches. Since the rain stopped in the area he has had to sell almost all of his animals, and the farming he does now is seed production, which uses significantly less water. He and his family are now deciding whether to continue farming, or to sell the farm before they are no longer able to do so.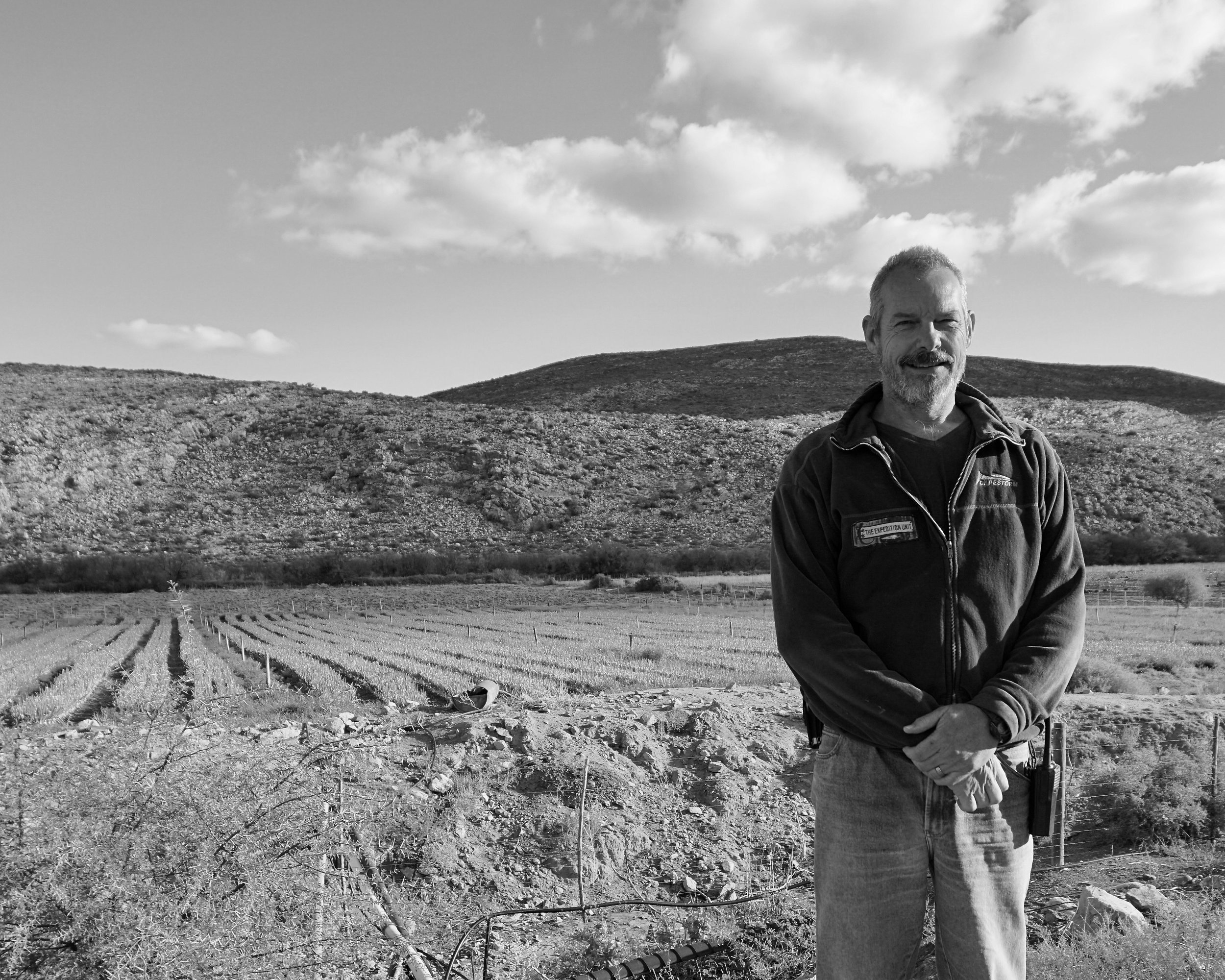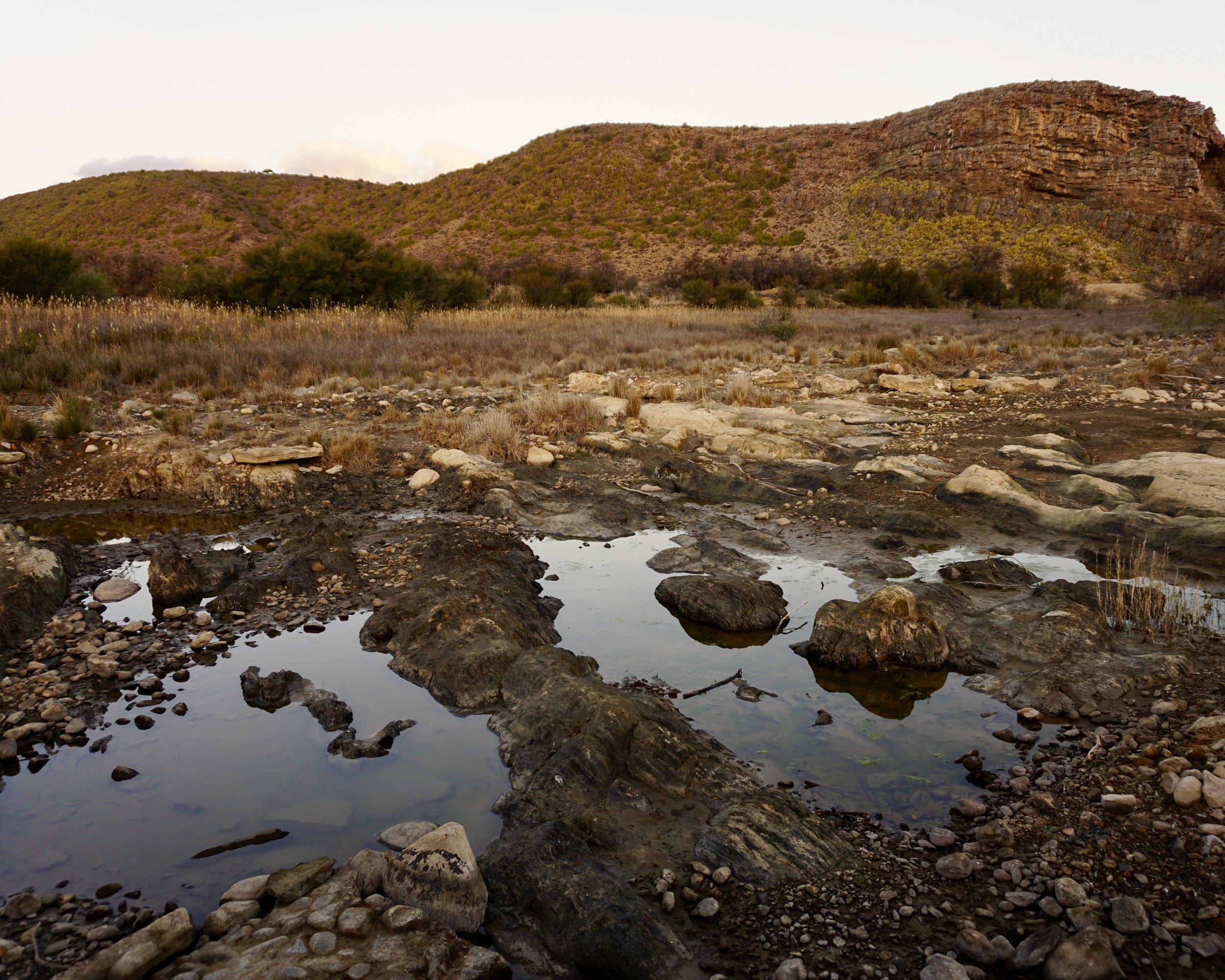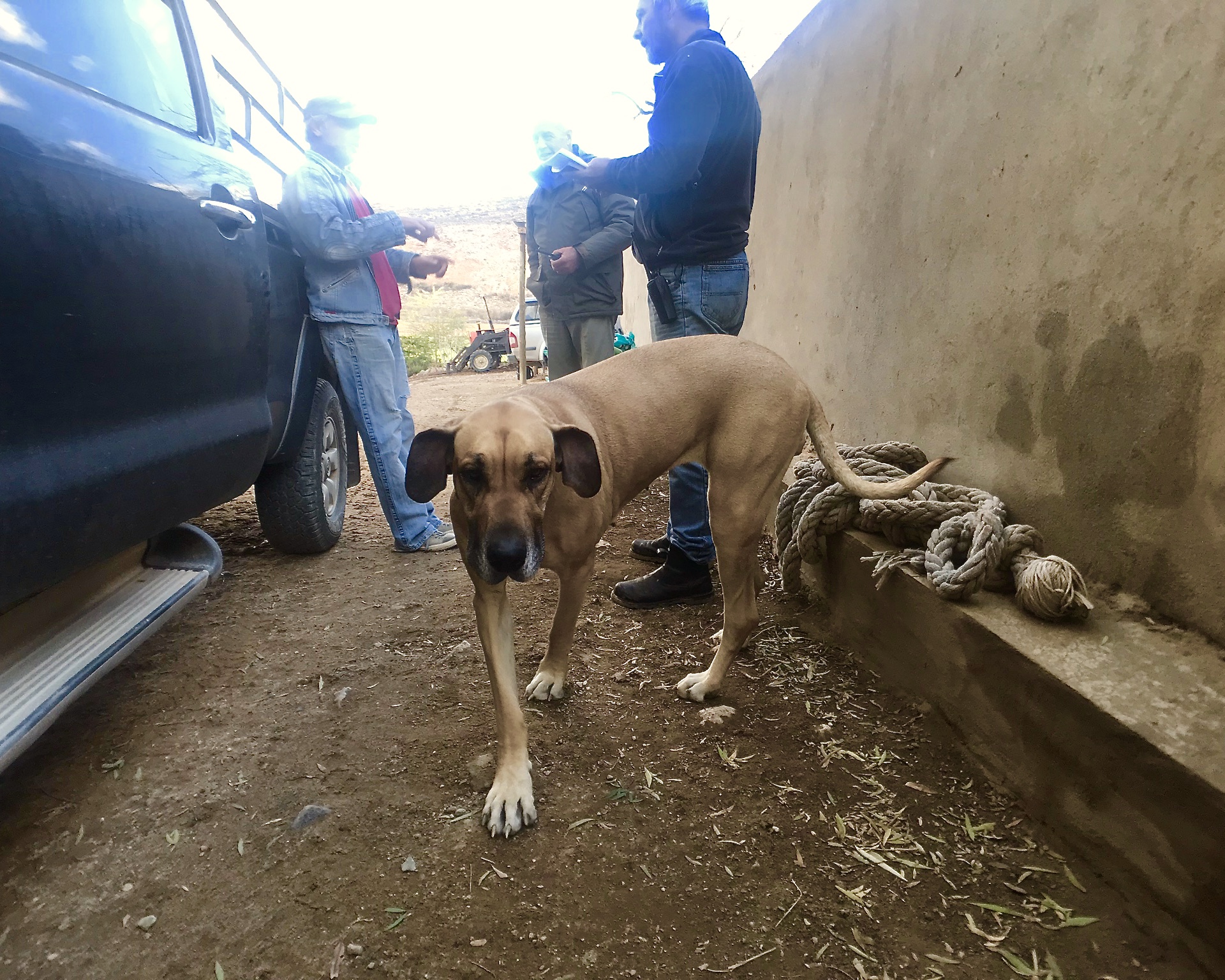 Hover your mouse over the image to see interview quotes and descriptions.
Andrew Sokolic | Klein Karoo
Andrew Sokolic is an activist who lives in Plathuis in the Klein Karoo. While his main source of income comes from installing solar panels, he and his girlfriend live completely off-grid on a small farm where they raise sheep and pigs. He has lived there for ten years. In 2016, Andrew set up the Western Cape Water Shedding Facebook Group after seeing the widespread impact that the water crisis was having in his local community and beyond.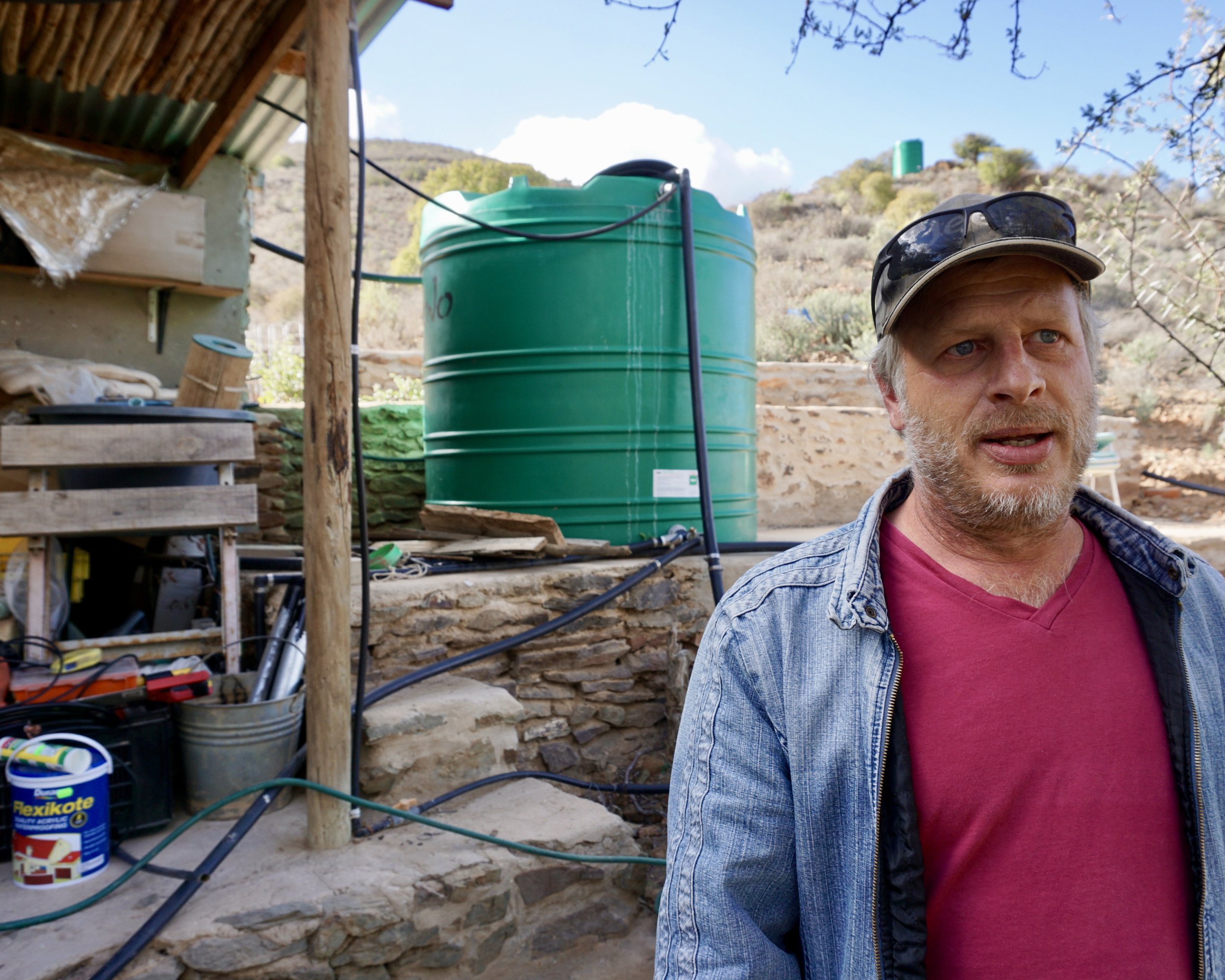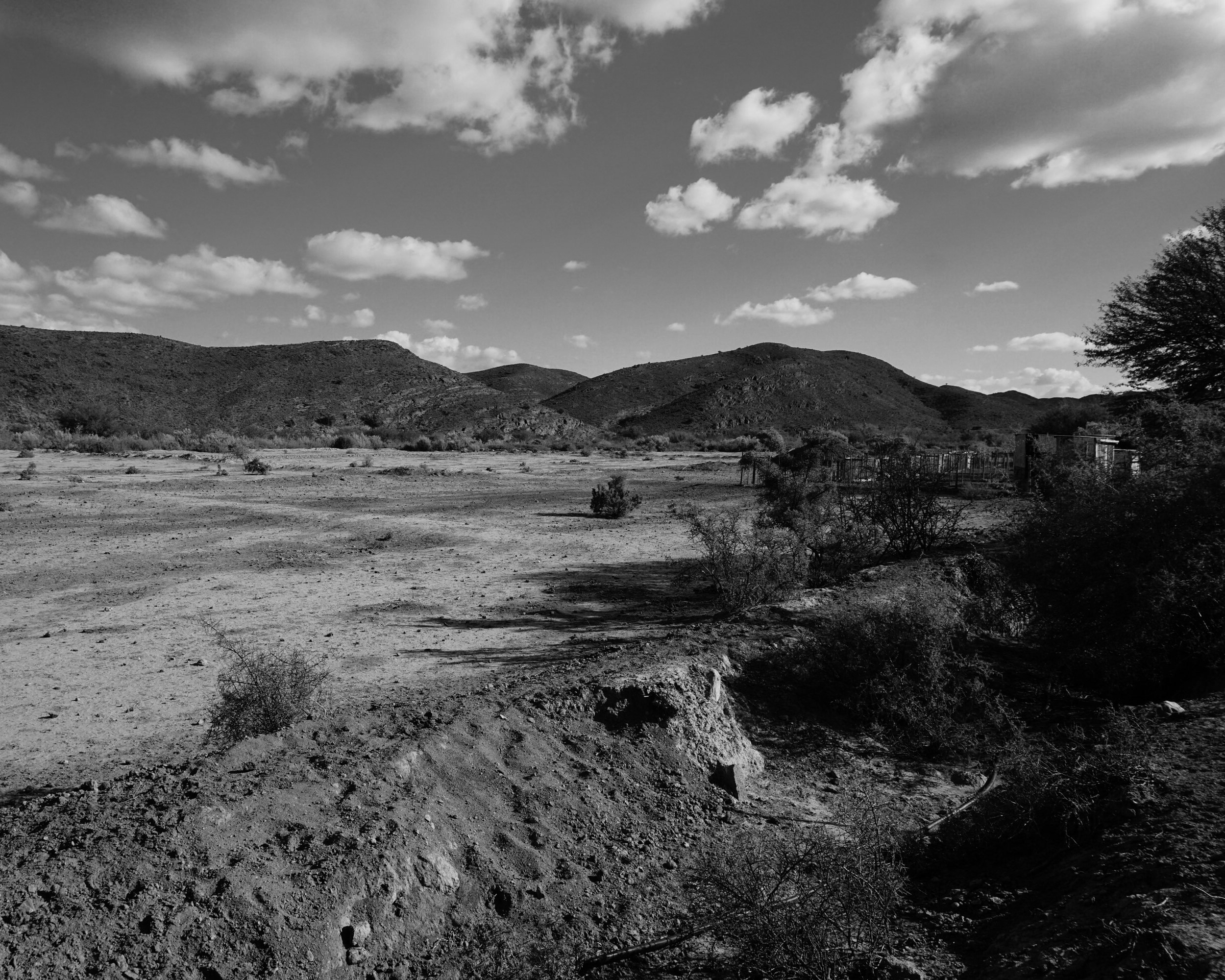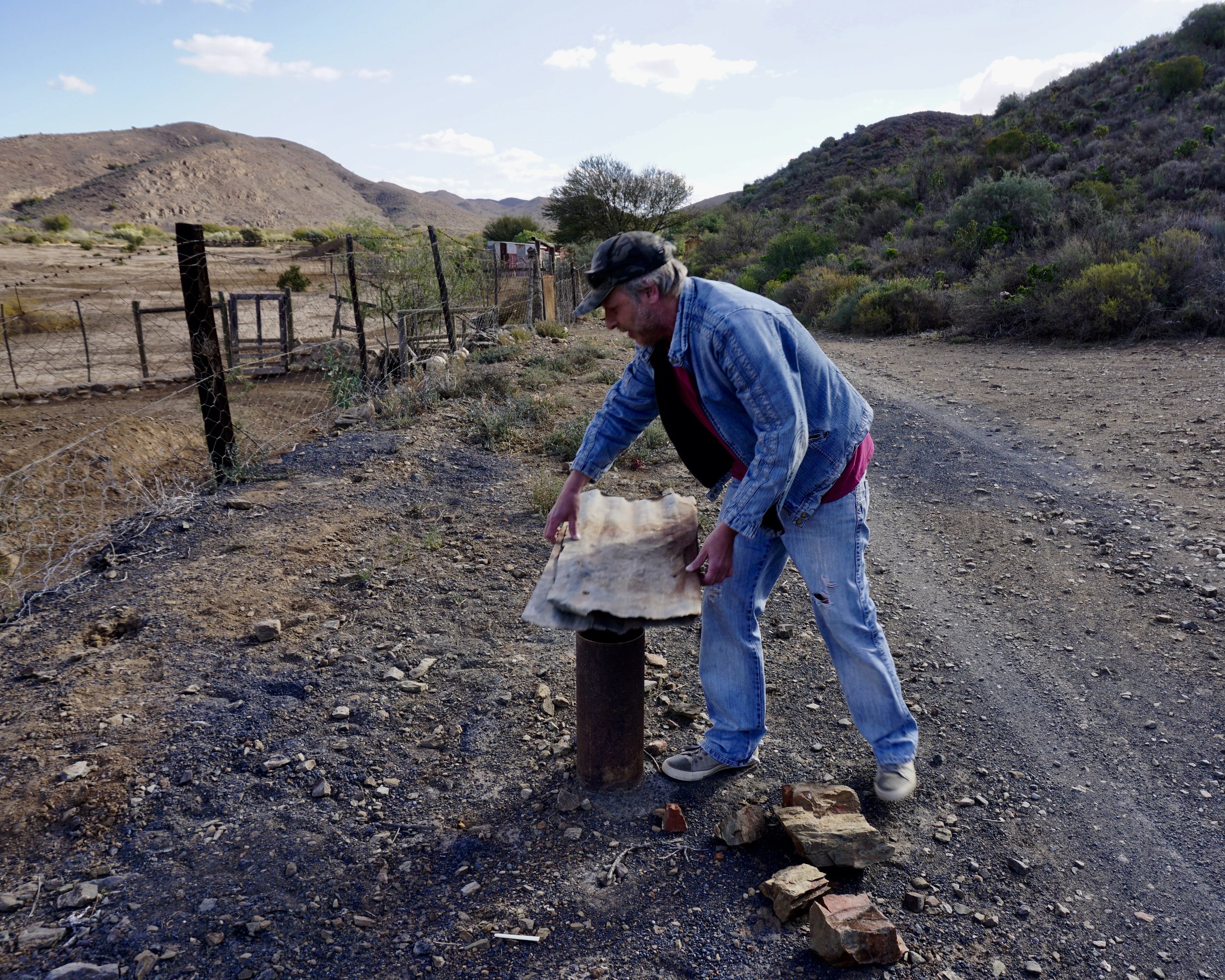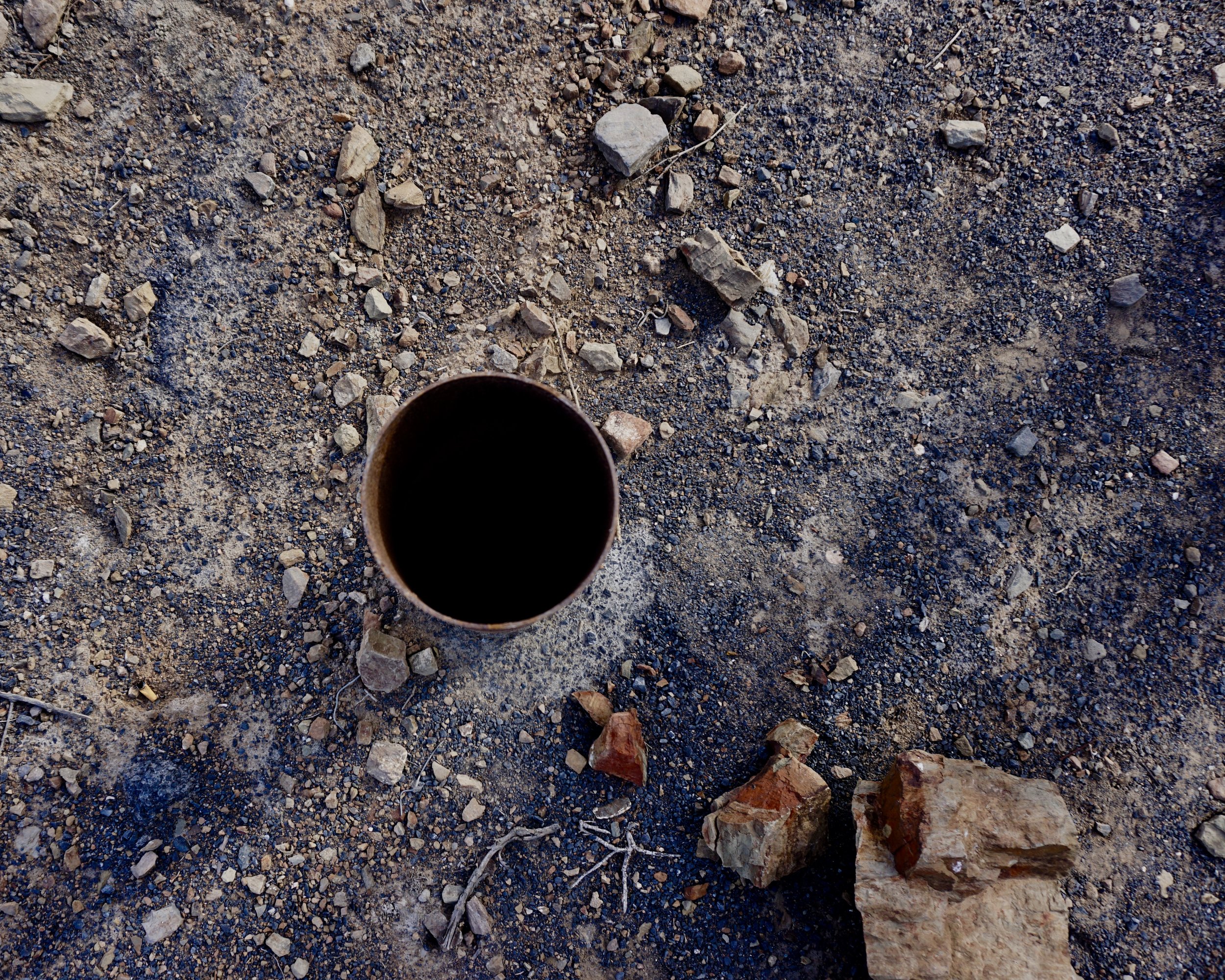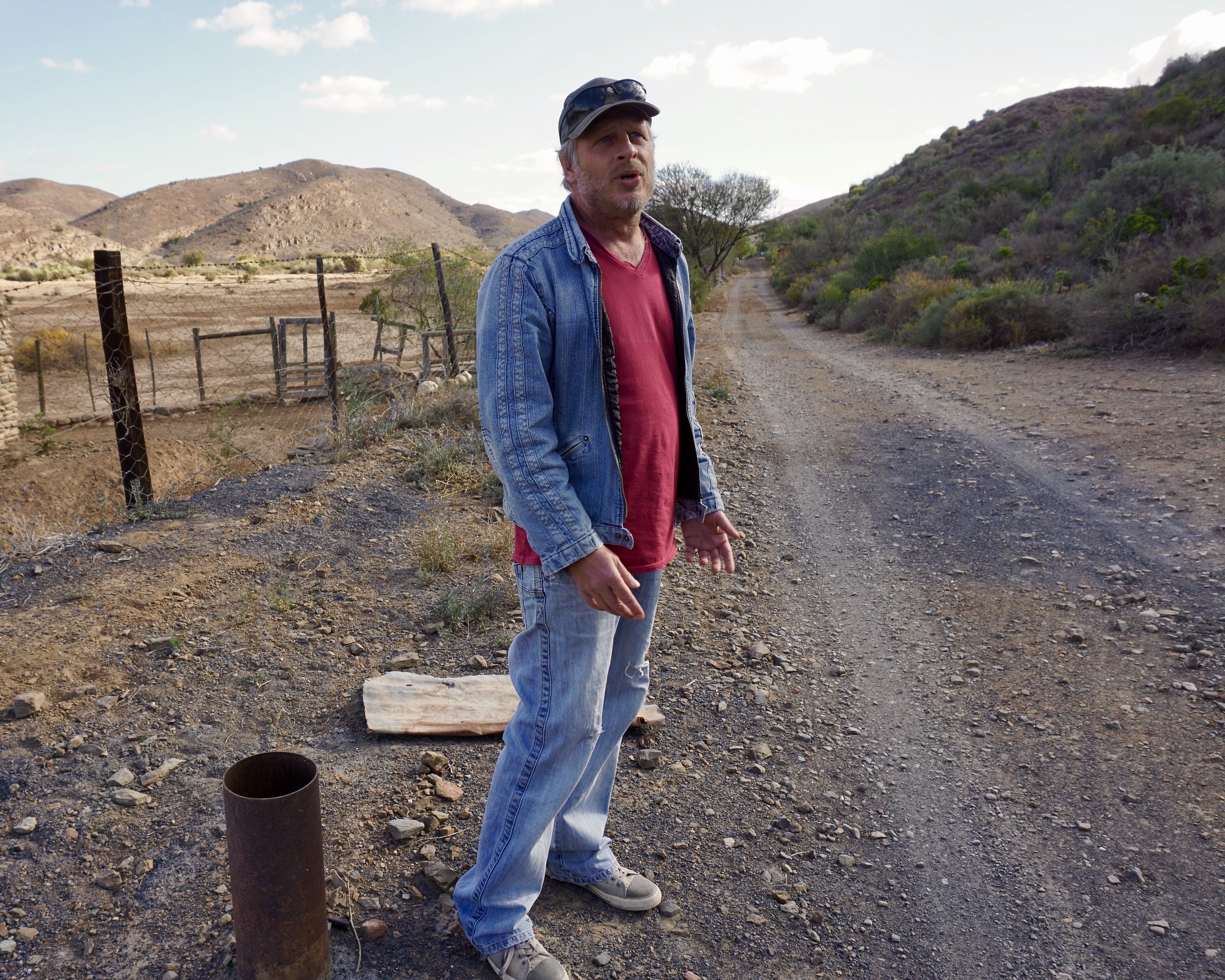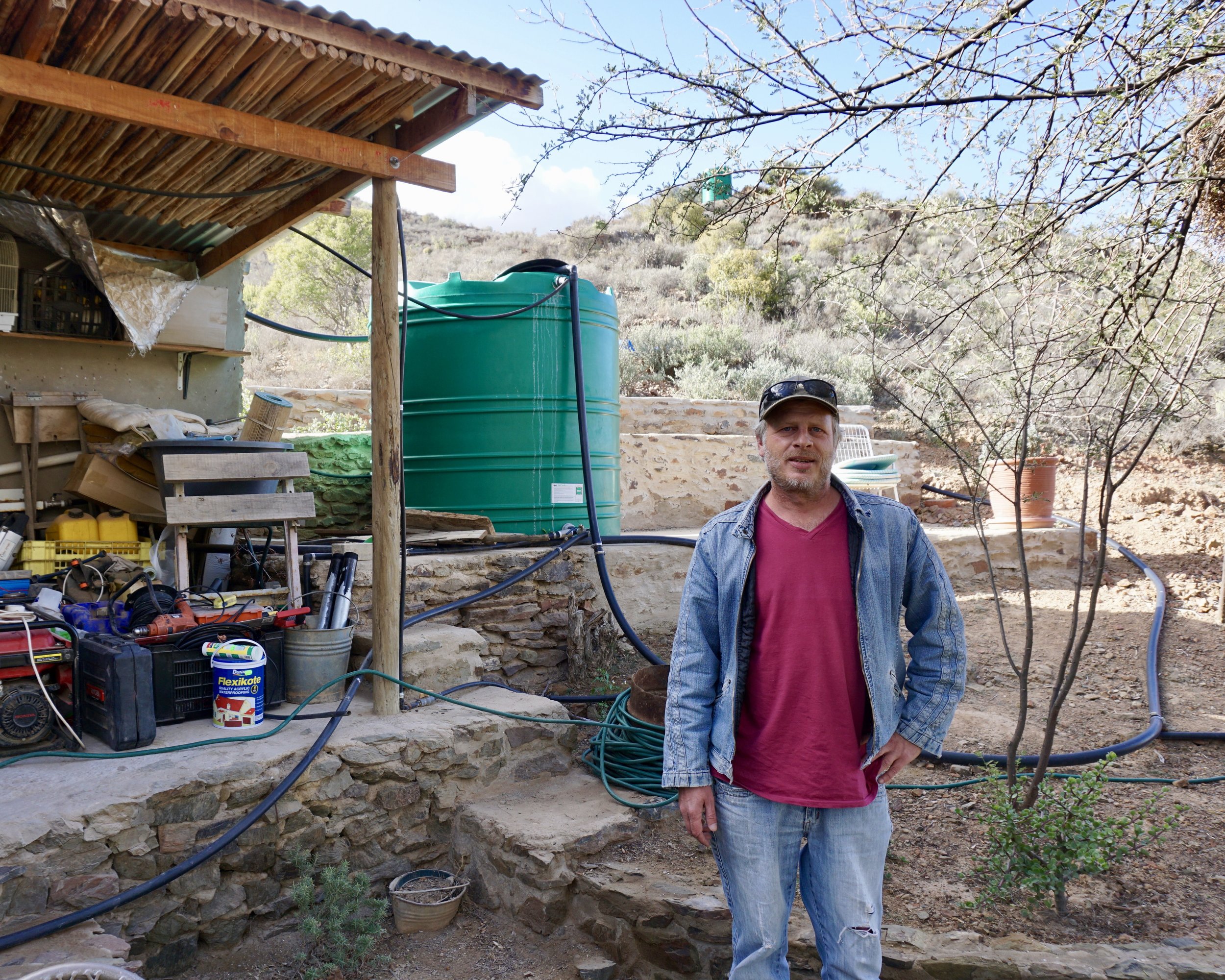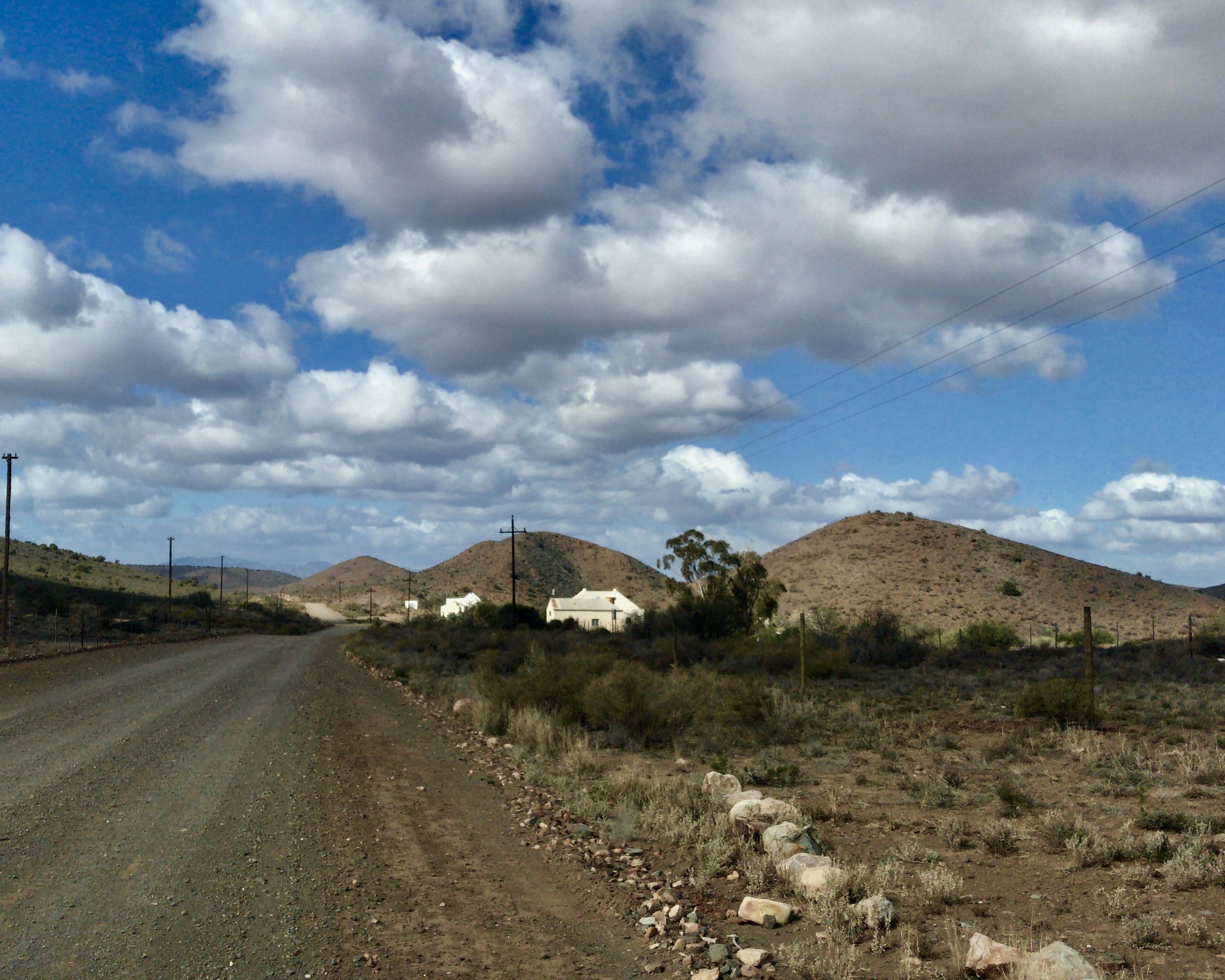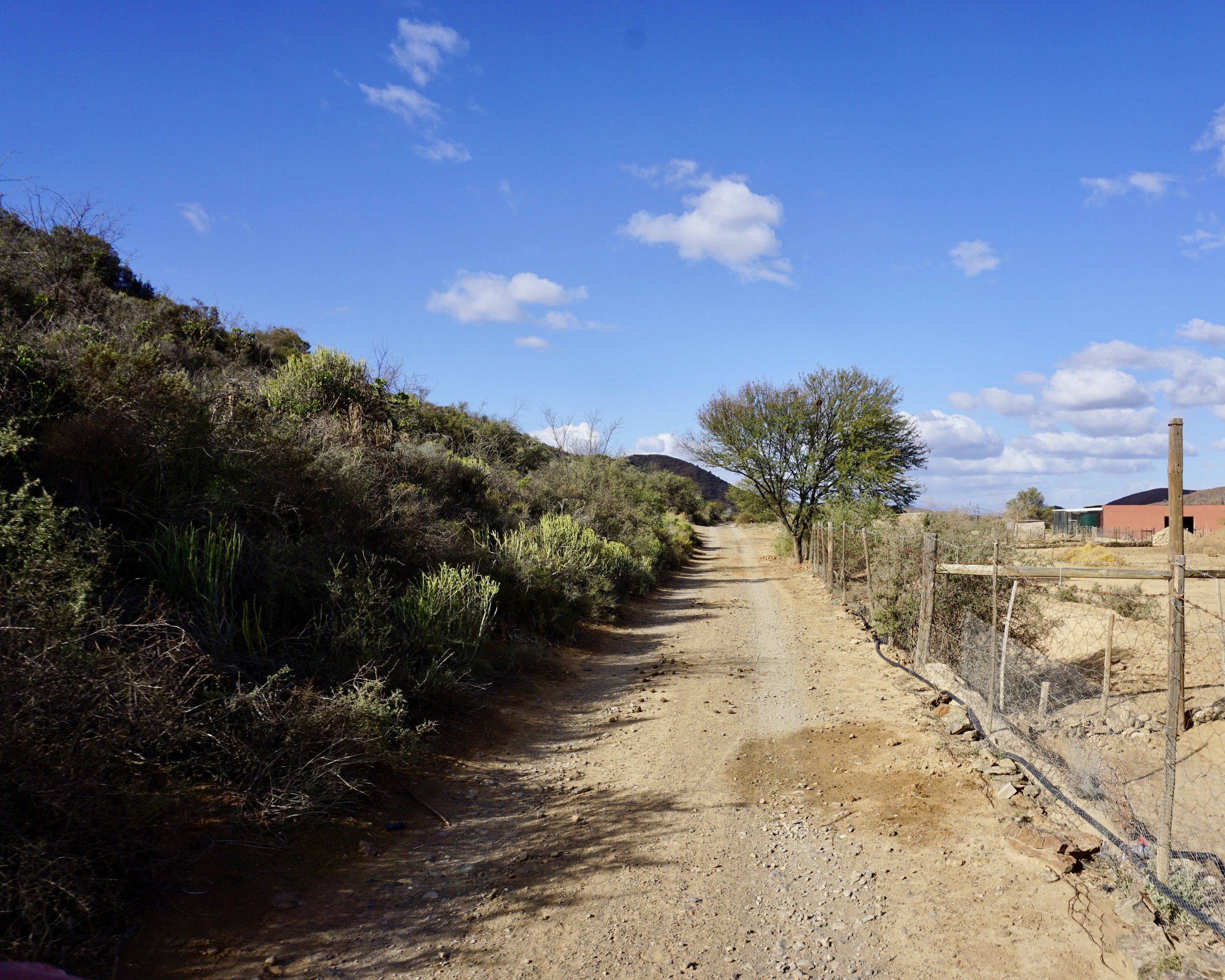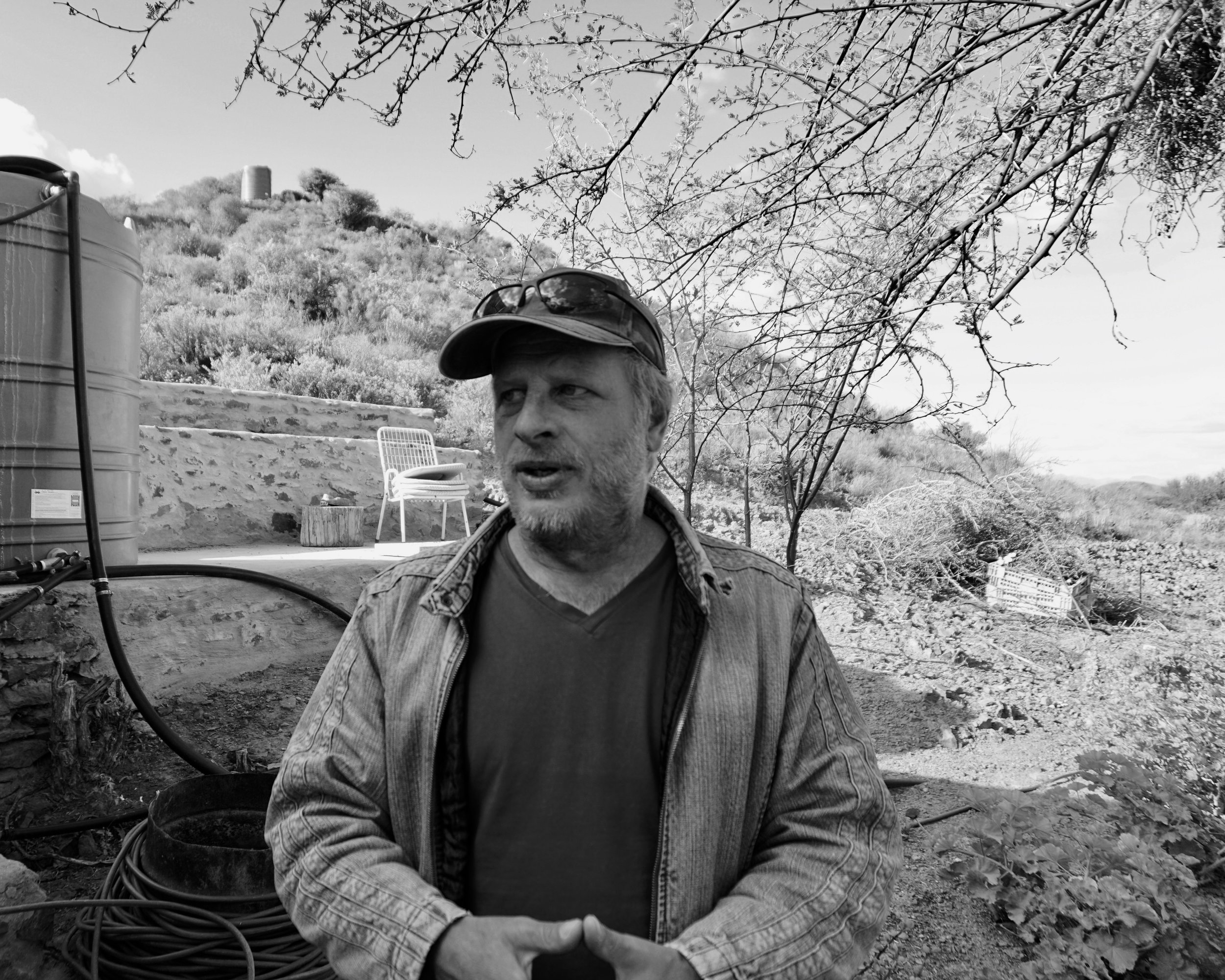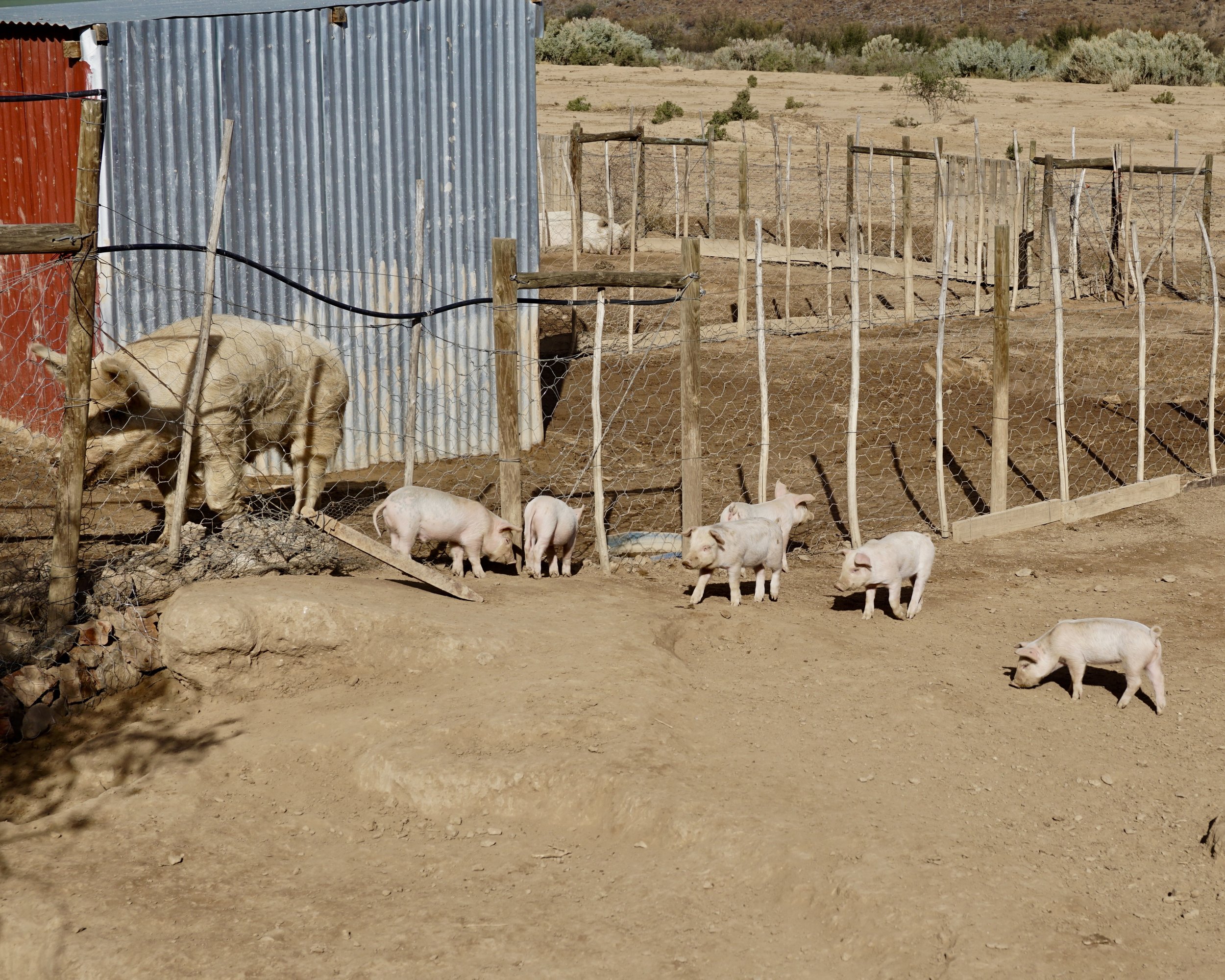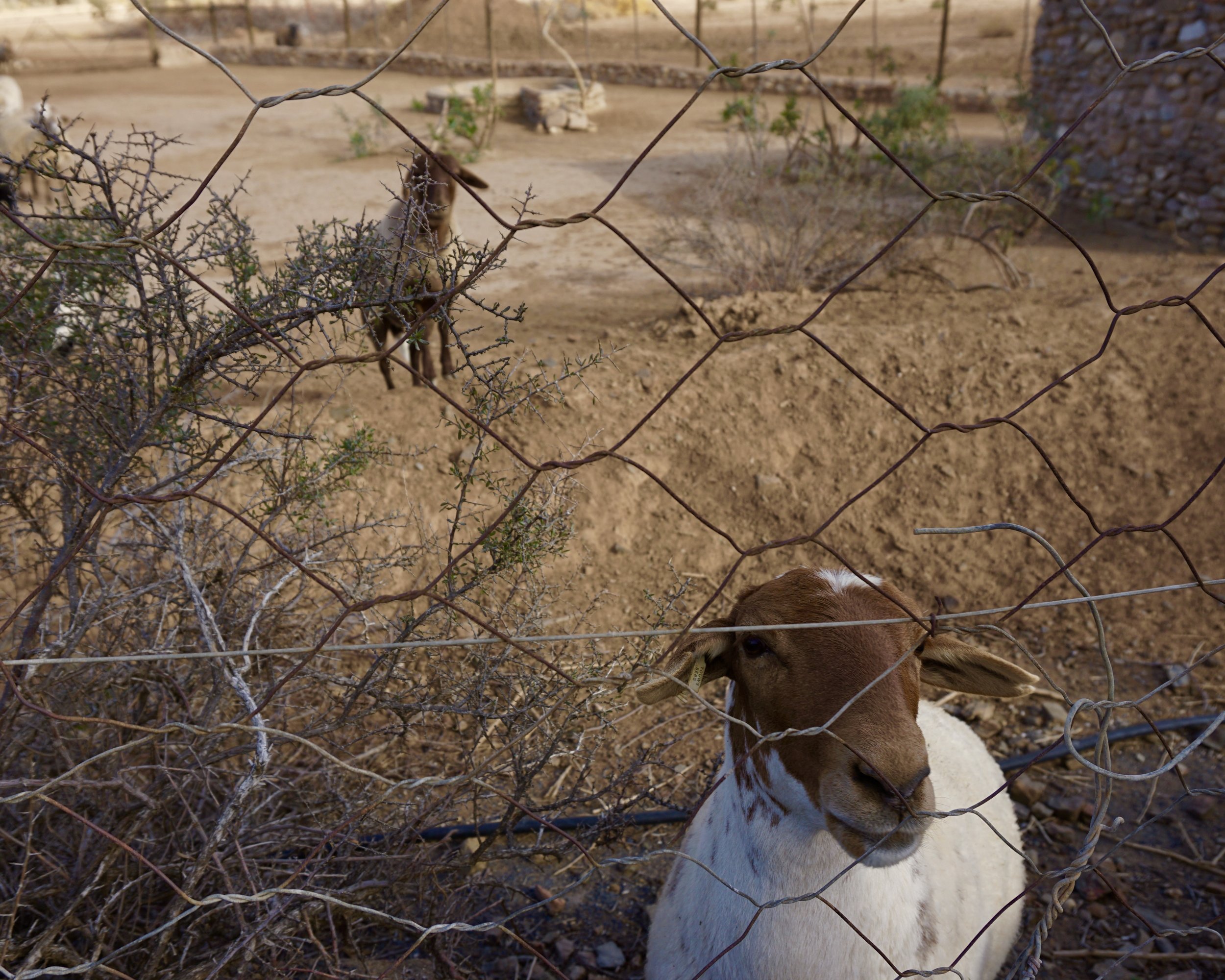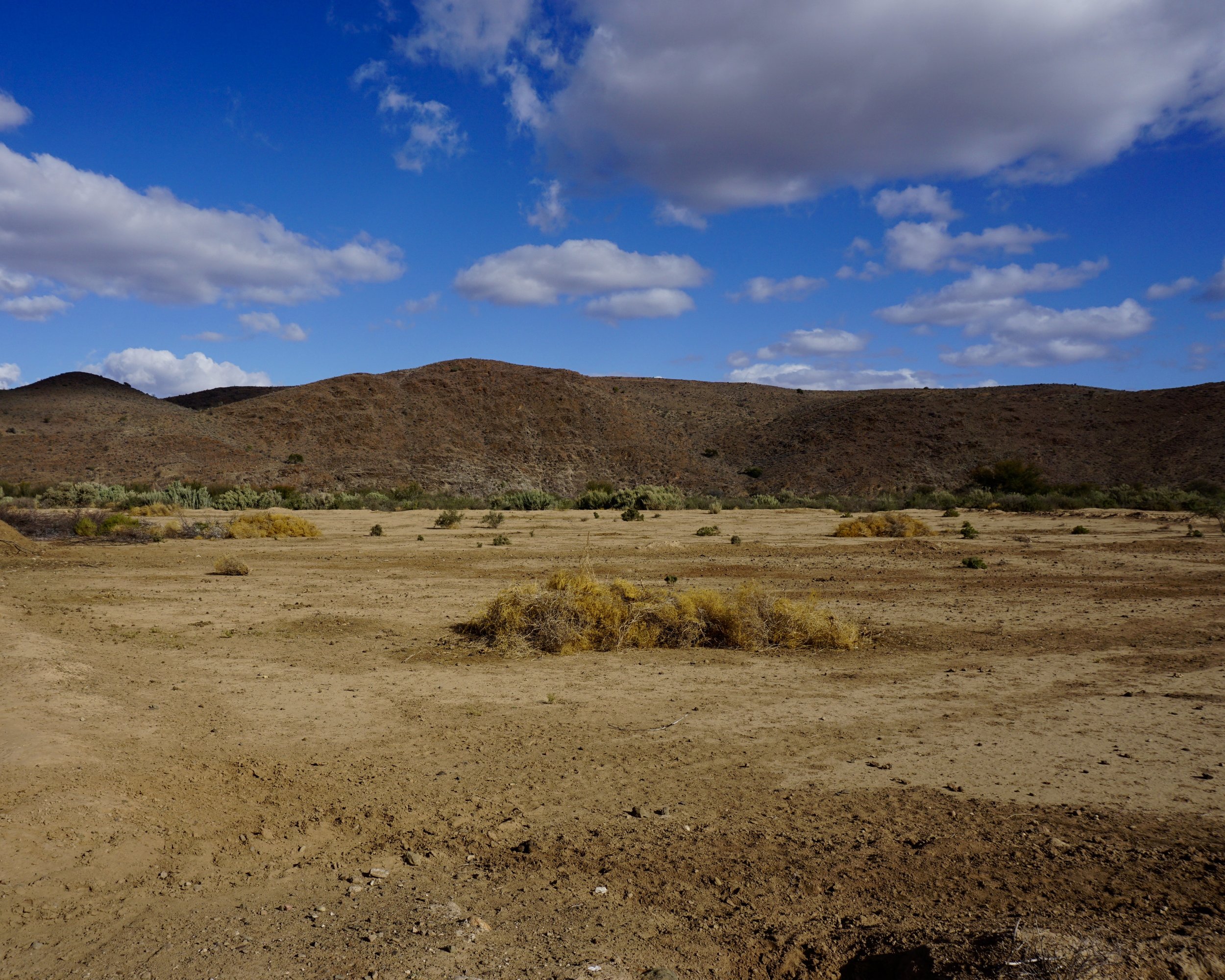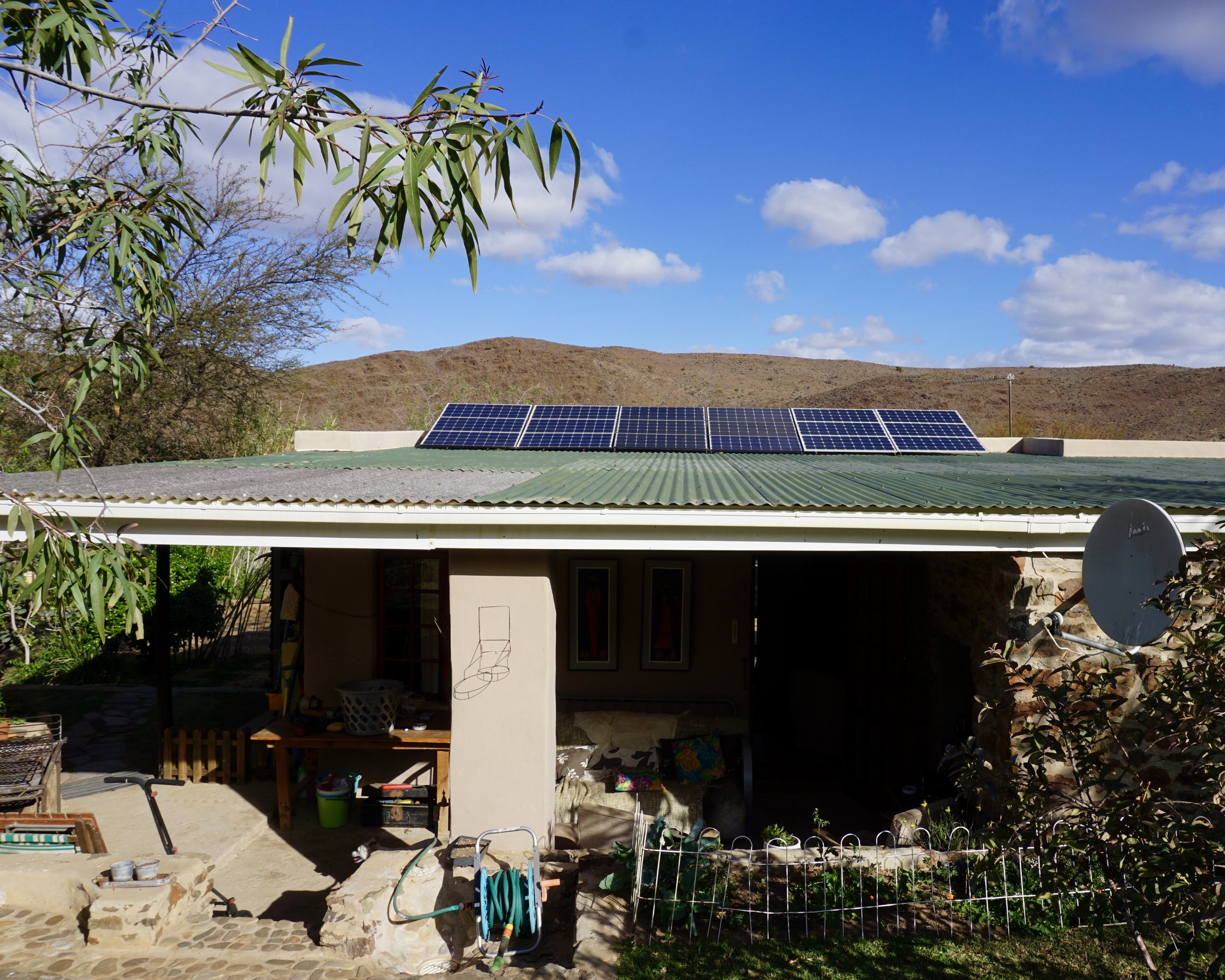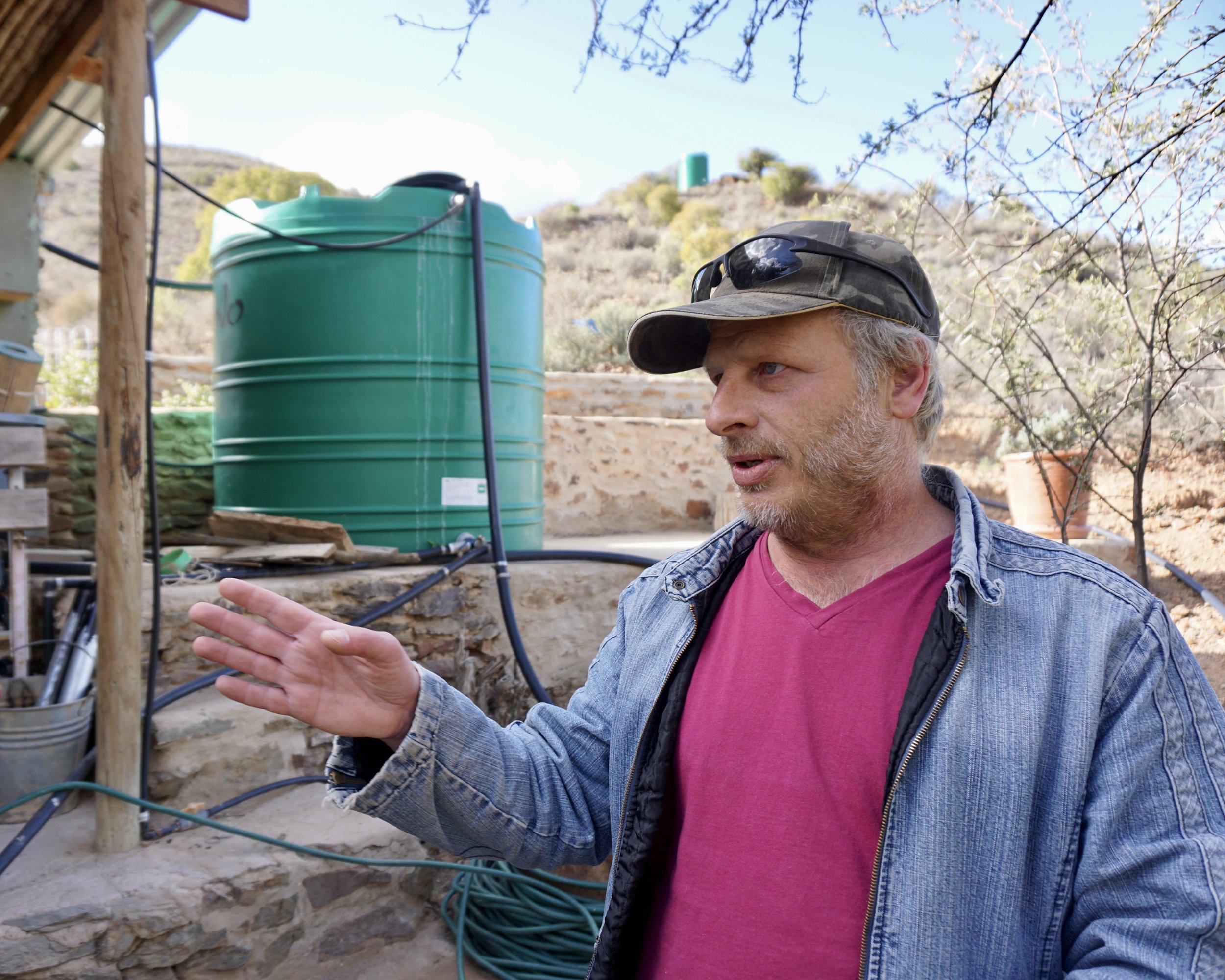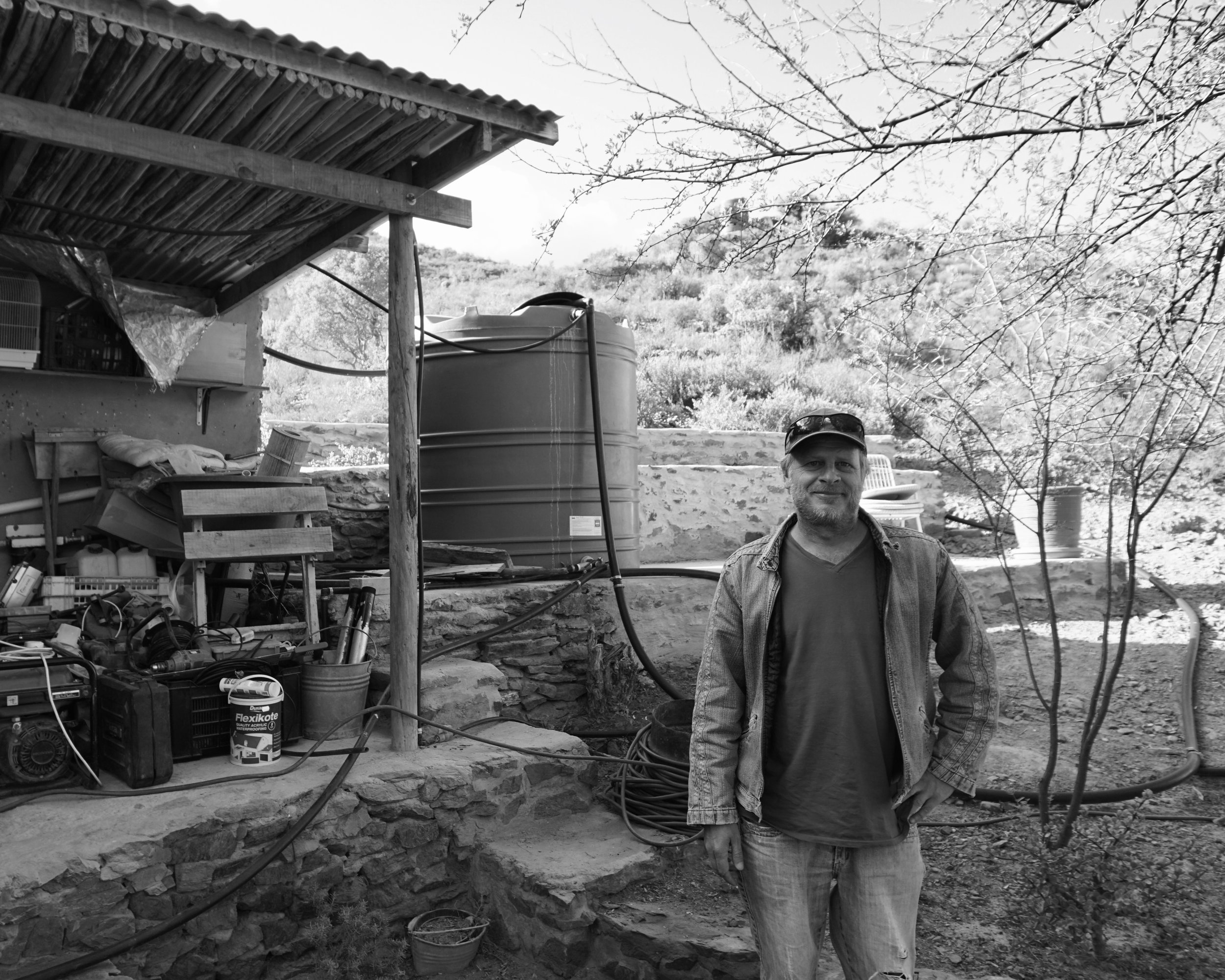 Hover your mouse over the image to see interview quotes and descriptions.
Dr. Kevin Winter | Cape Town
Dr. Kevin Winter is a Senior Lecturer in the Environmental and Geographical Science Department at the University of Cape Town, and is the Lead Researcher in the University's Future Water Institute. He also sits on the City of Cape Town's Section 80 Advisory Committee on Water Resilience and organizes an annual "Peninsula Paddle", to raise awareness about the health and quality of water in Cape Town. He has been aware of Cape Town's water problems since the 1990s, and believes a radical shift in the city's urban development is needed to solve this pressing problem.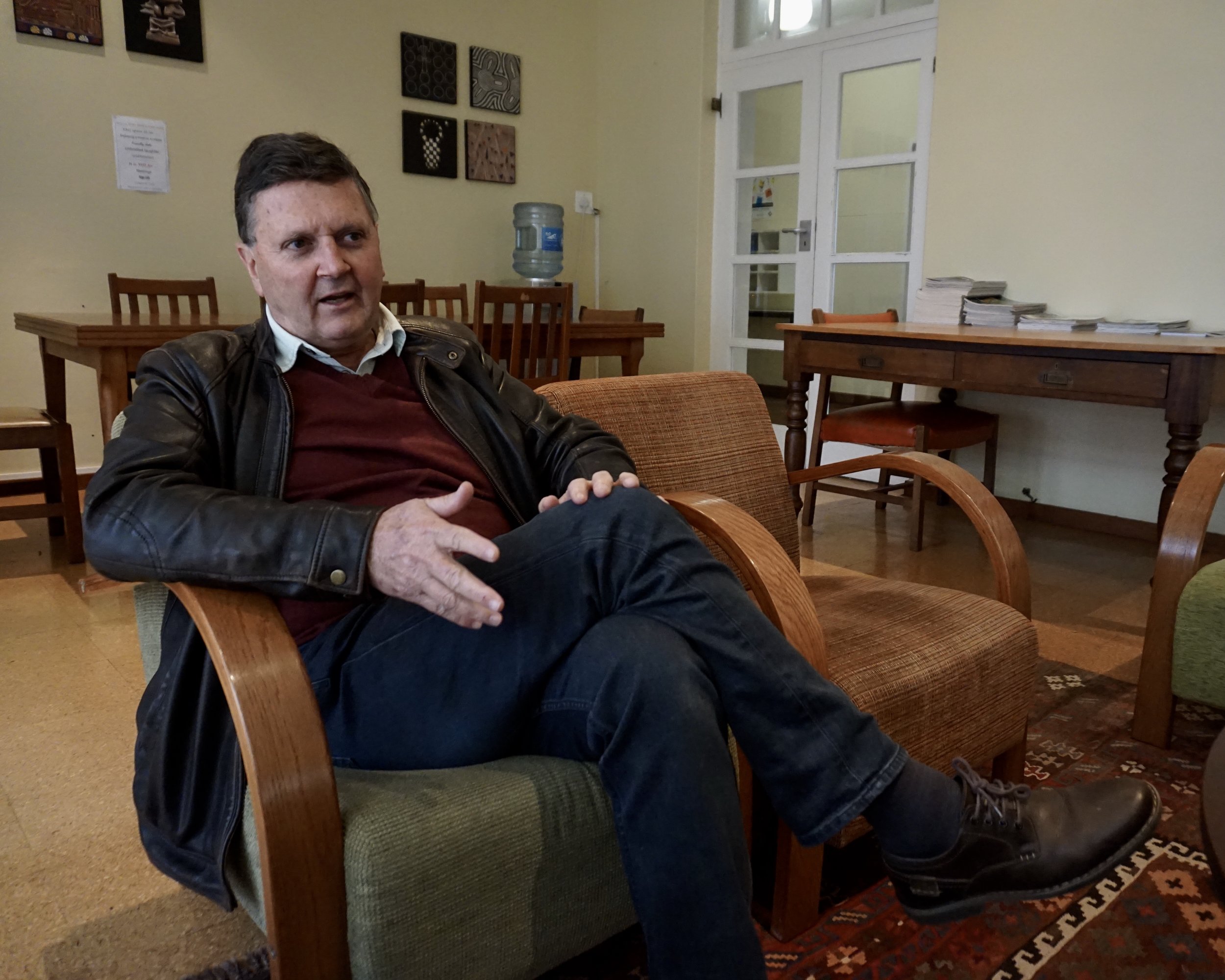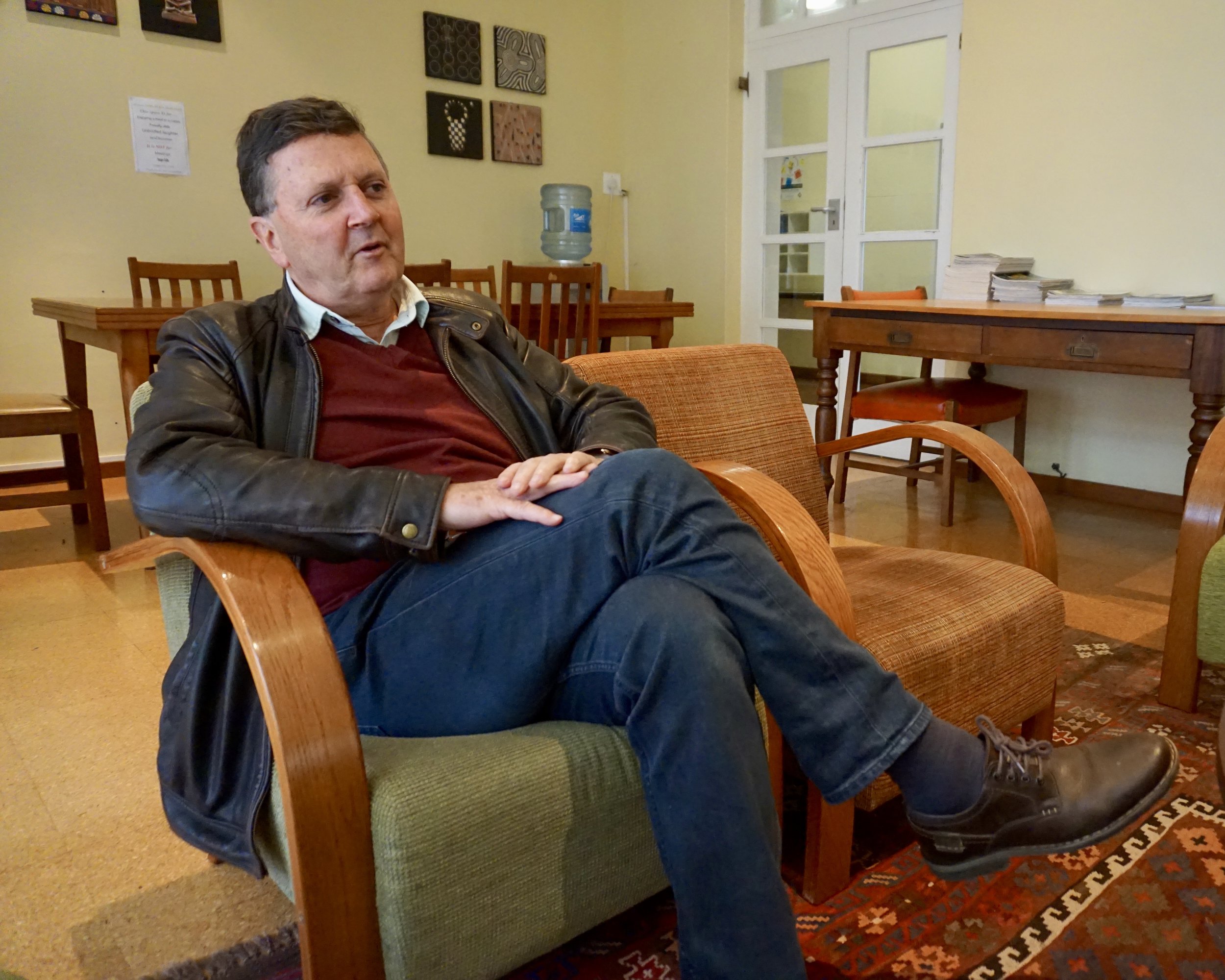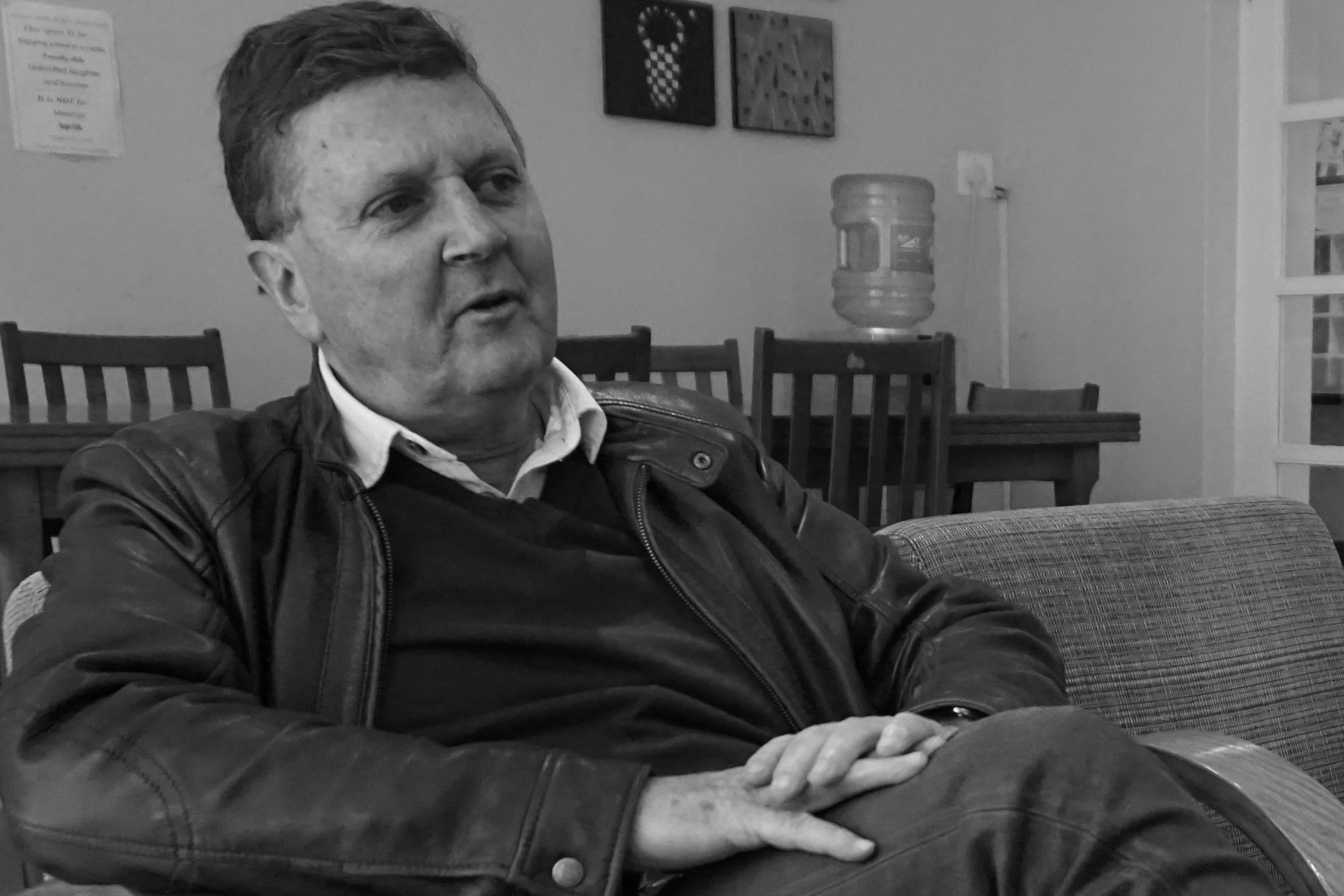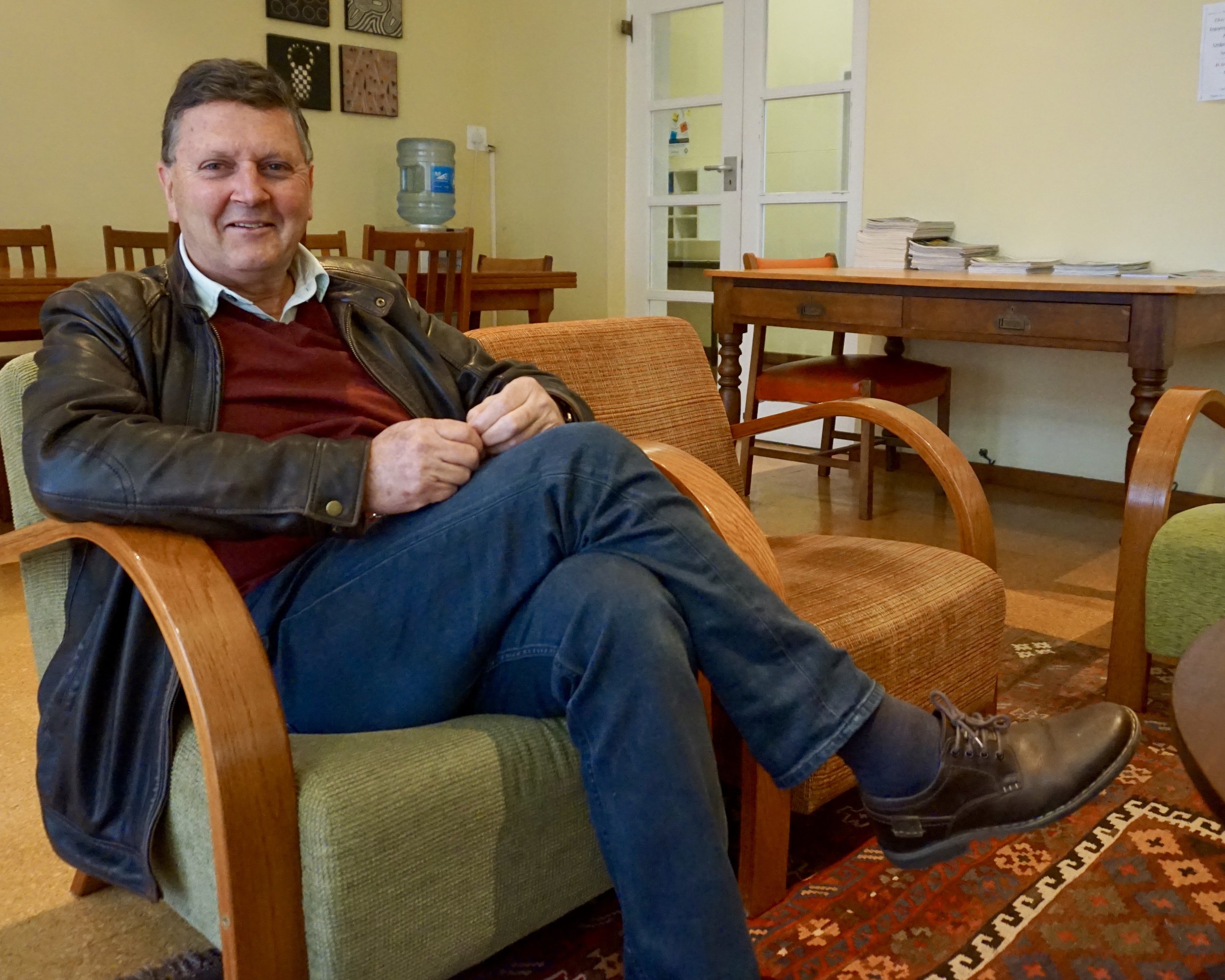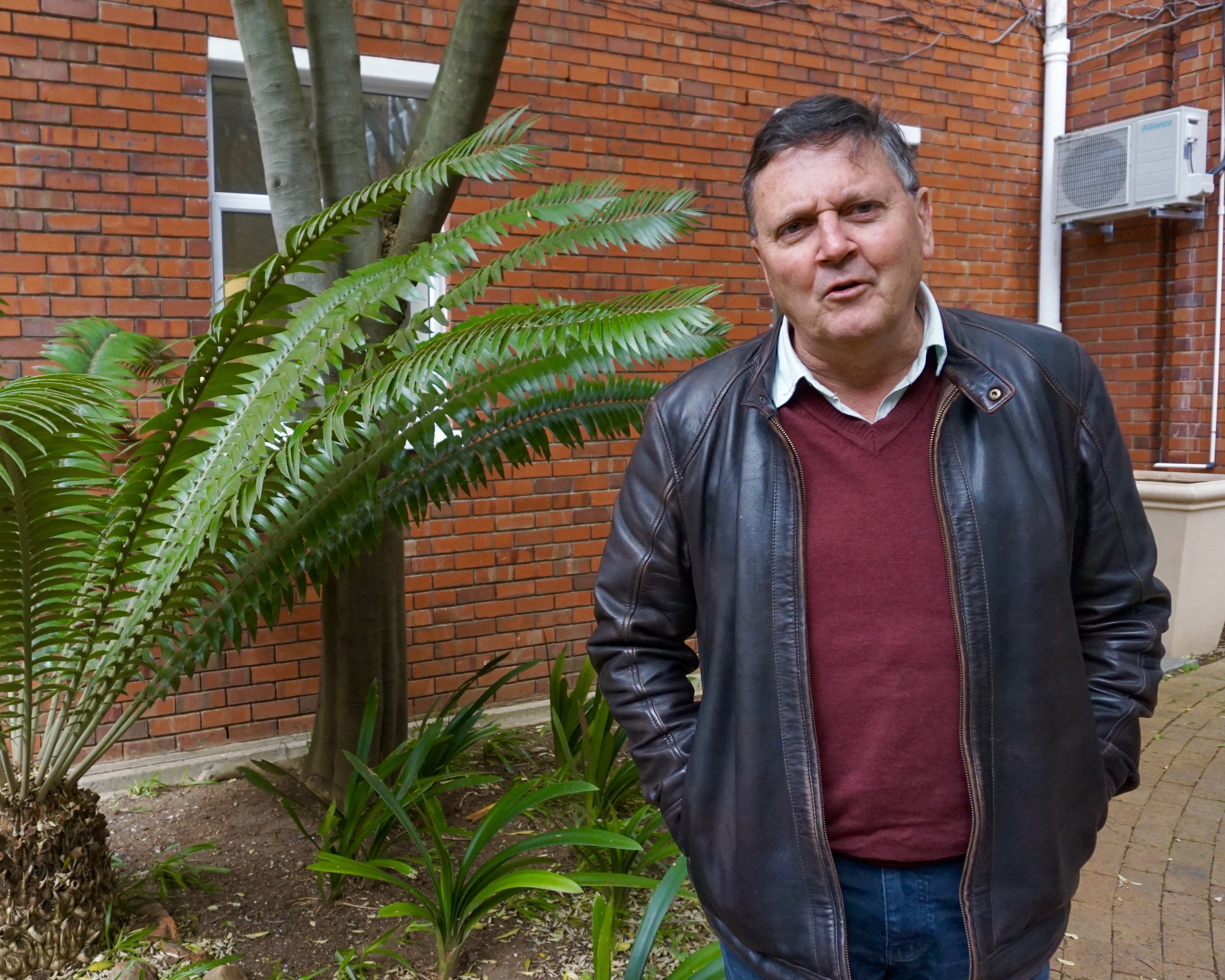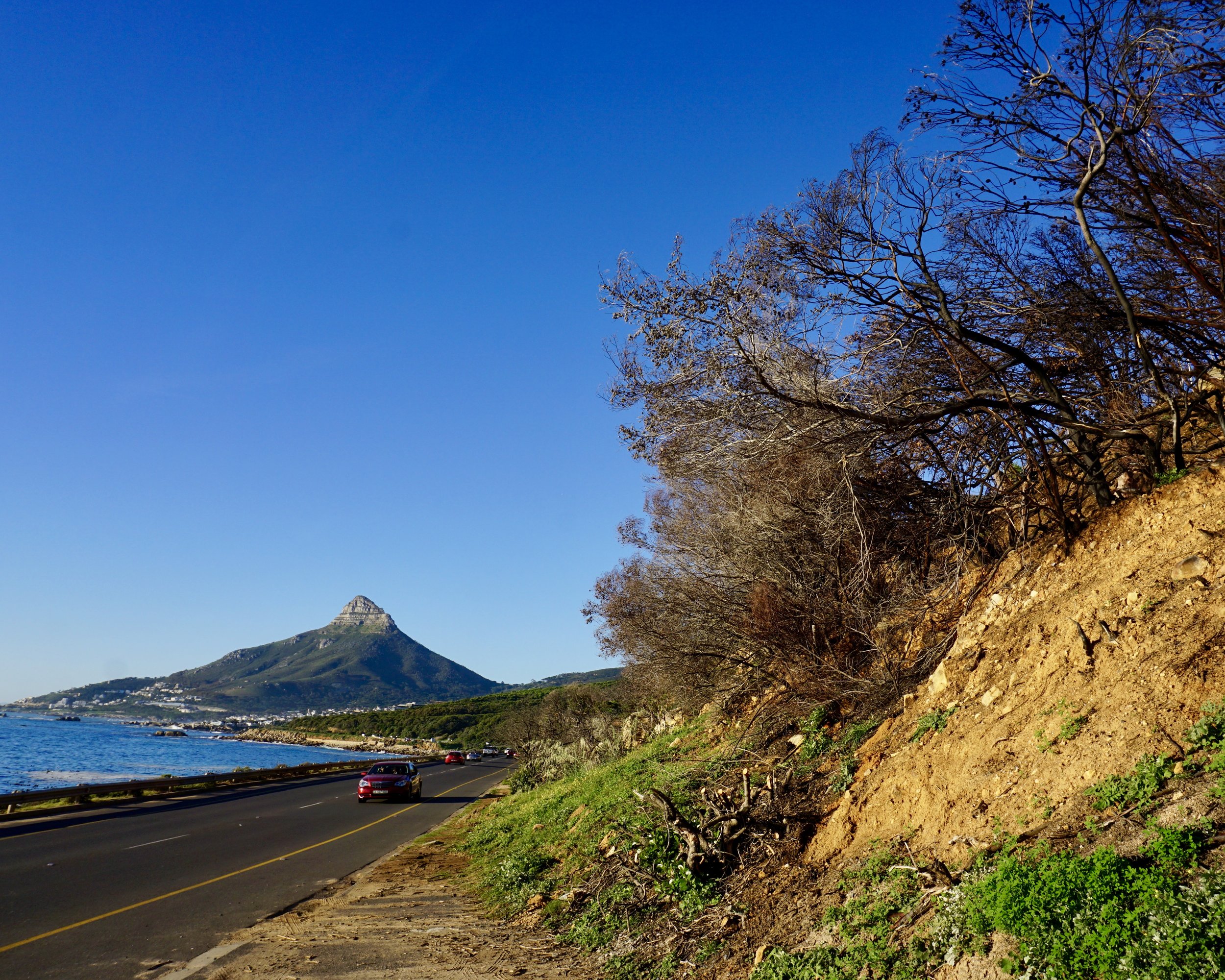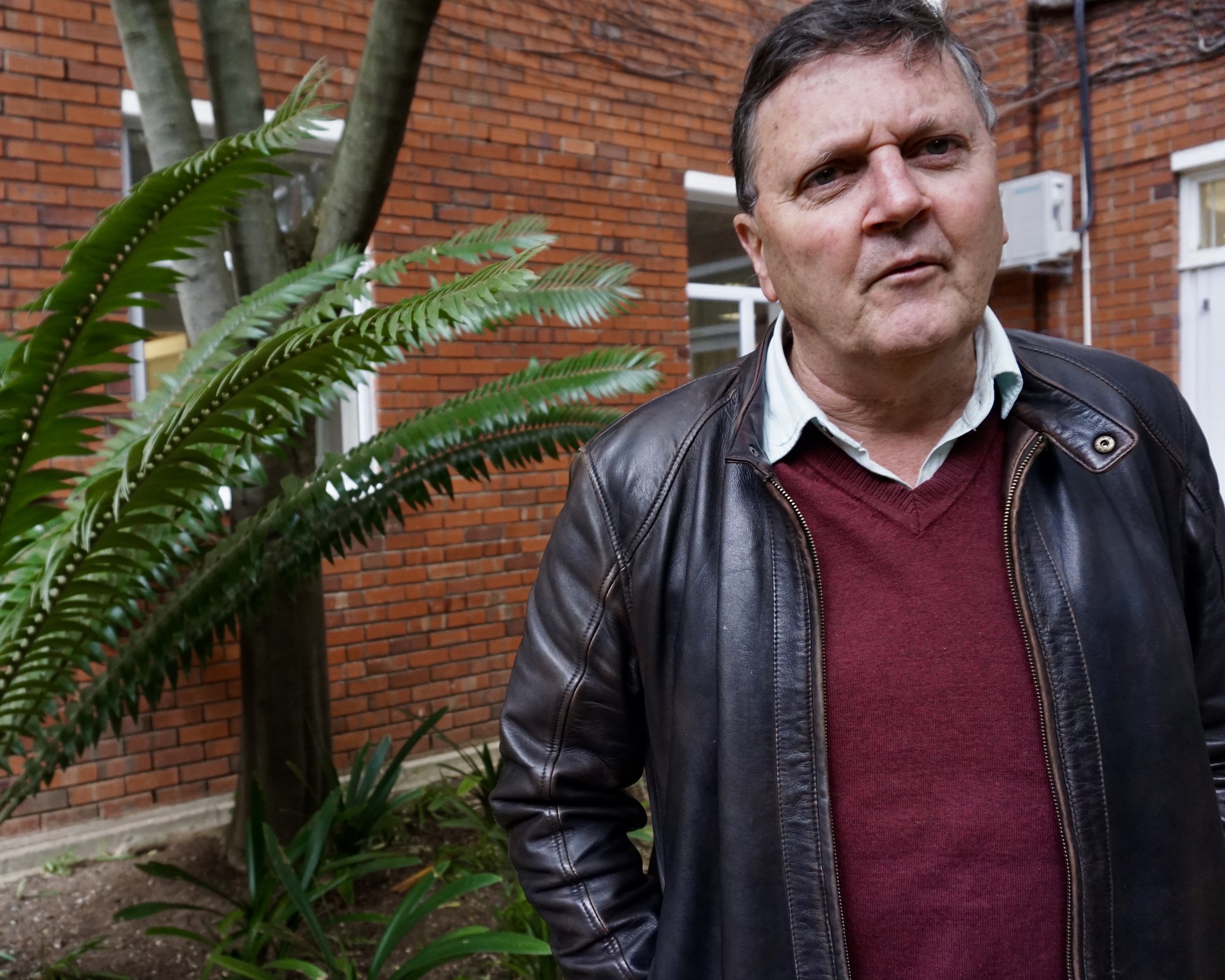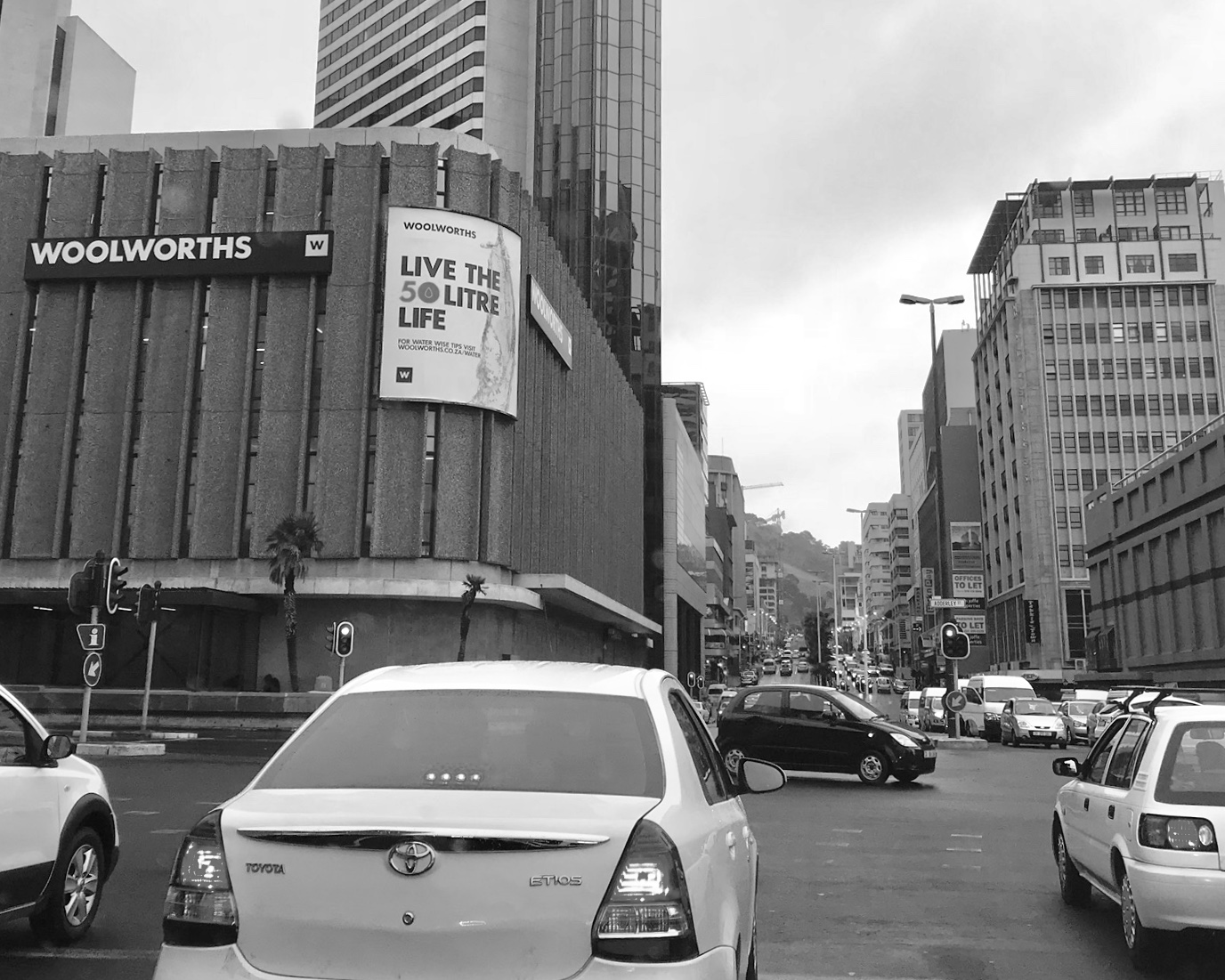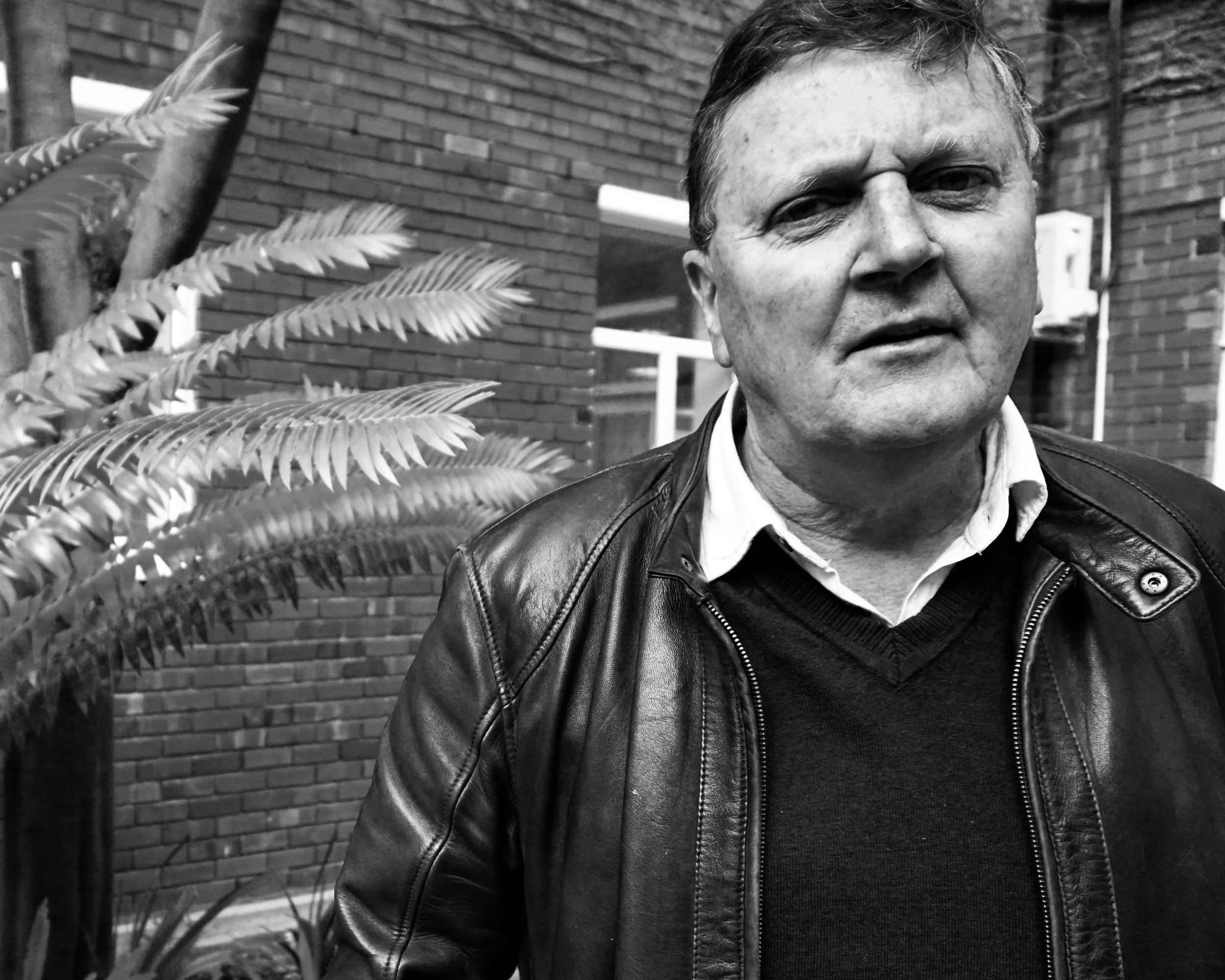 Hover your mouse over the image to see interview quotes and descriptions.
Bradley Fryer | Stellenbosch
Bradley is a Biokineticist, a specialized exercise rehabilitation therapist, who runs his own practice from home in Stellenbosch. He has lived in Stellenbosch for the last twelve years. Bradley has taken steps to reduce his household water consumption and raise awareness amongst his clients. While he is generally positive about his ability to live within restricted water levels, he and his housemate are worried about how they would manage if the city is forced to shut off the taps.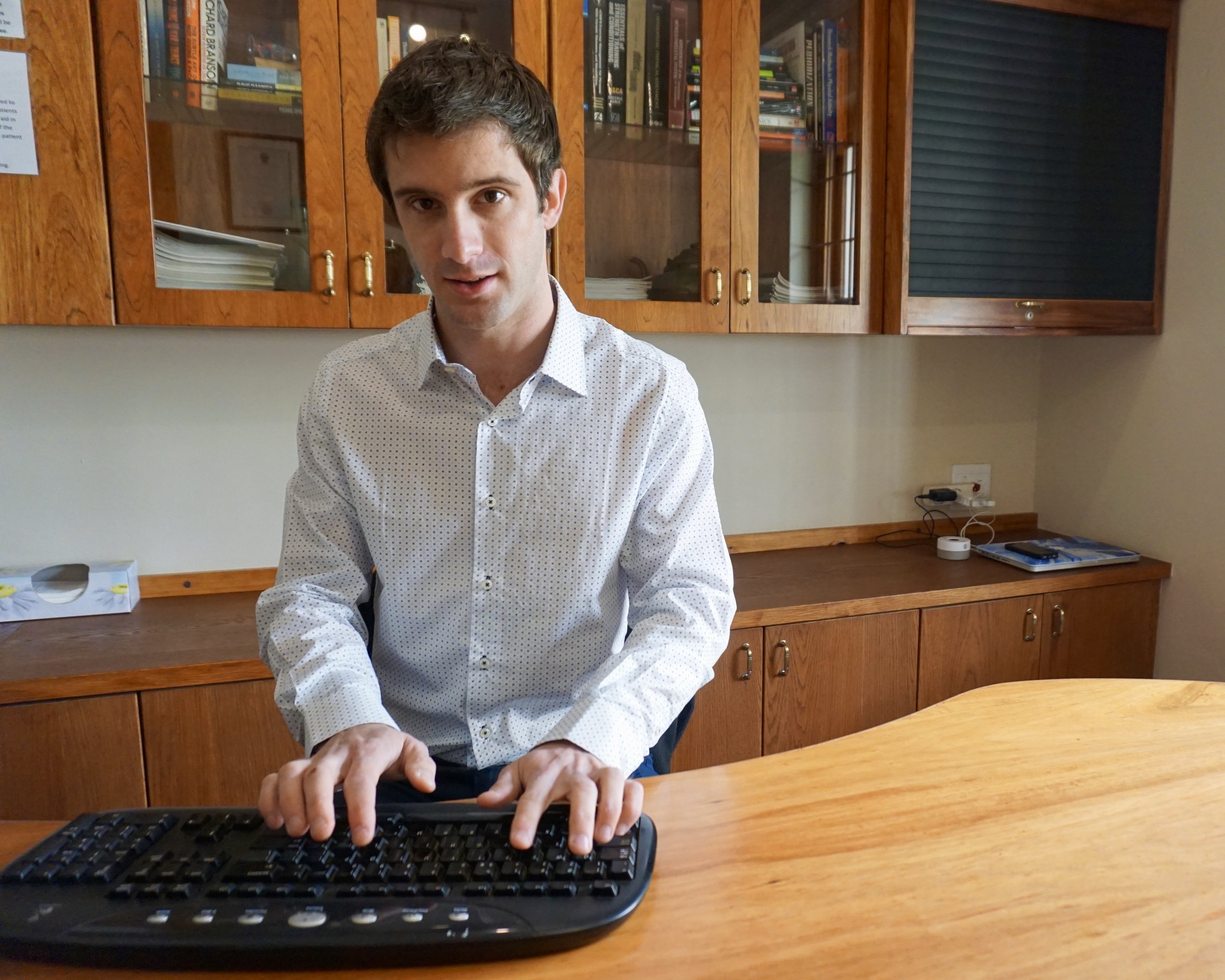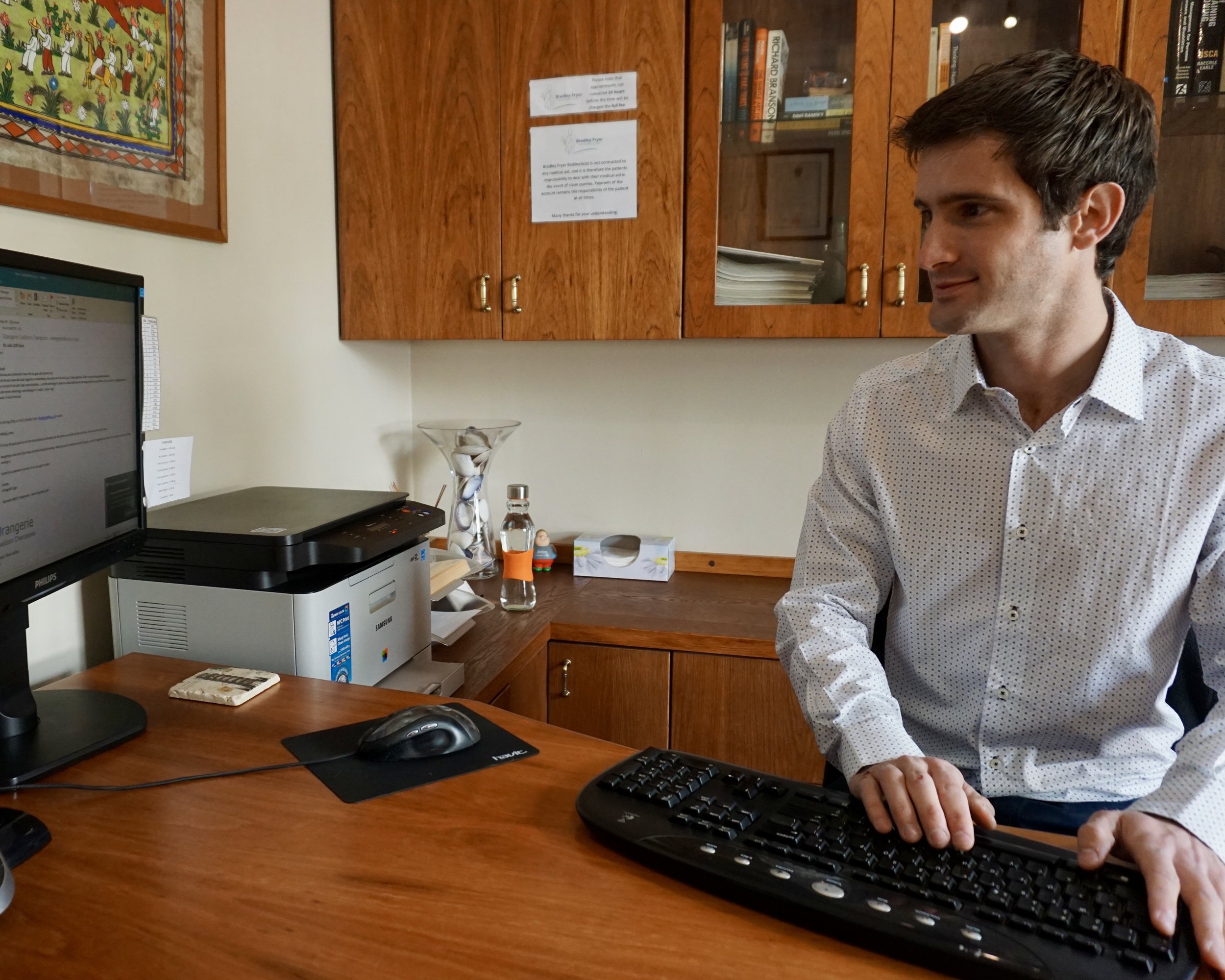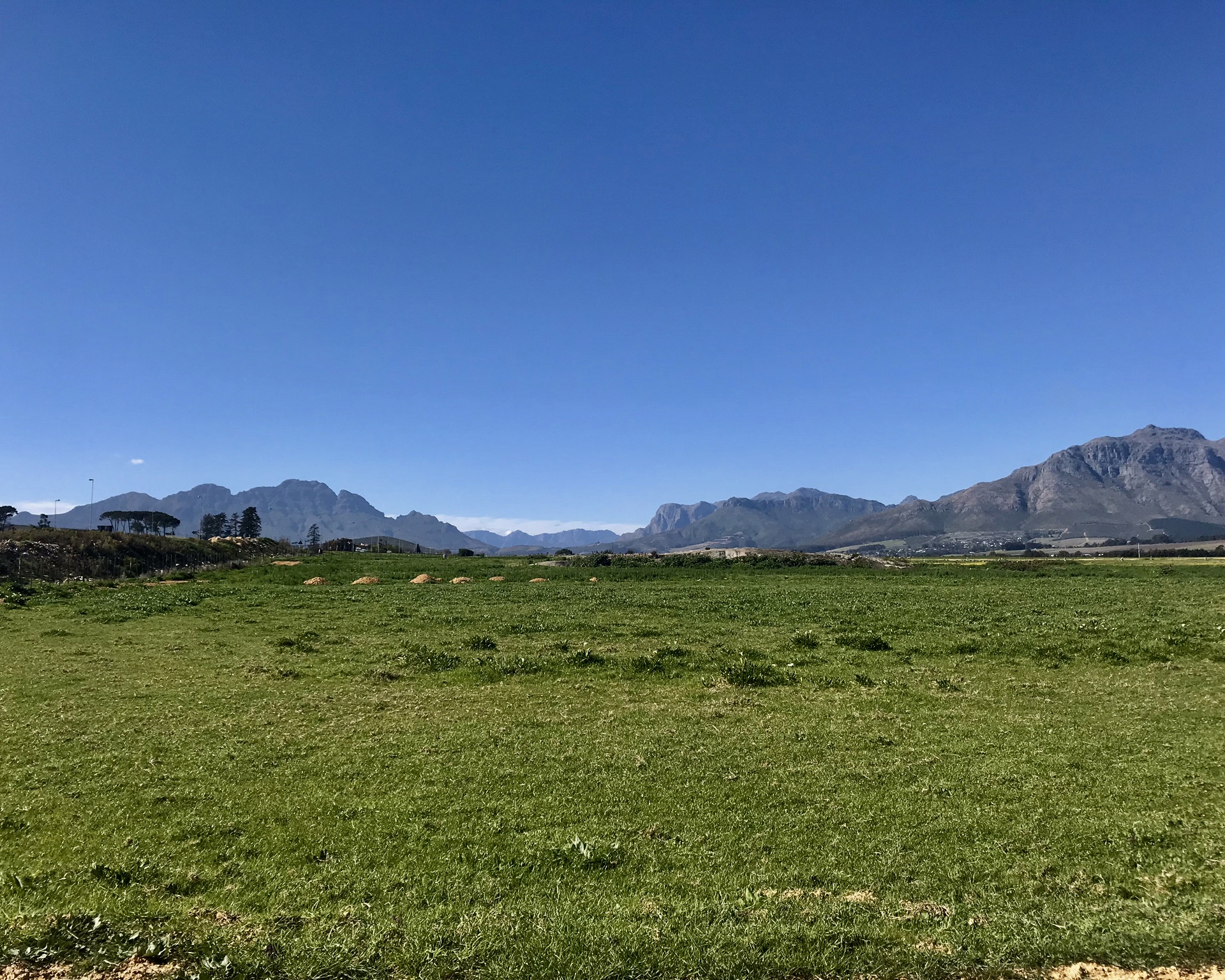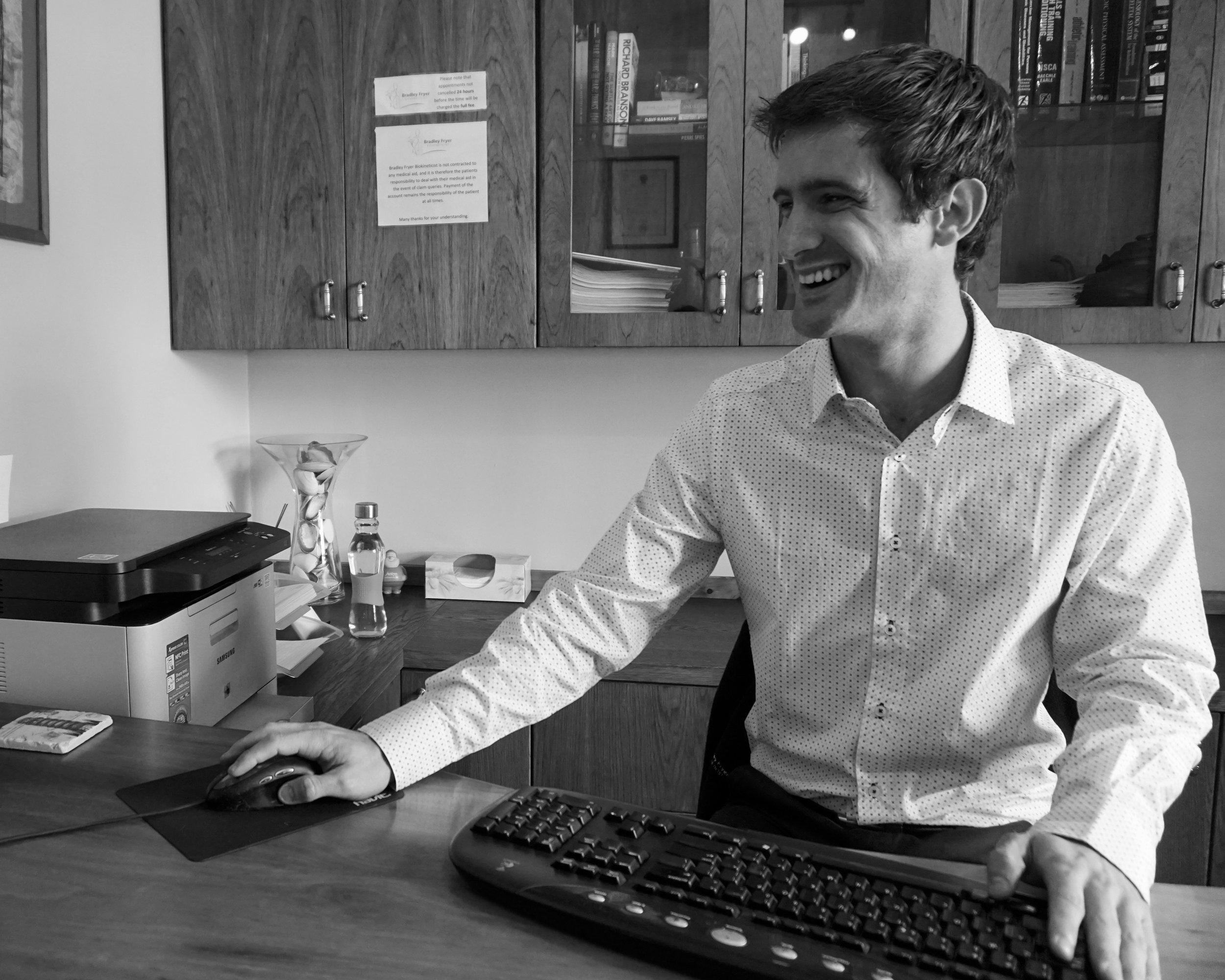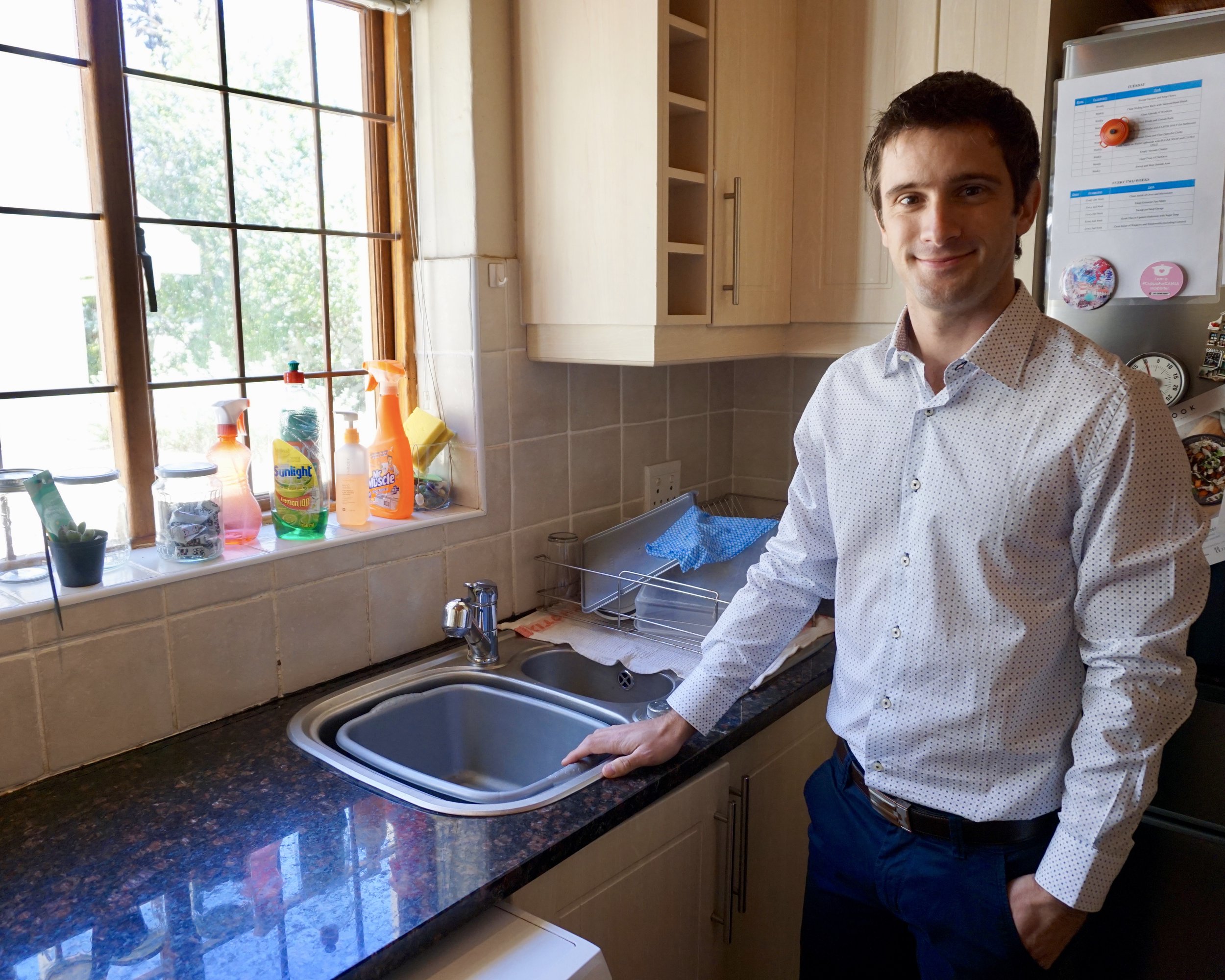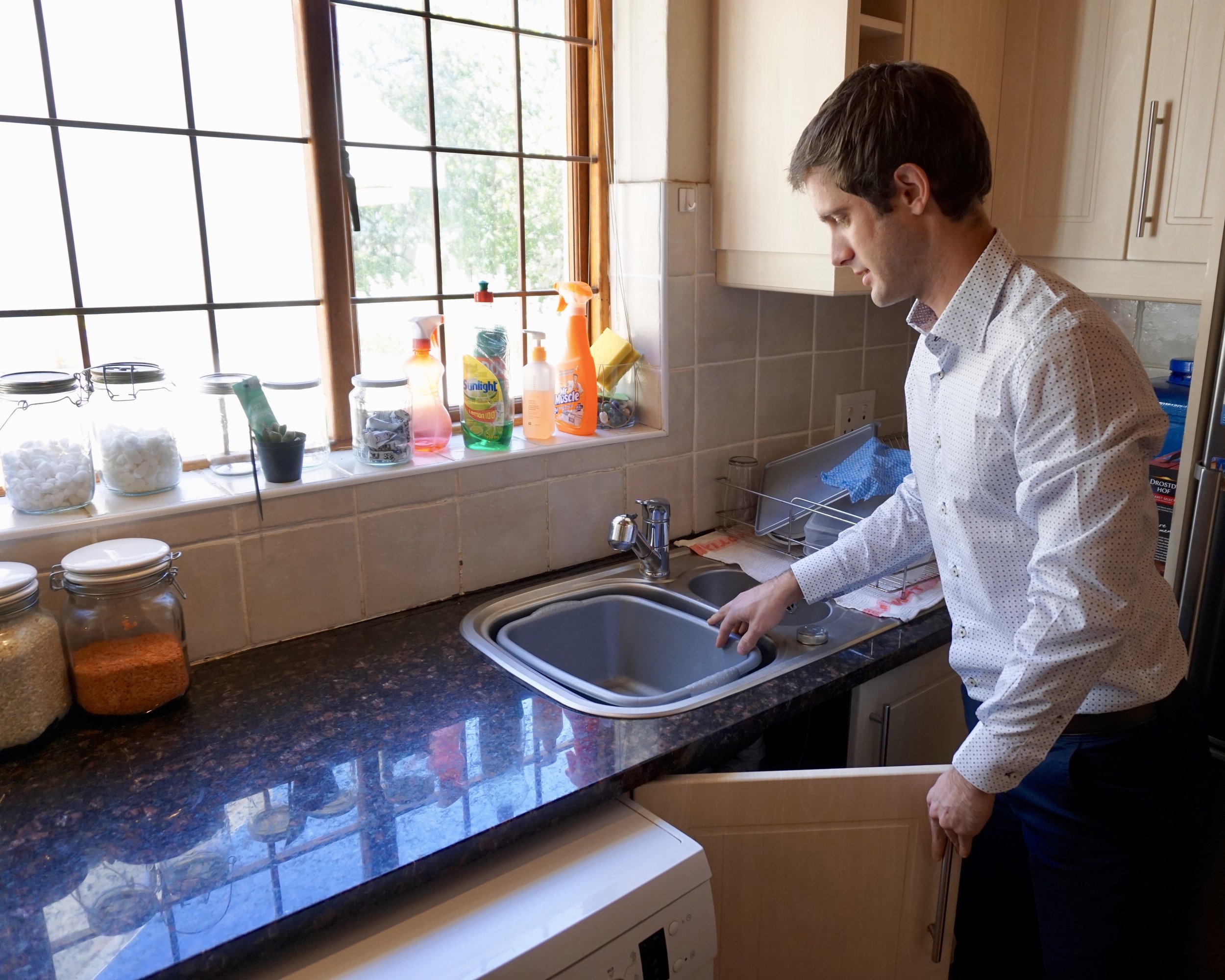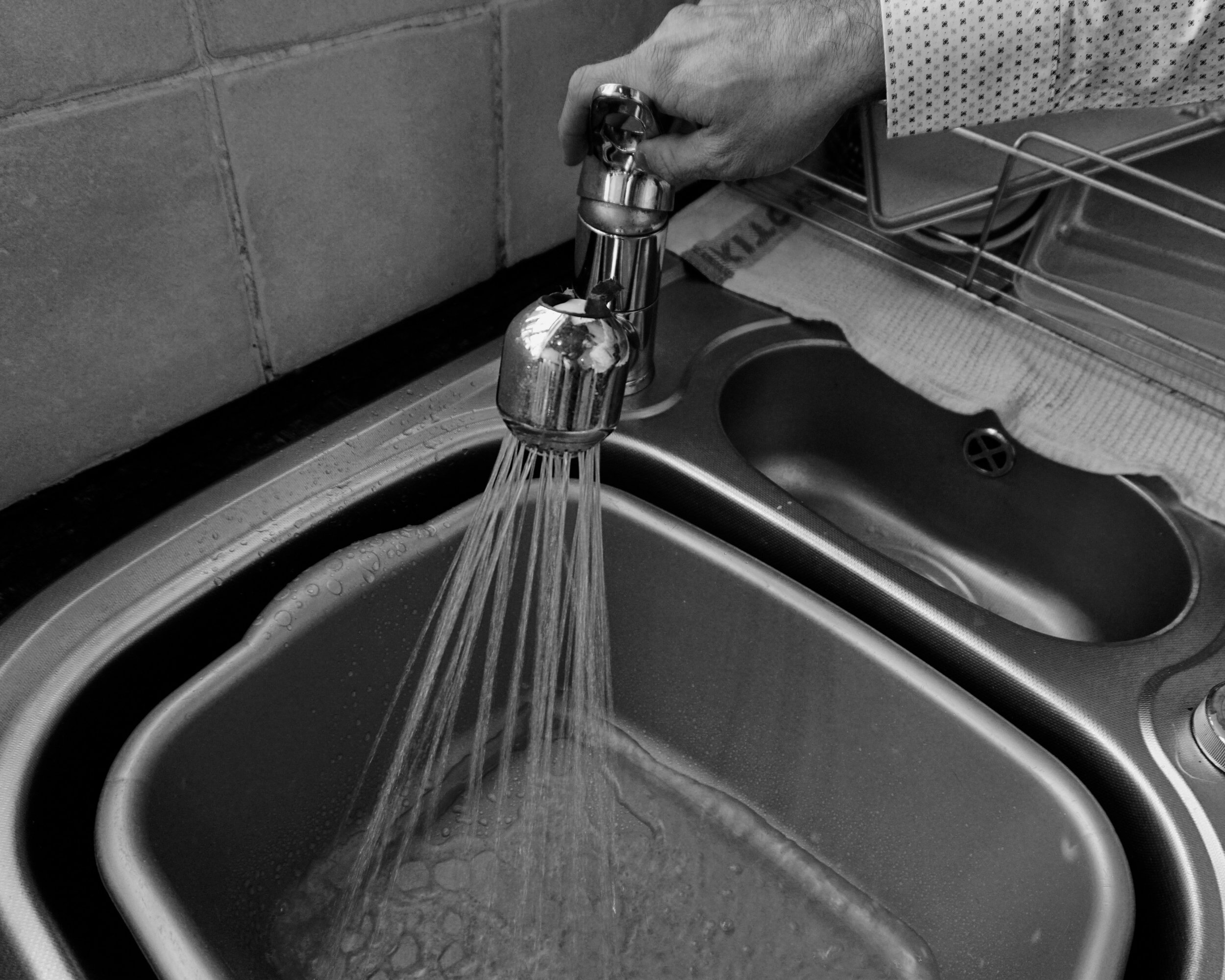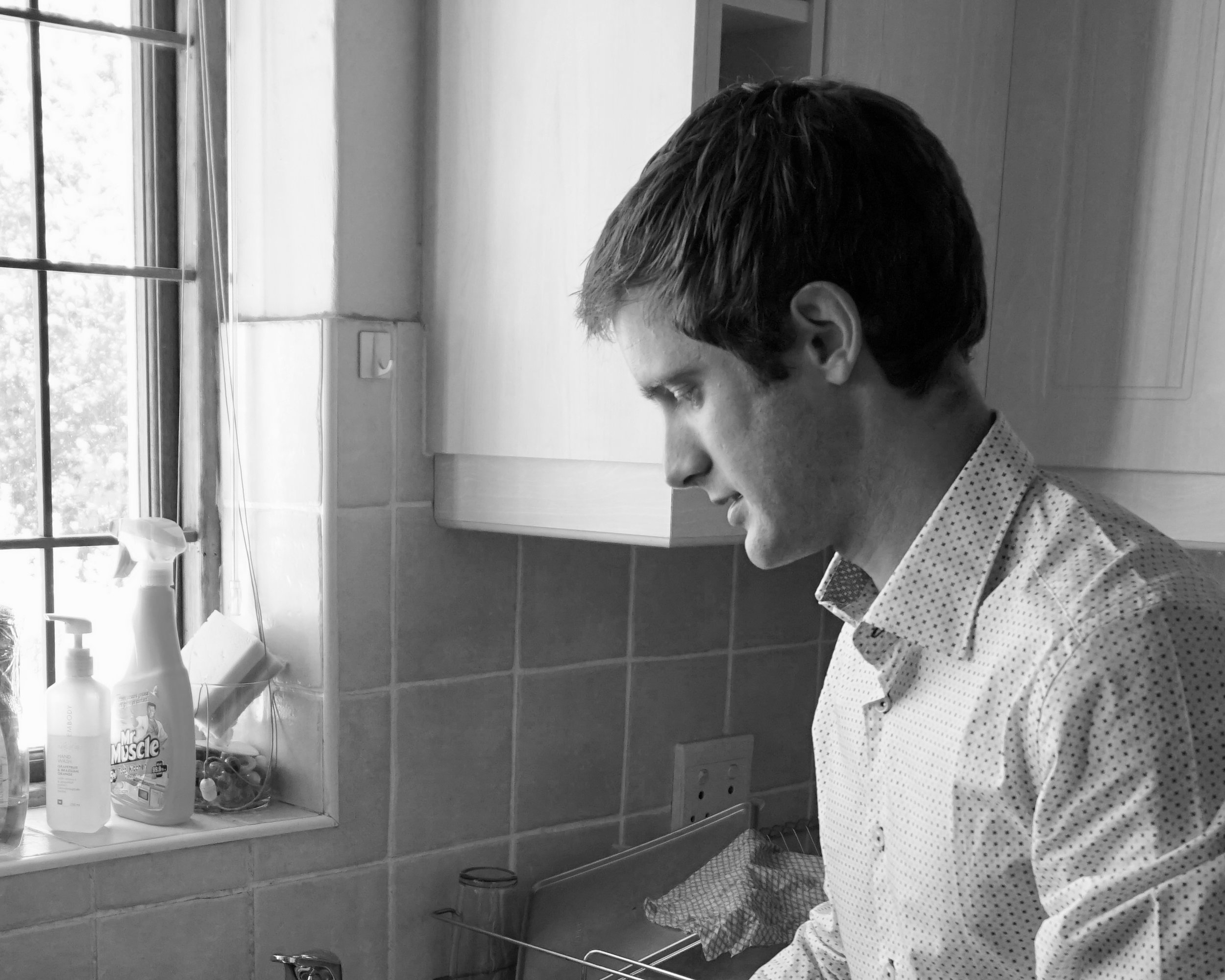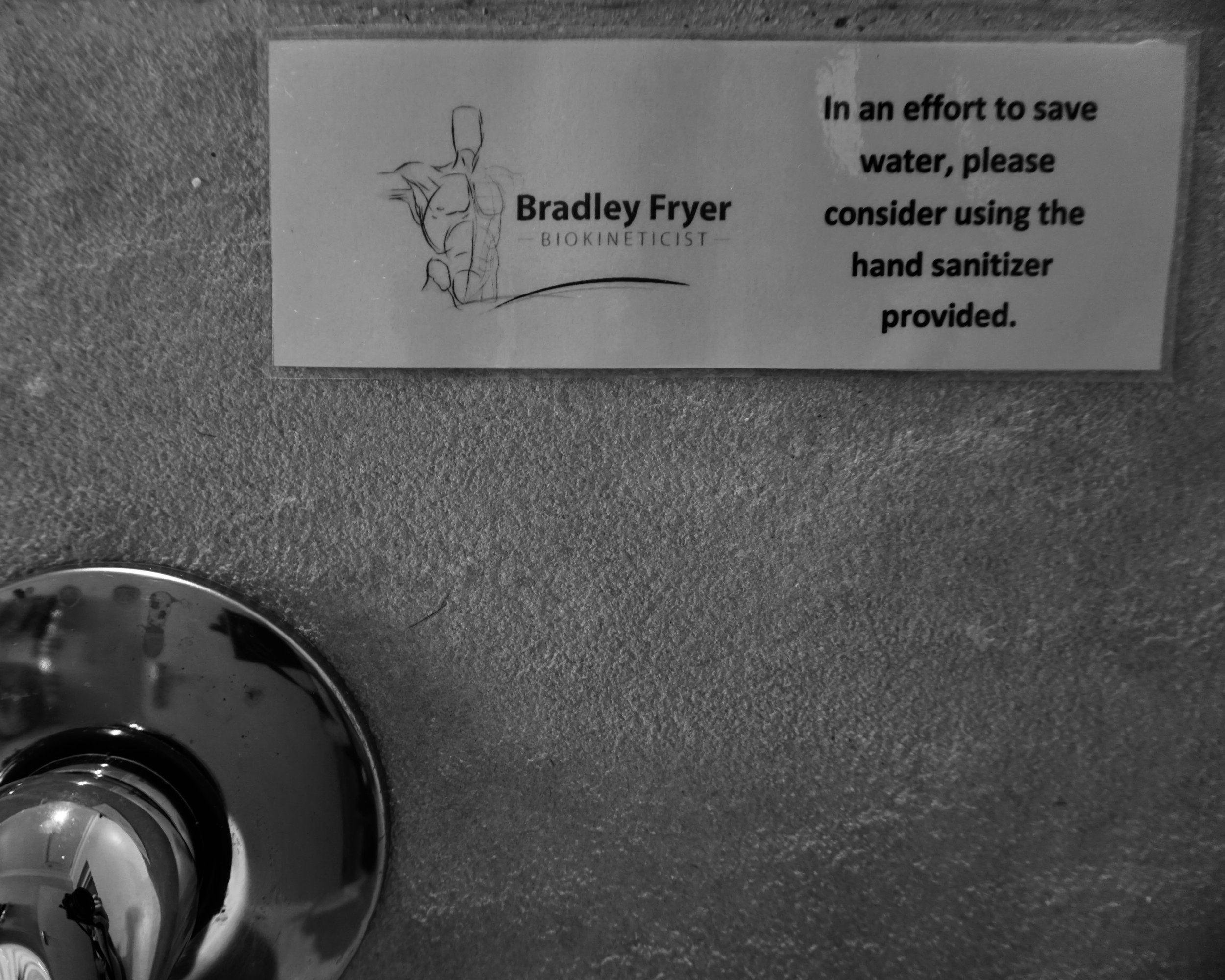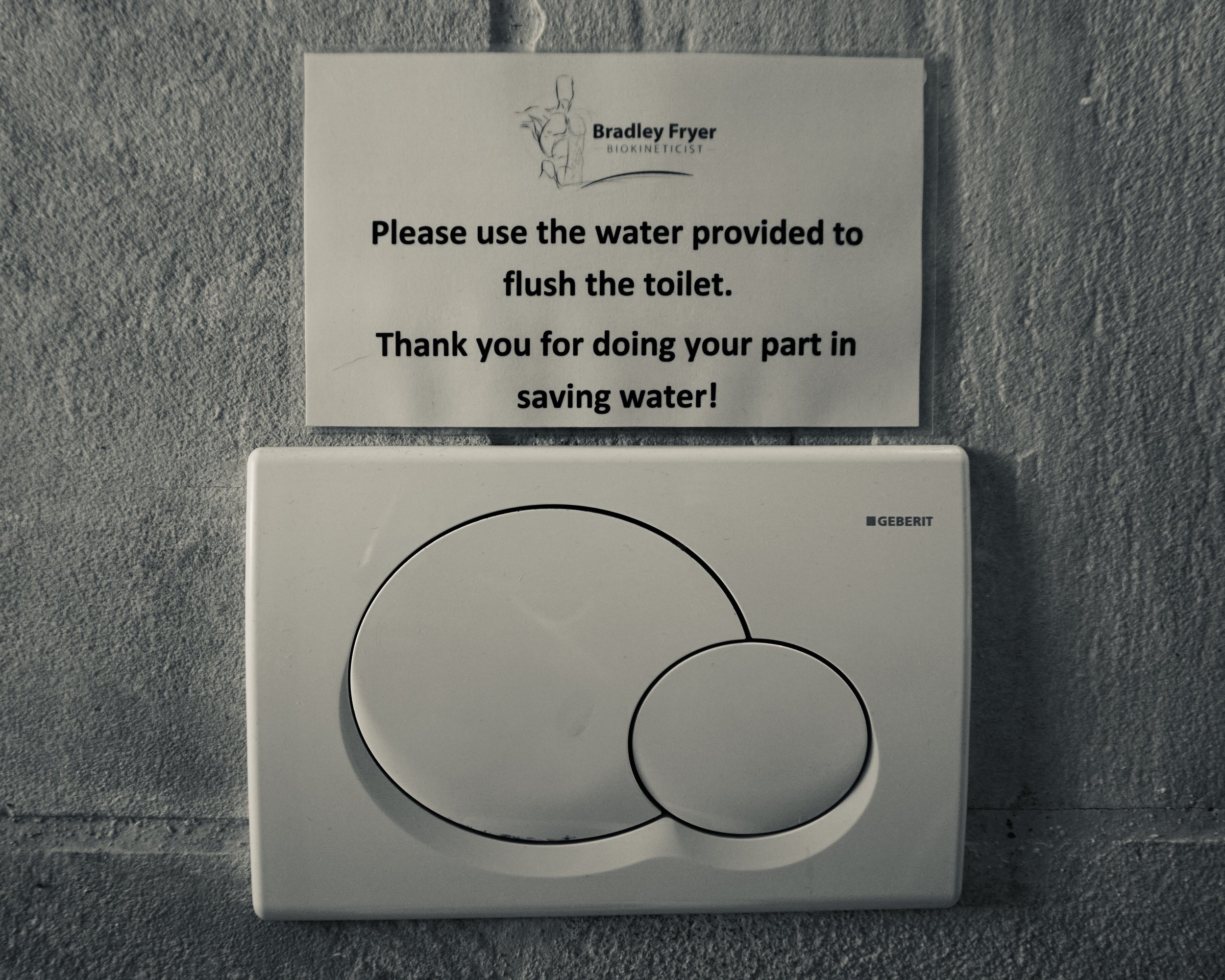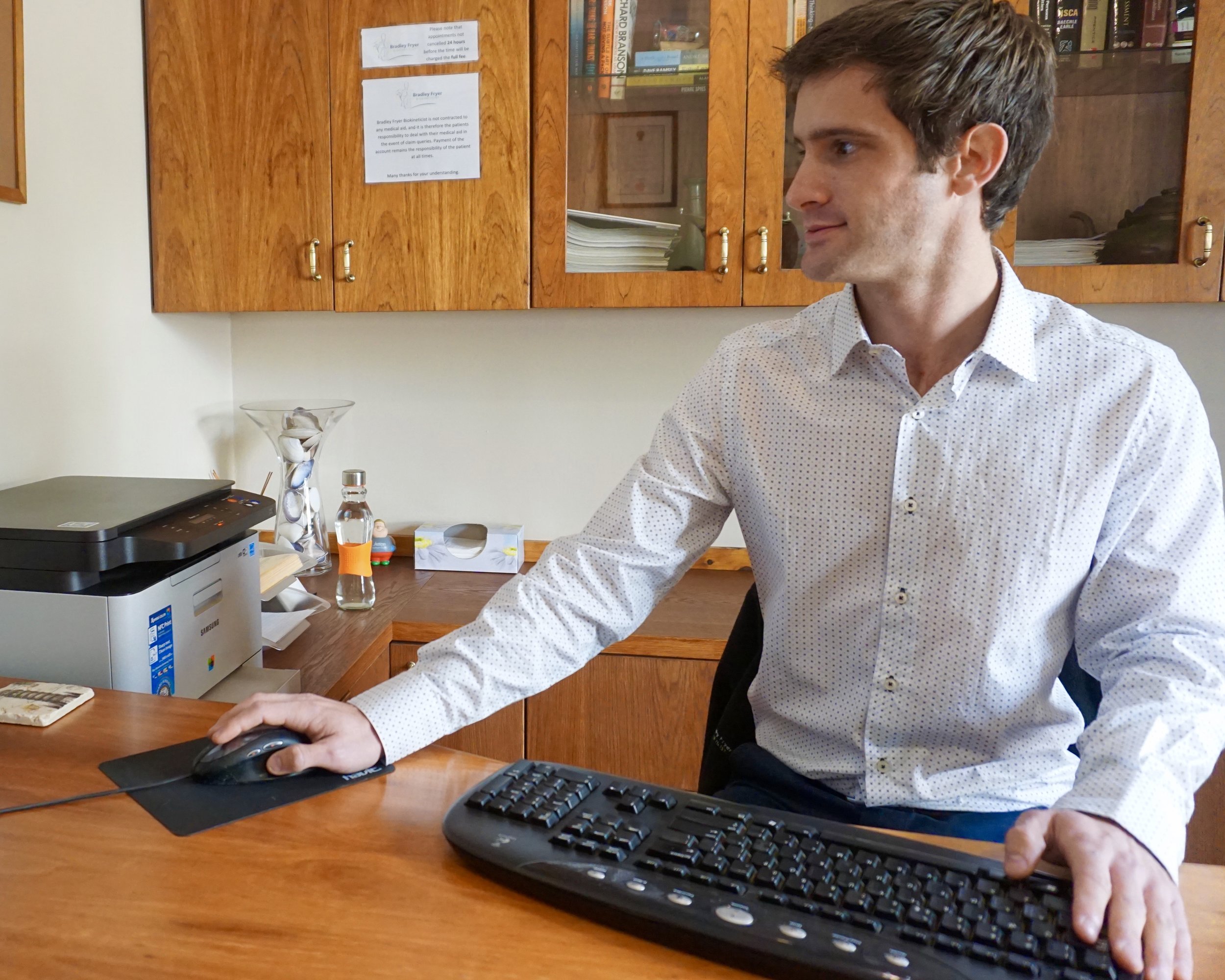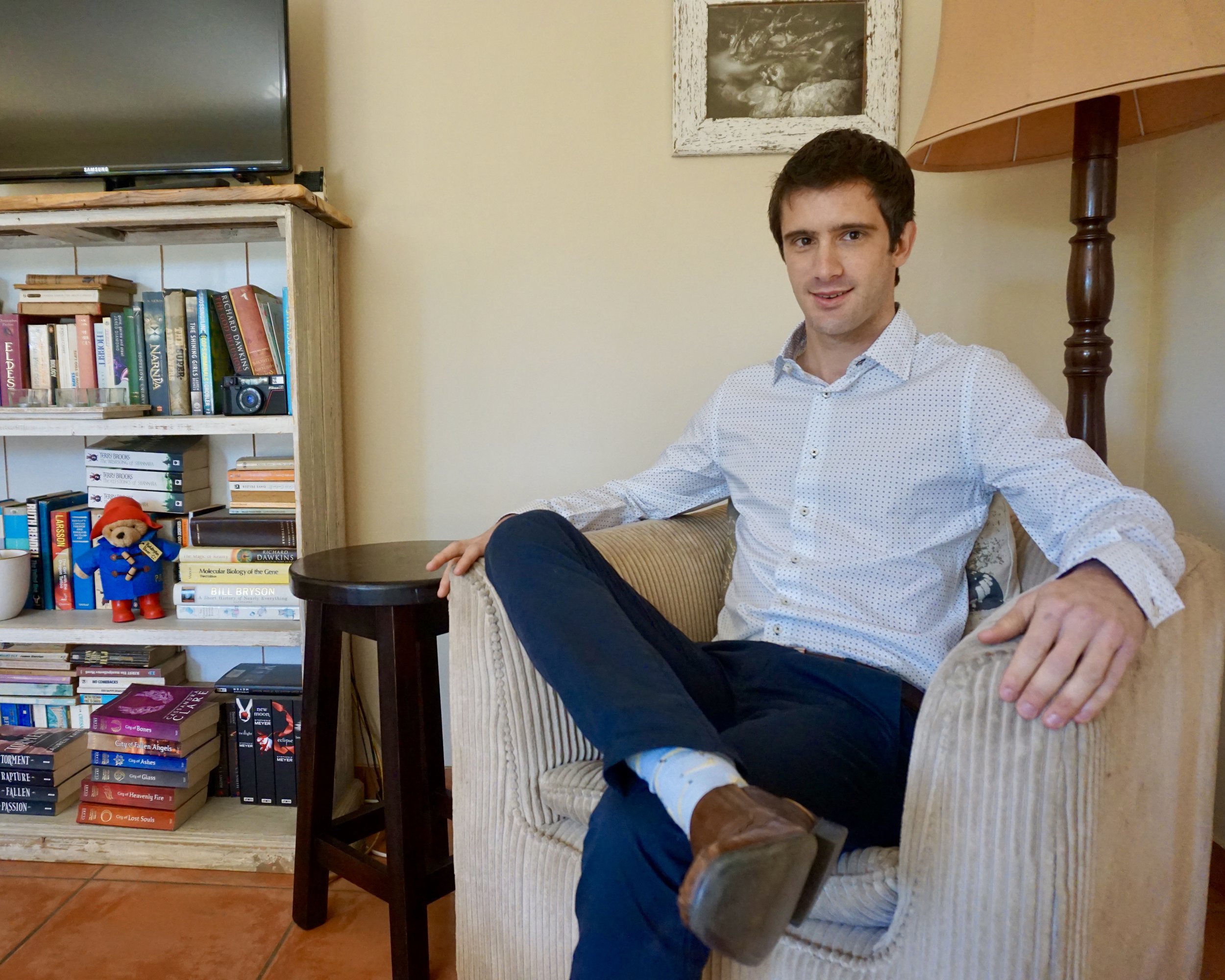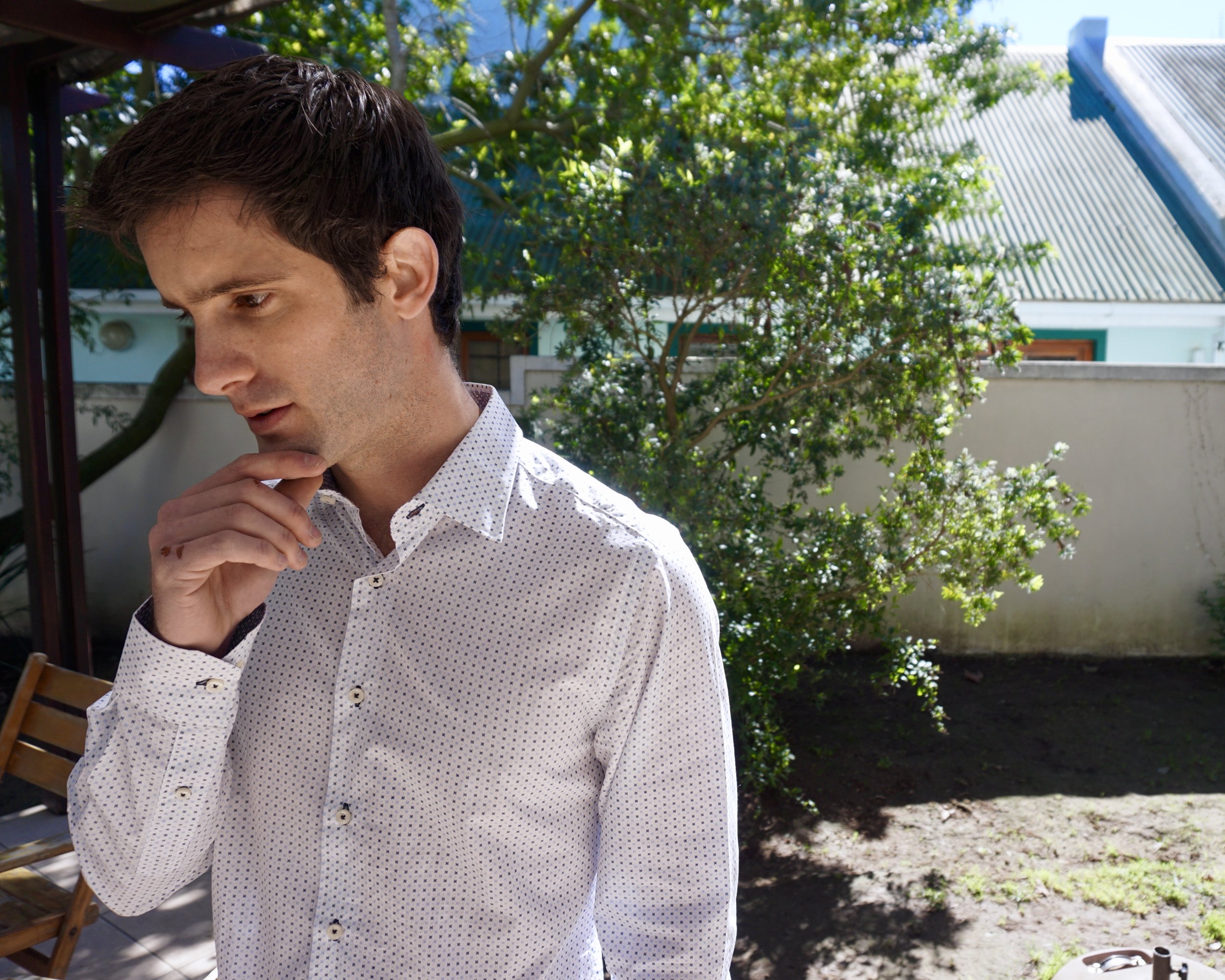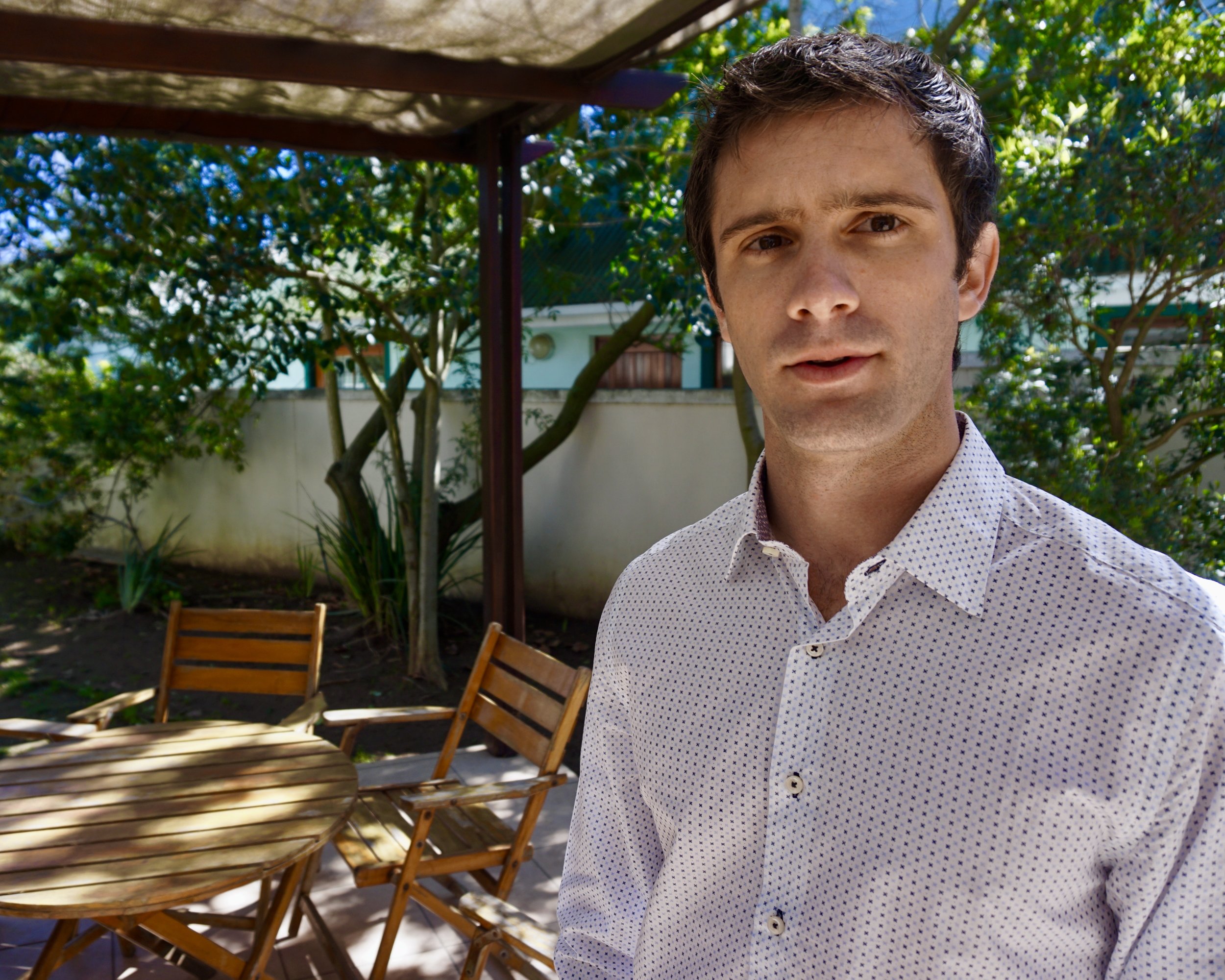 Hover your mouse over the image to see interview quotes and descriptions.
Deon Smit | Western Cape
Deon Smit is the founder of South Africa Water Warriors, an organization that helps distribute water to communities and not-for-profit organizations in the Western Cape Province. Deon set up the organization in February 2018, because he felt there wasn't enough help for people being affected by the water crisis. He has been active on water issues in Cape Town and the Western Cape since 2005.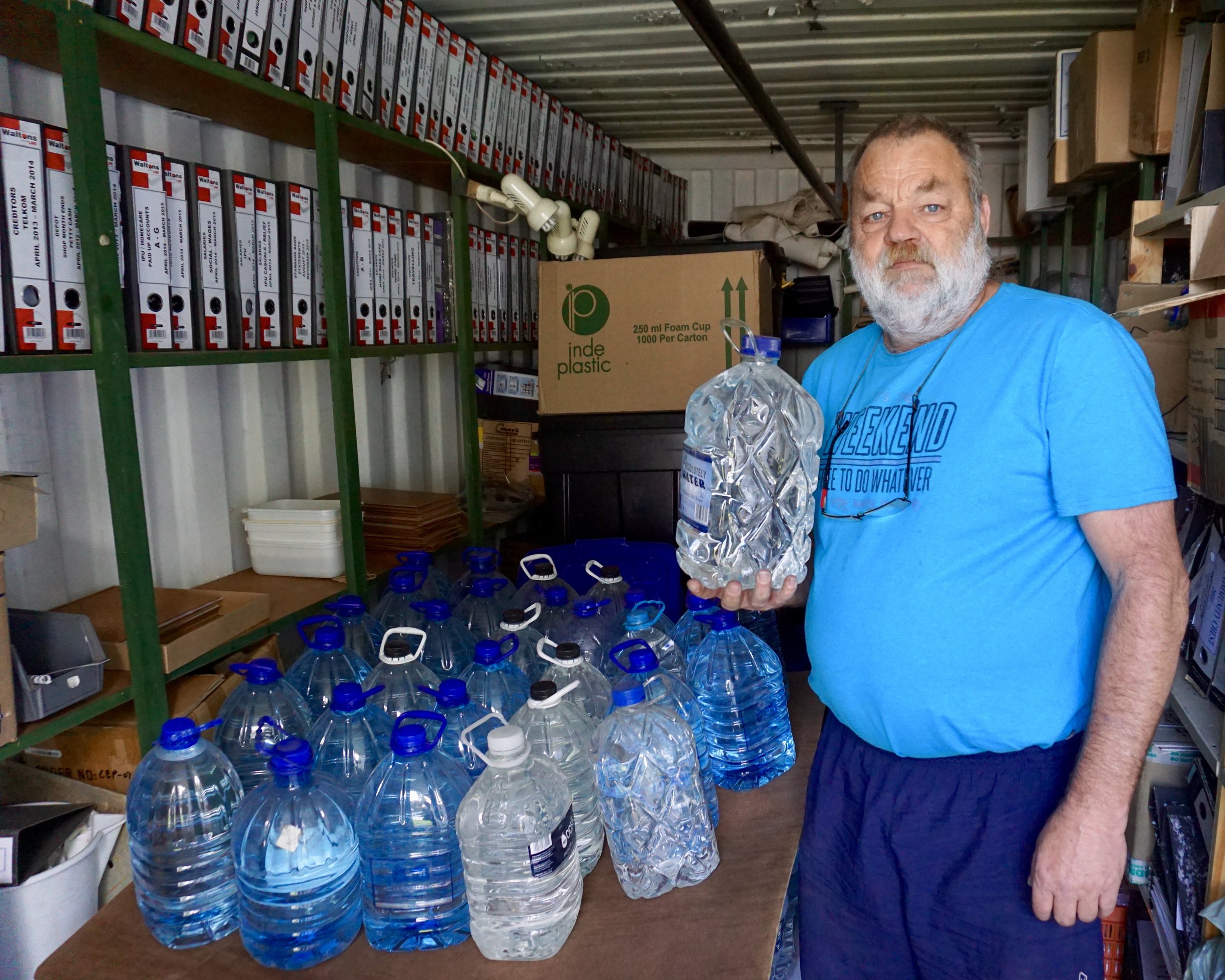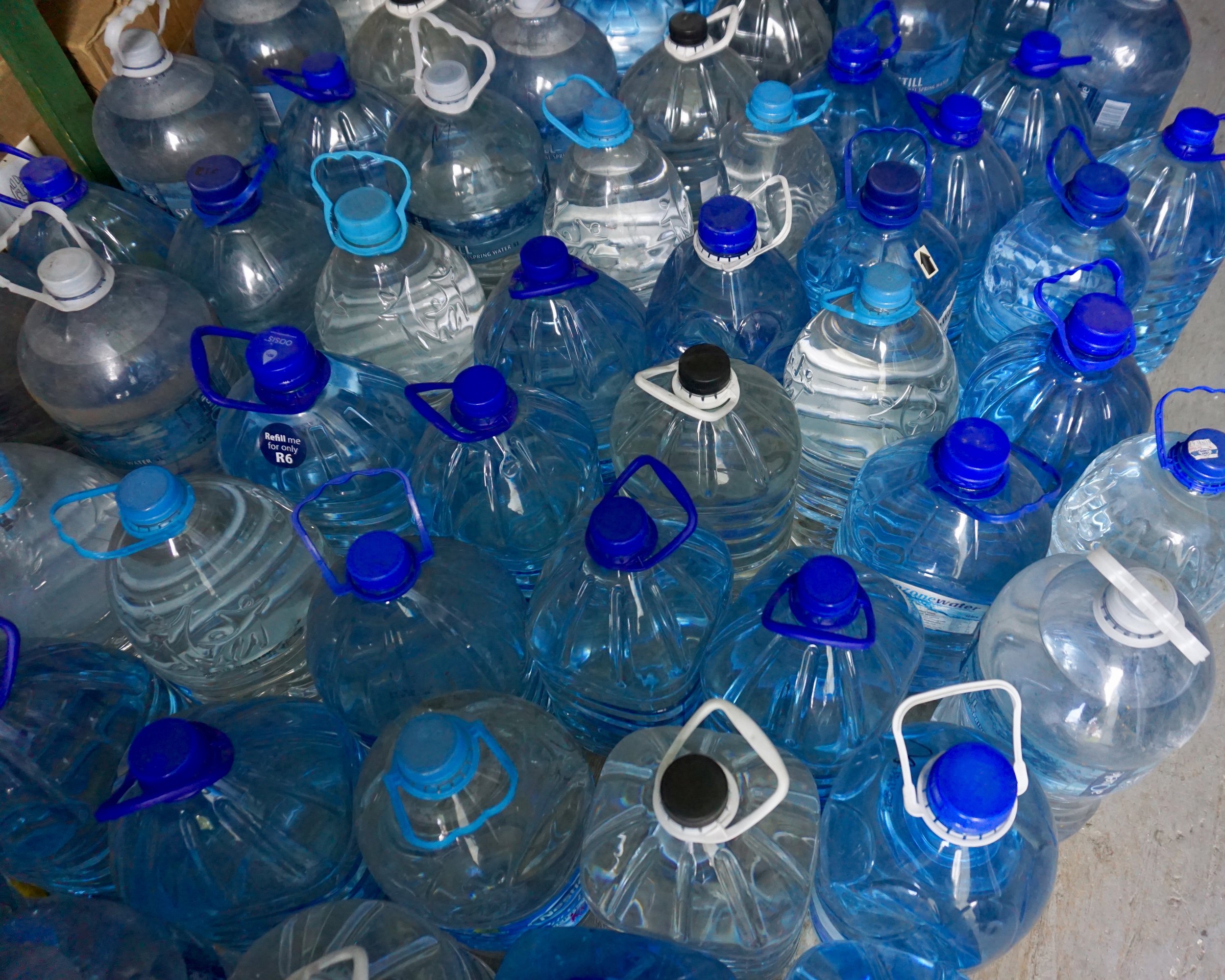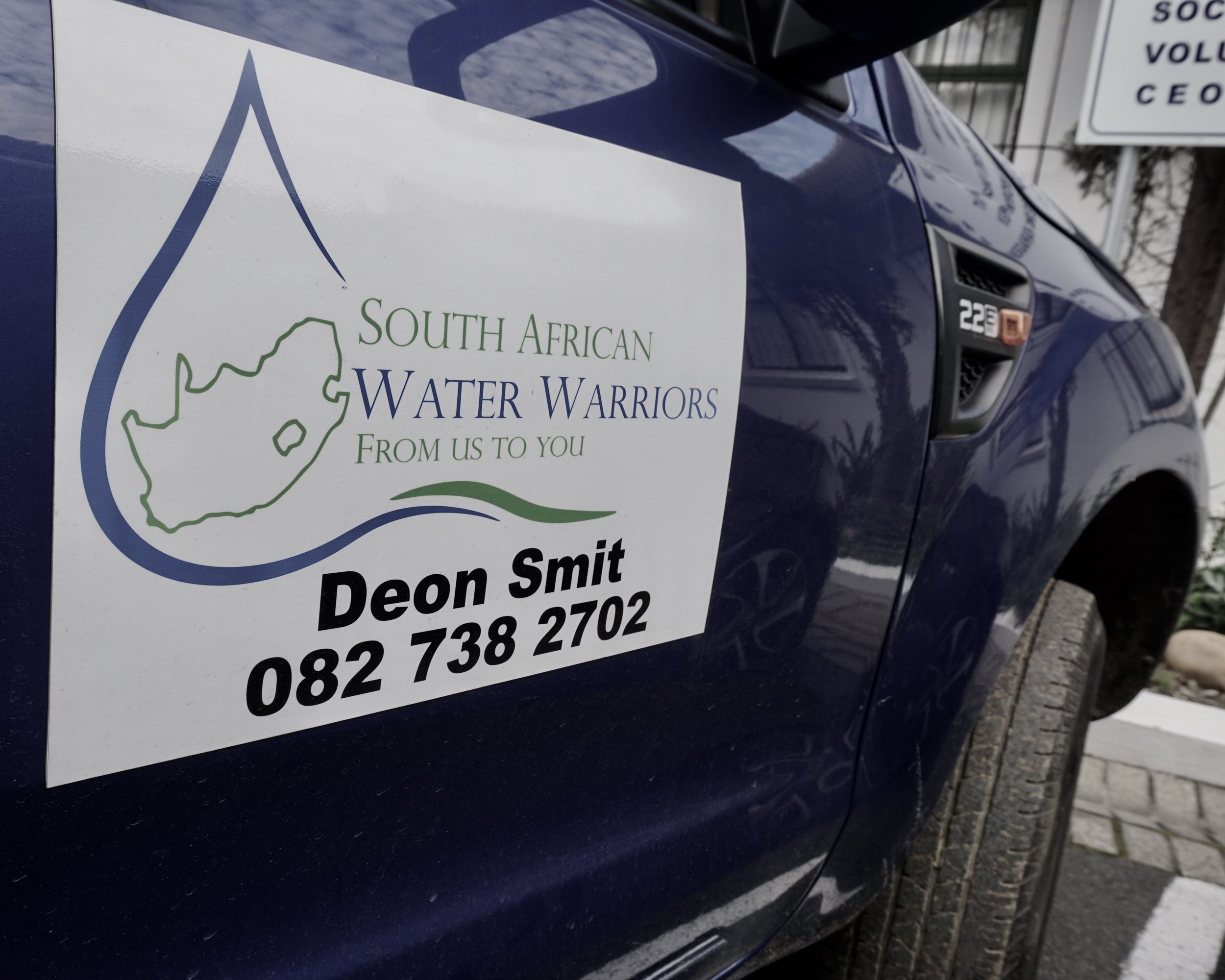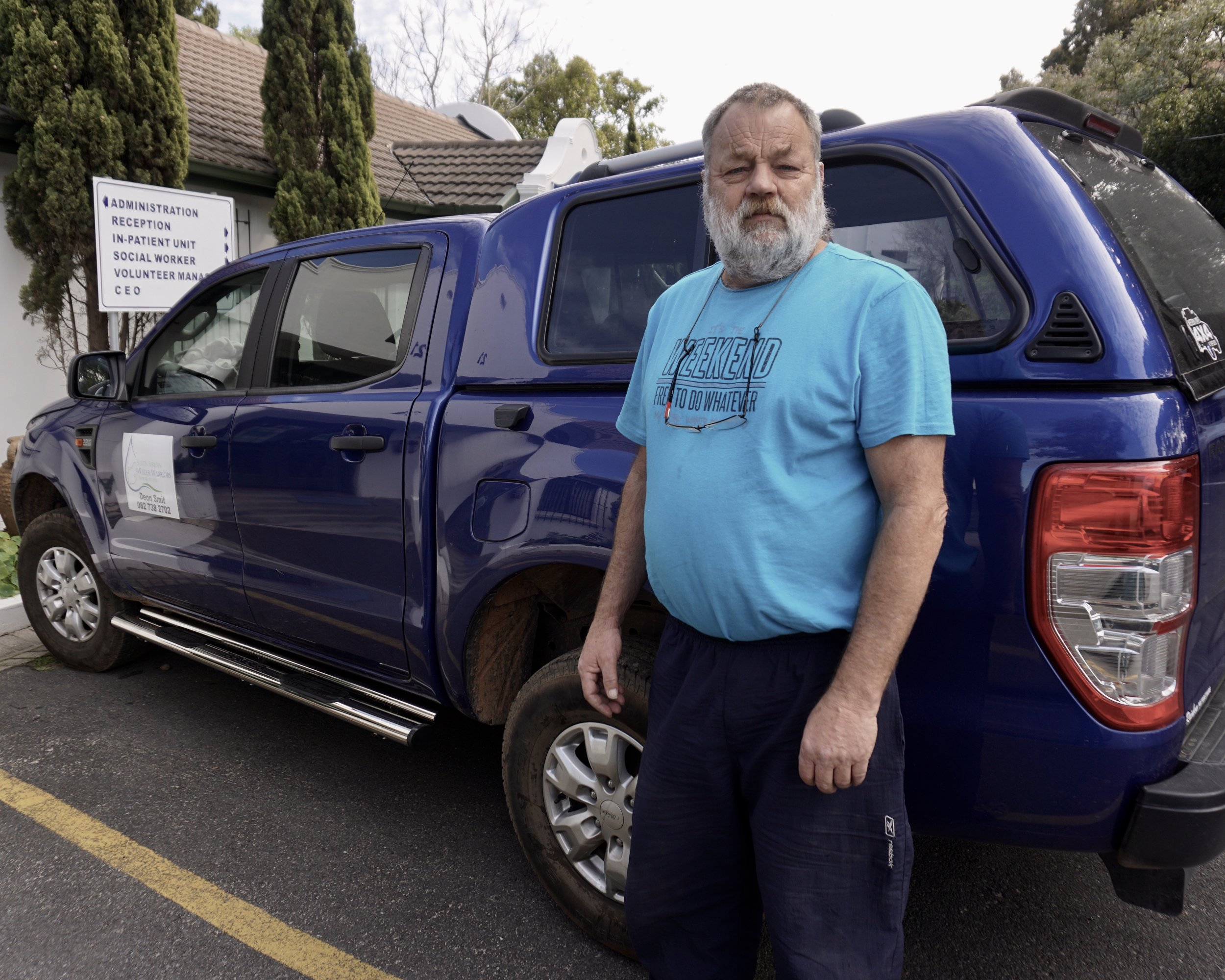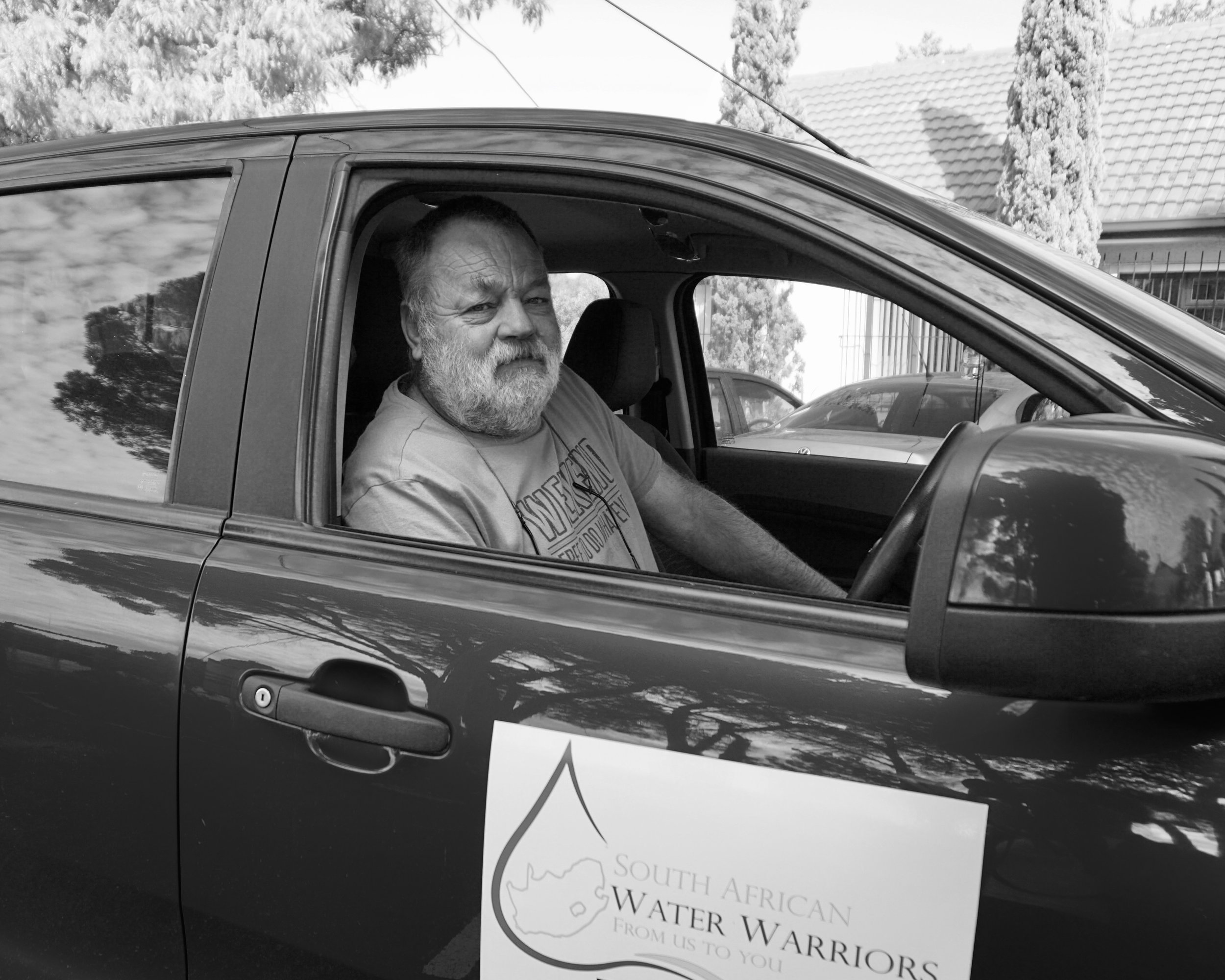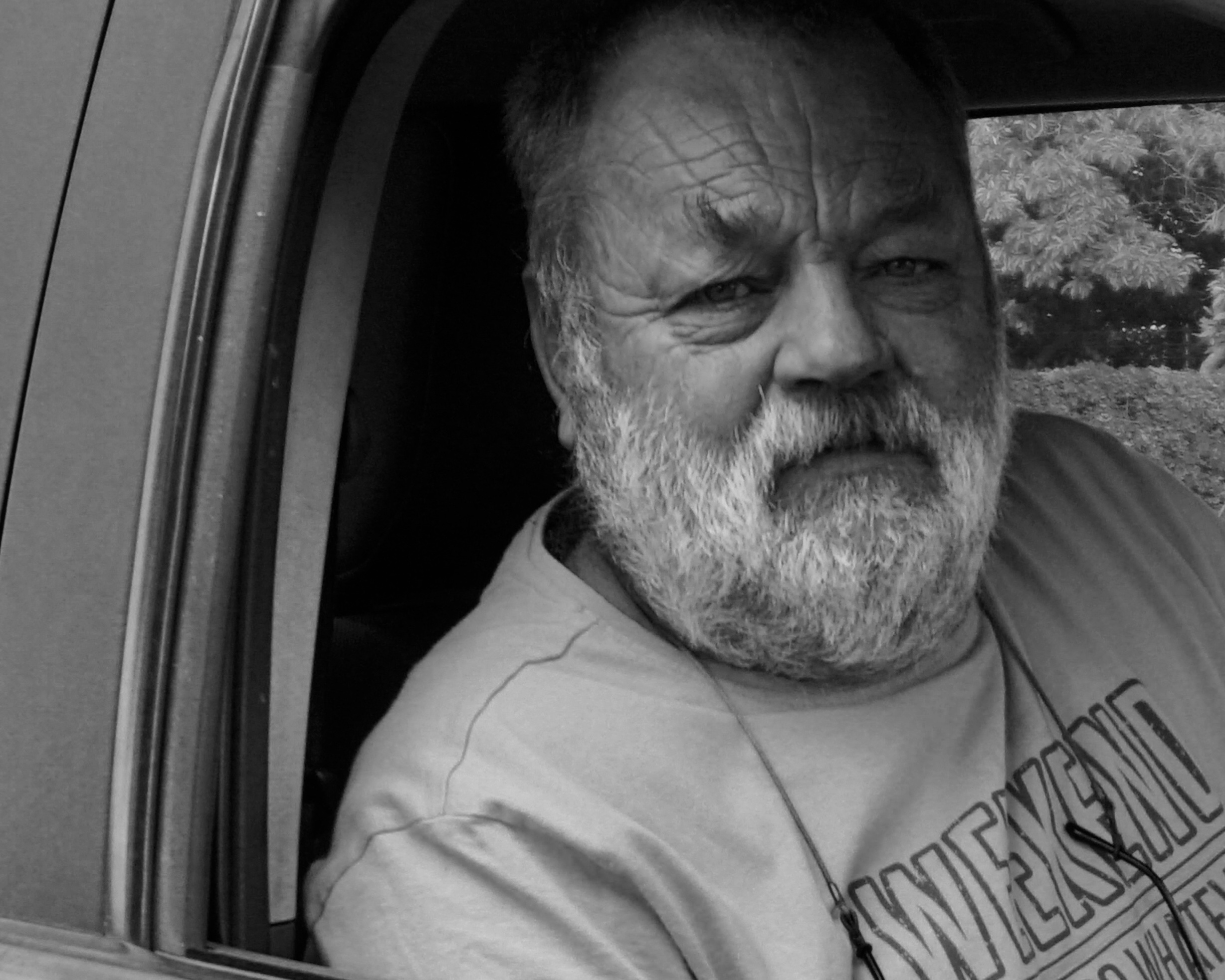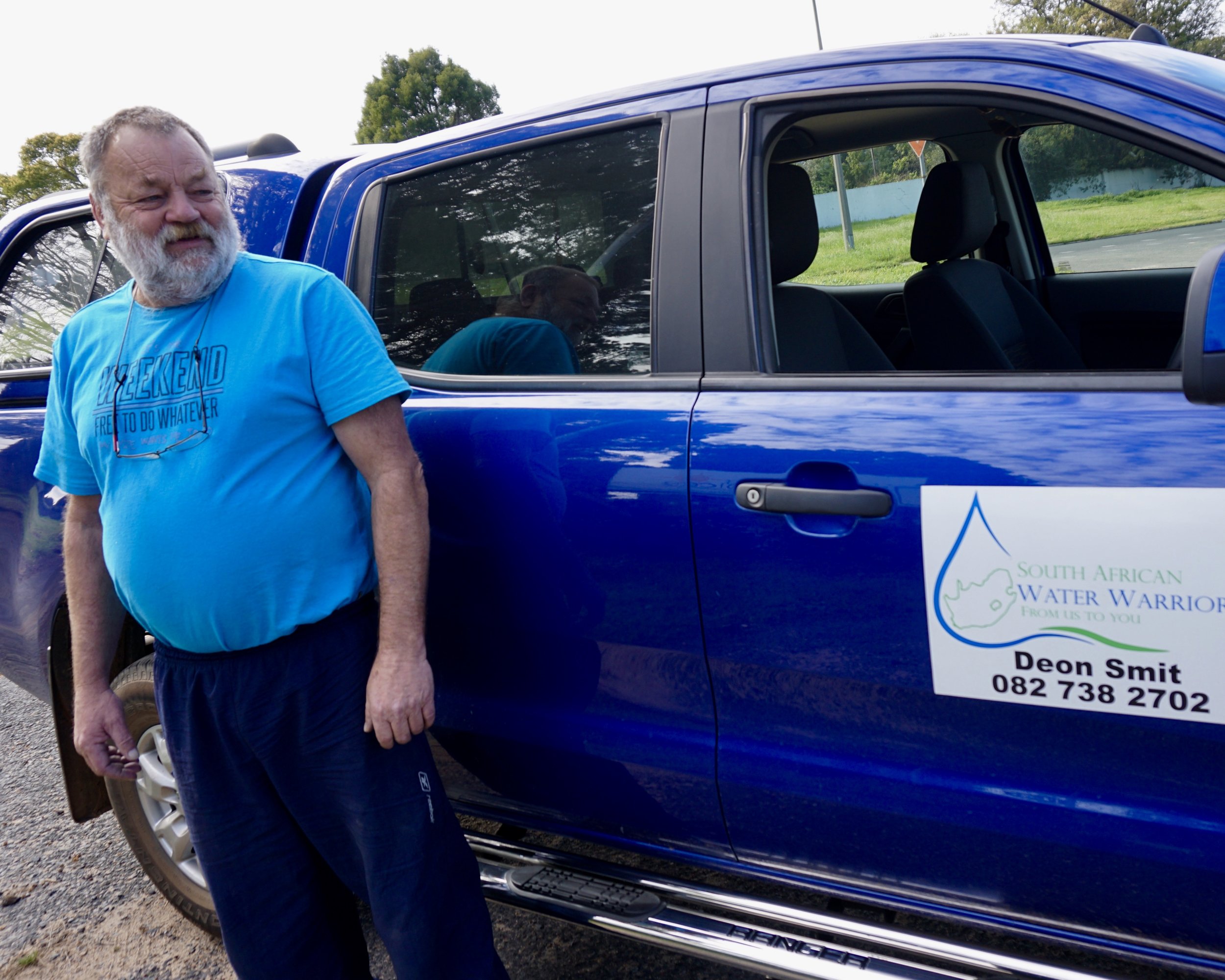 Hover your mouse over the image to see interview quotes and descriptions.
Additional Place Photos
Cape Town + Boulders Beach + Hout Bay
Cape Town is a city surrounded by water. Juxtaposed against picturesque views, unique wildlife, and the vibrancy of a major city; is the reality that Cape Town's water resources are at risk. At every turn, tourists and locals learn quickly that water is precious and cannot be wasted - thanks to the City's public education efforts and private business notices.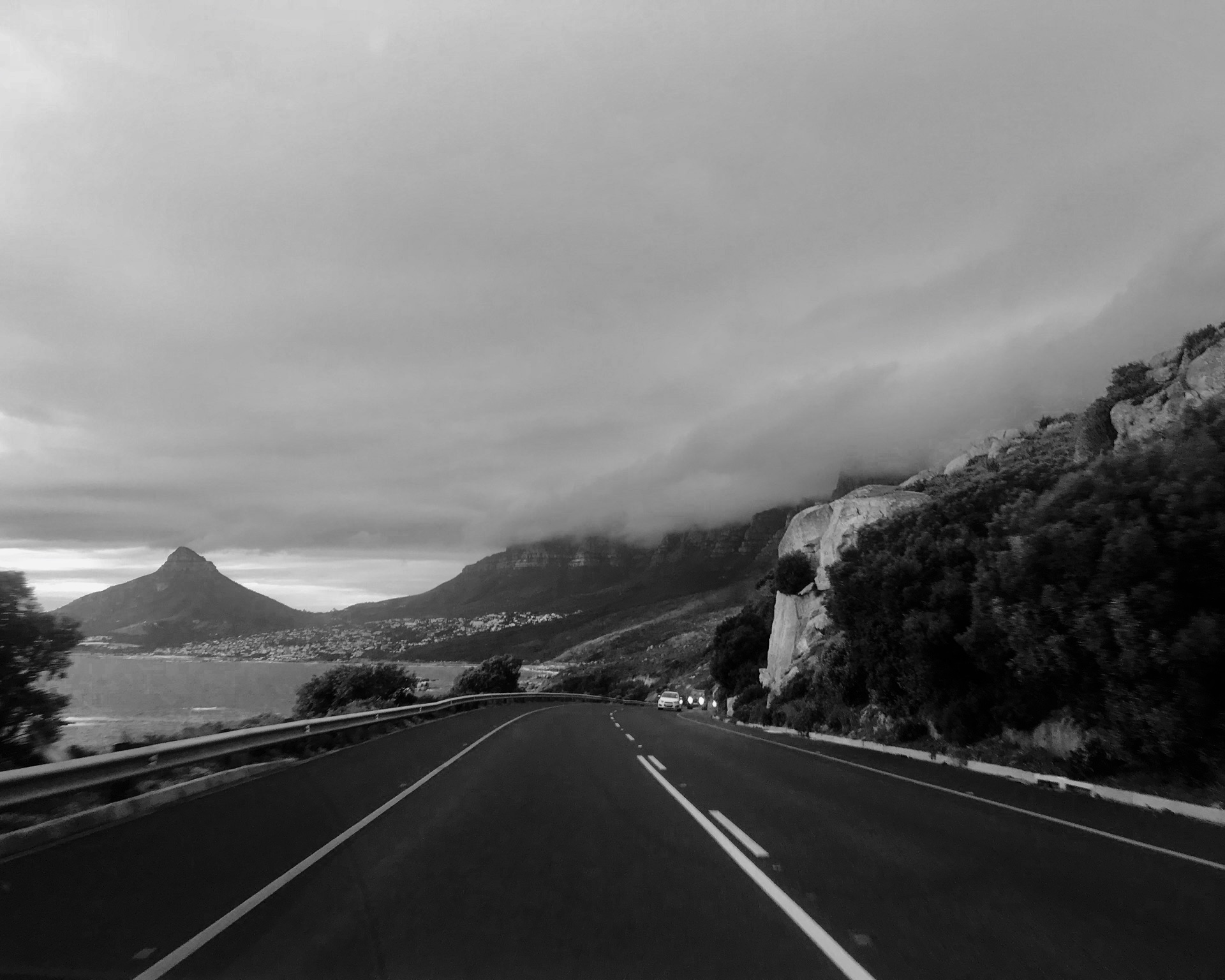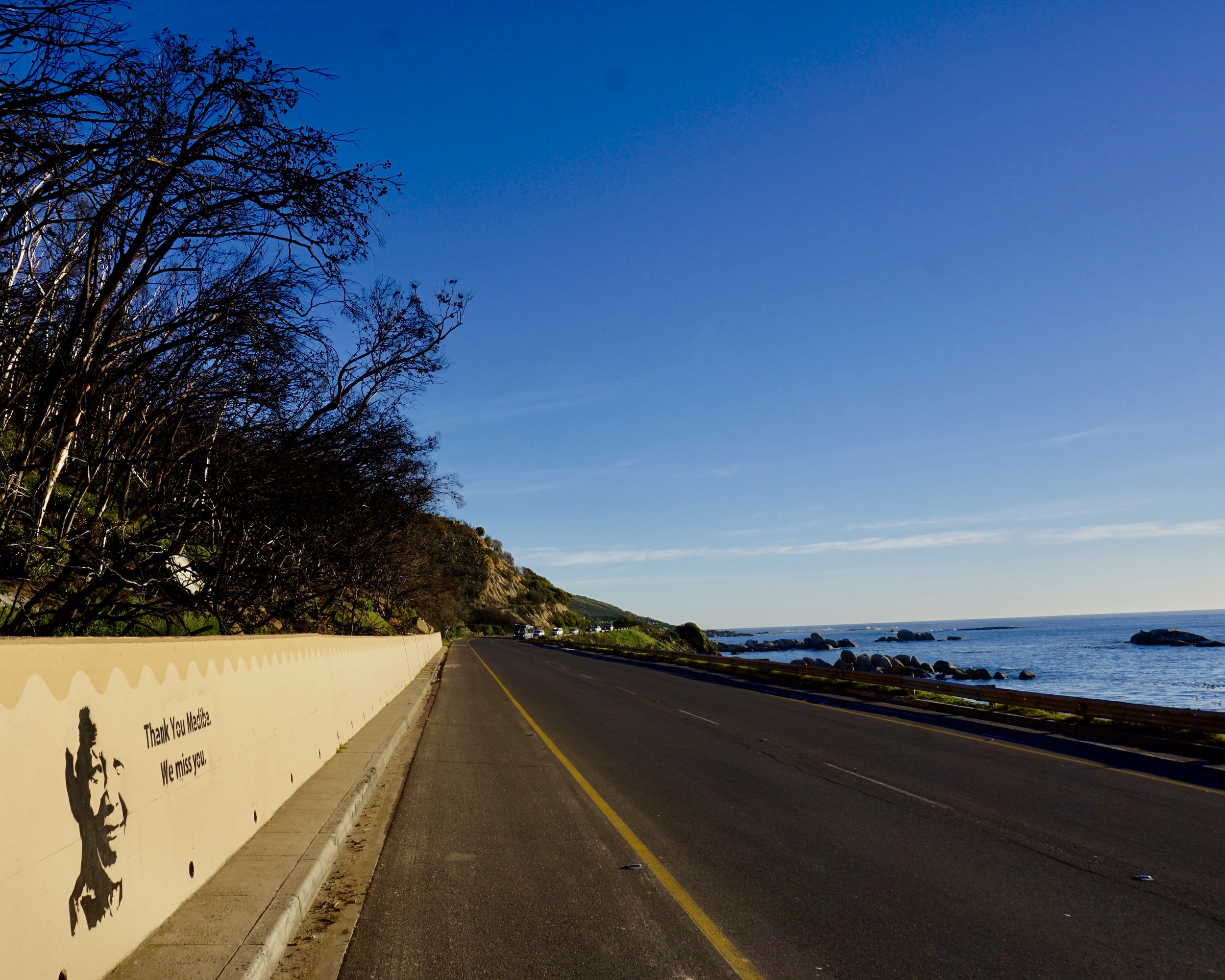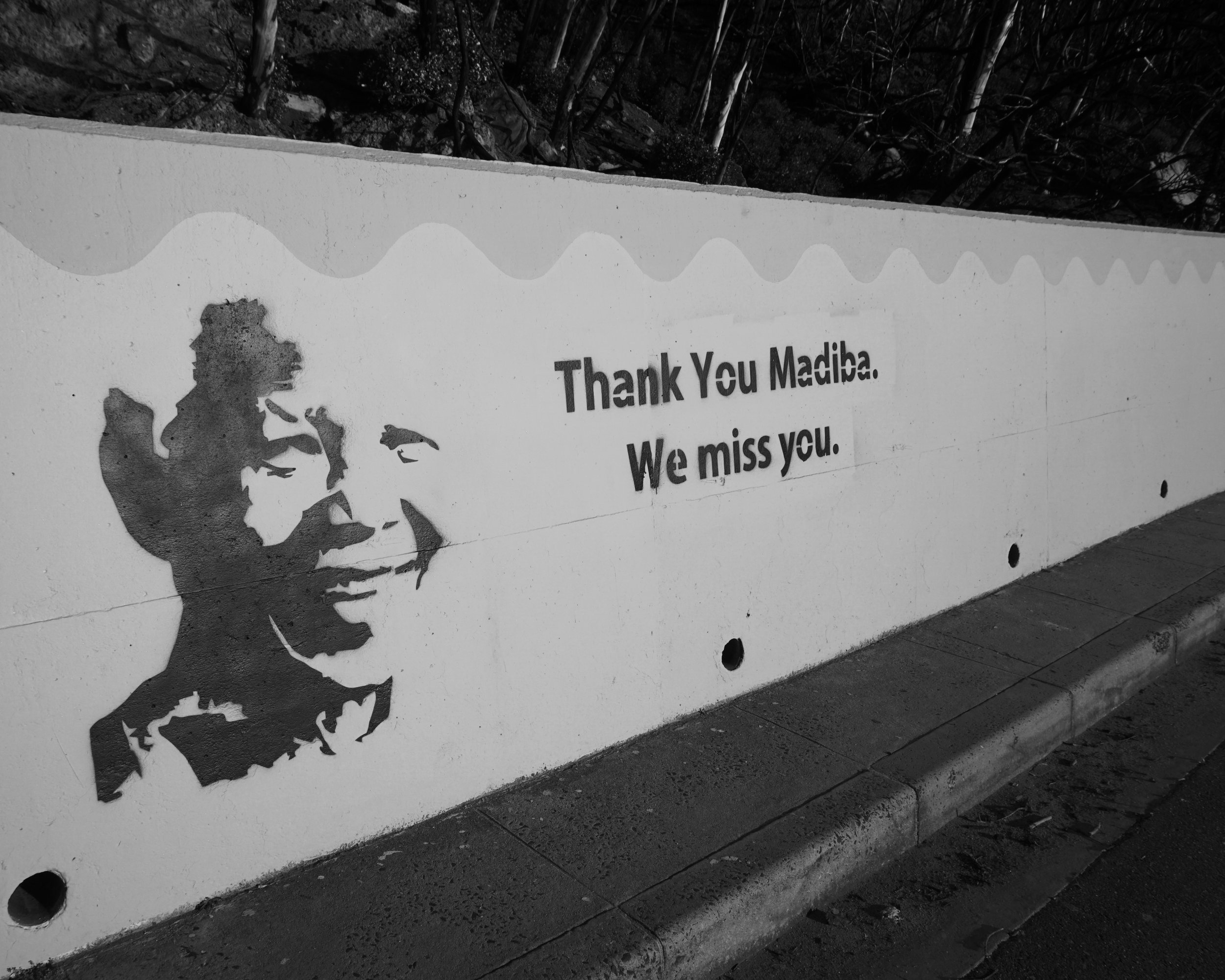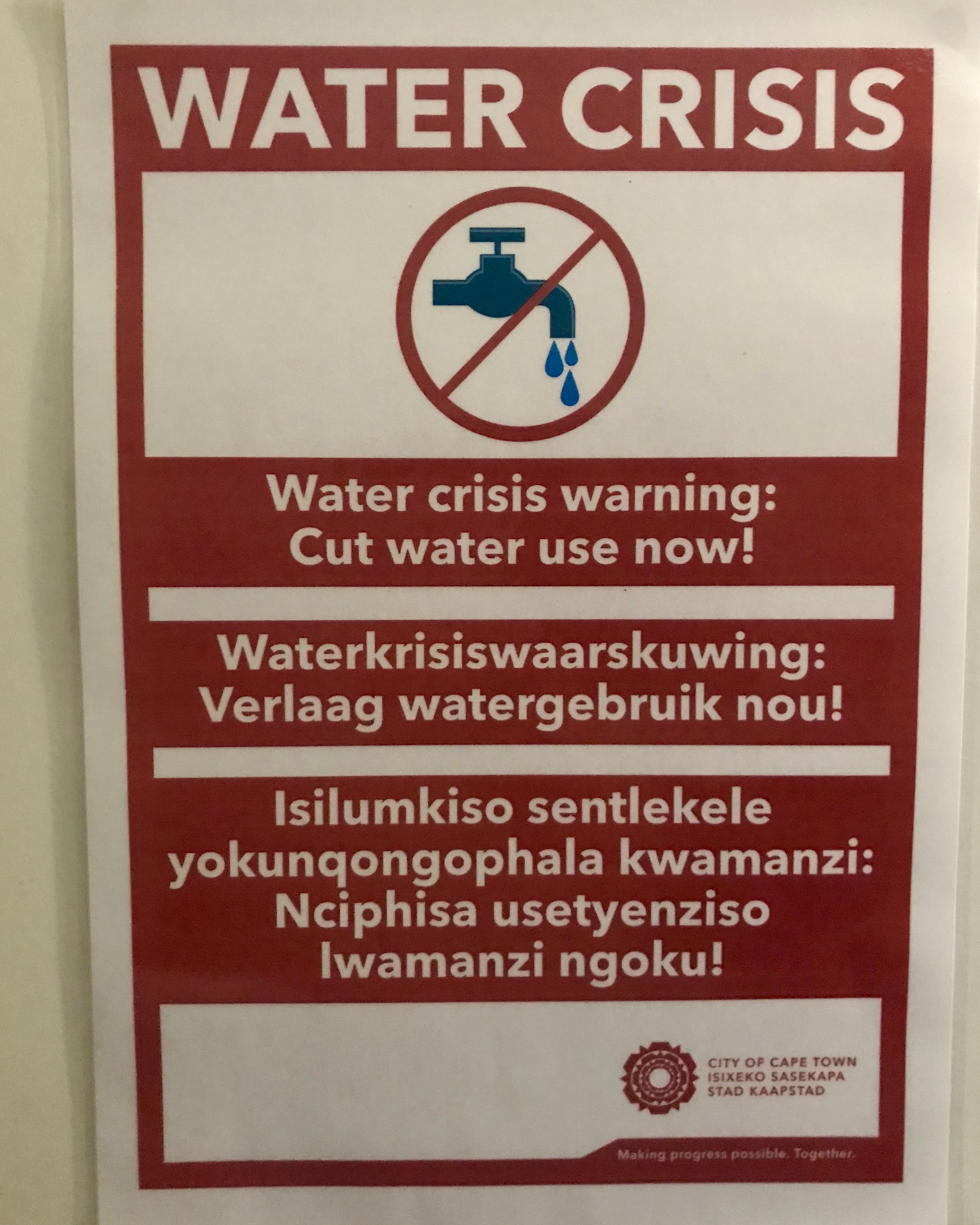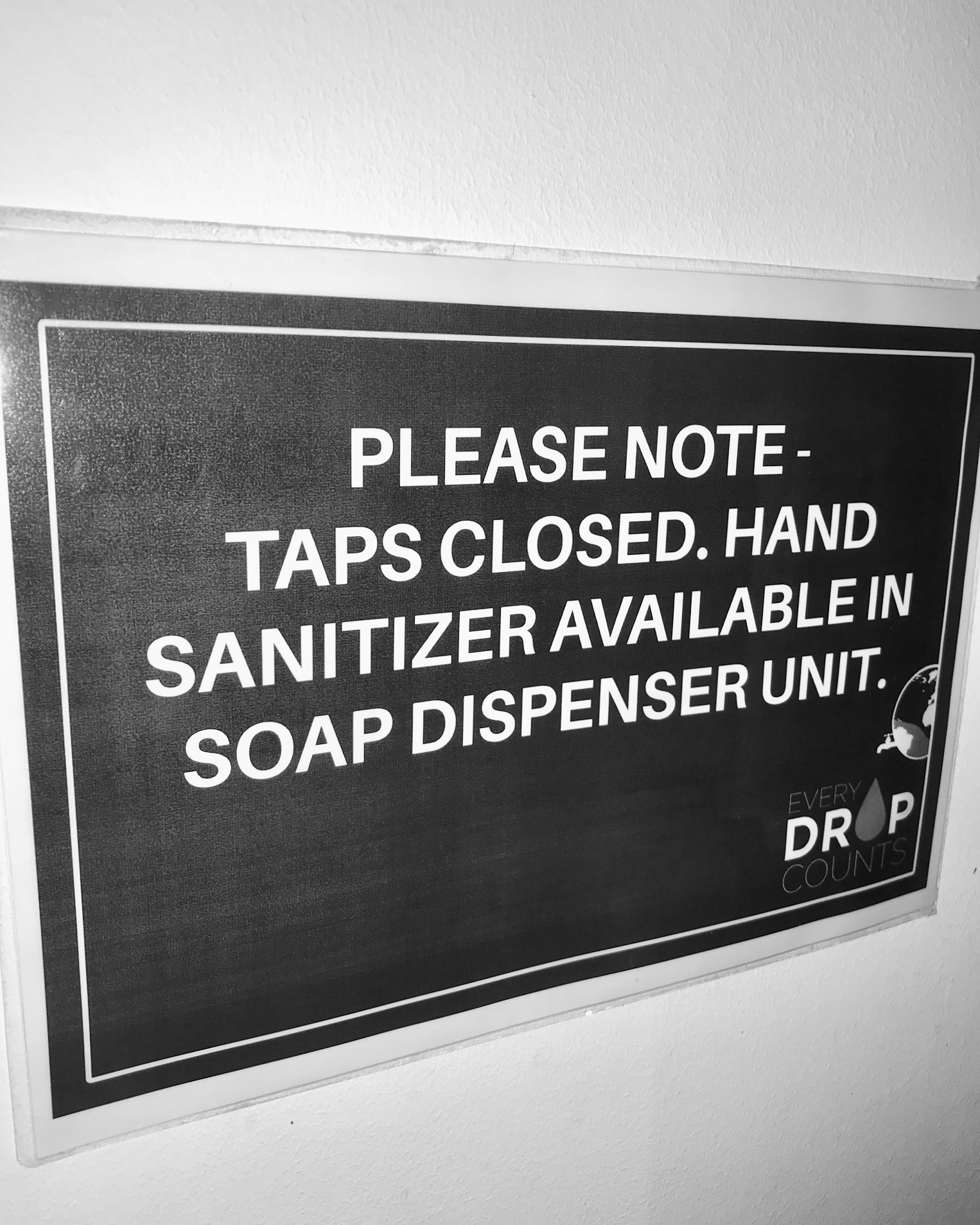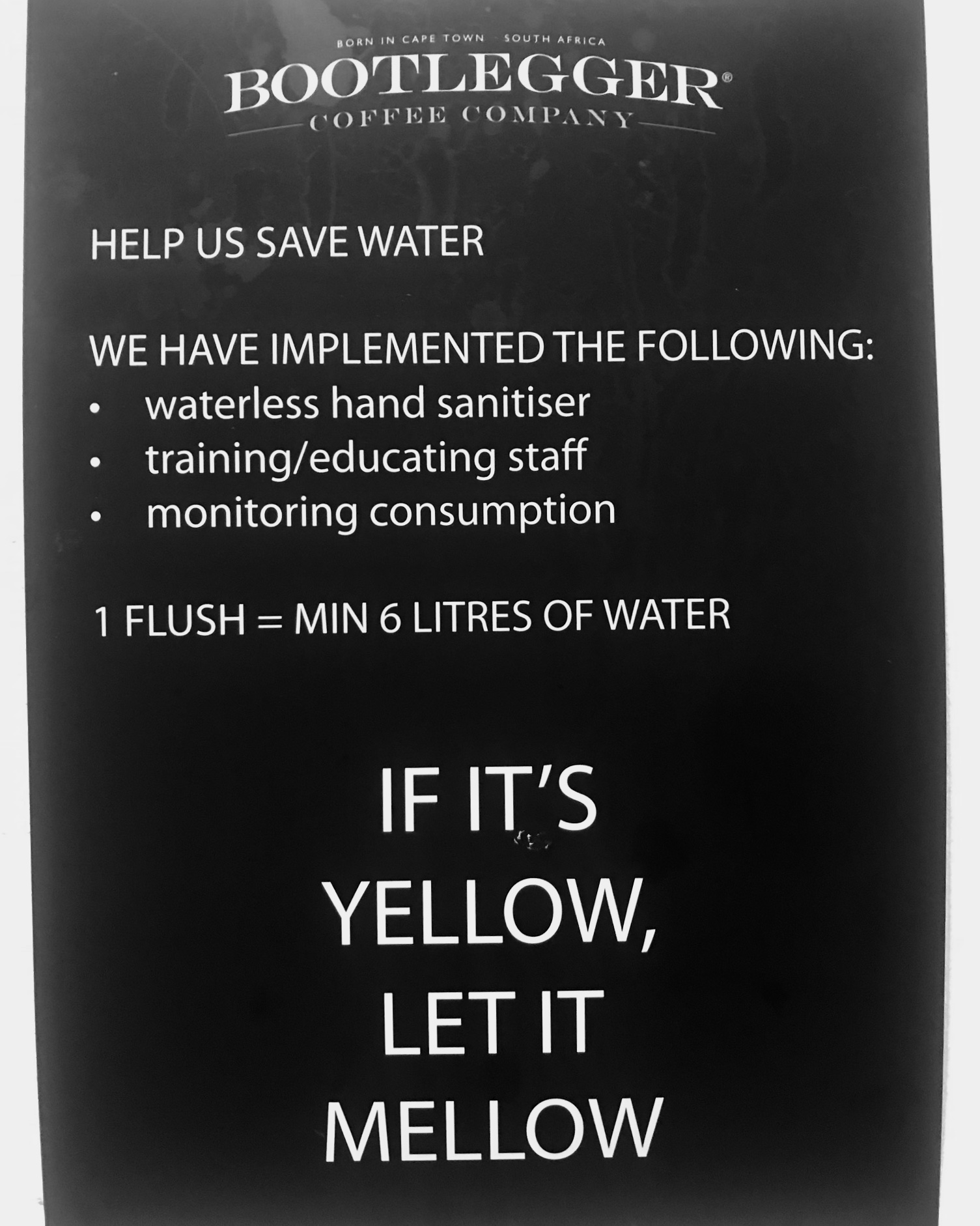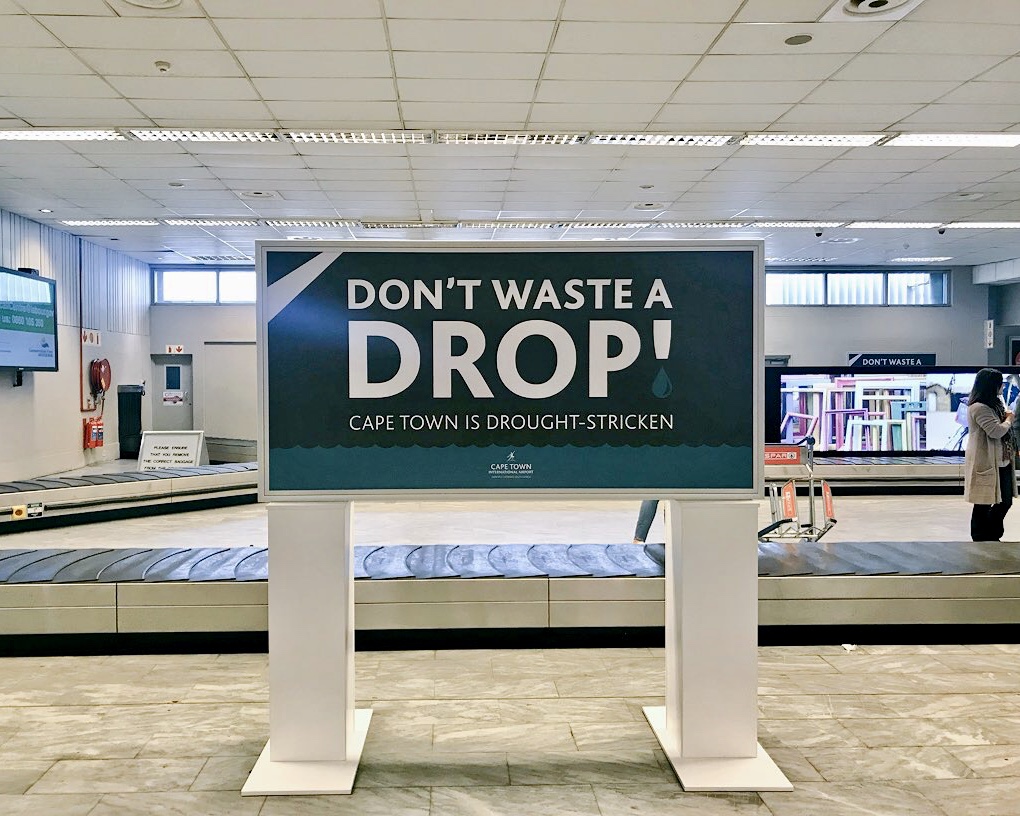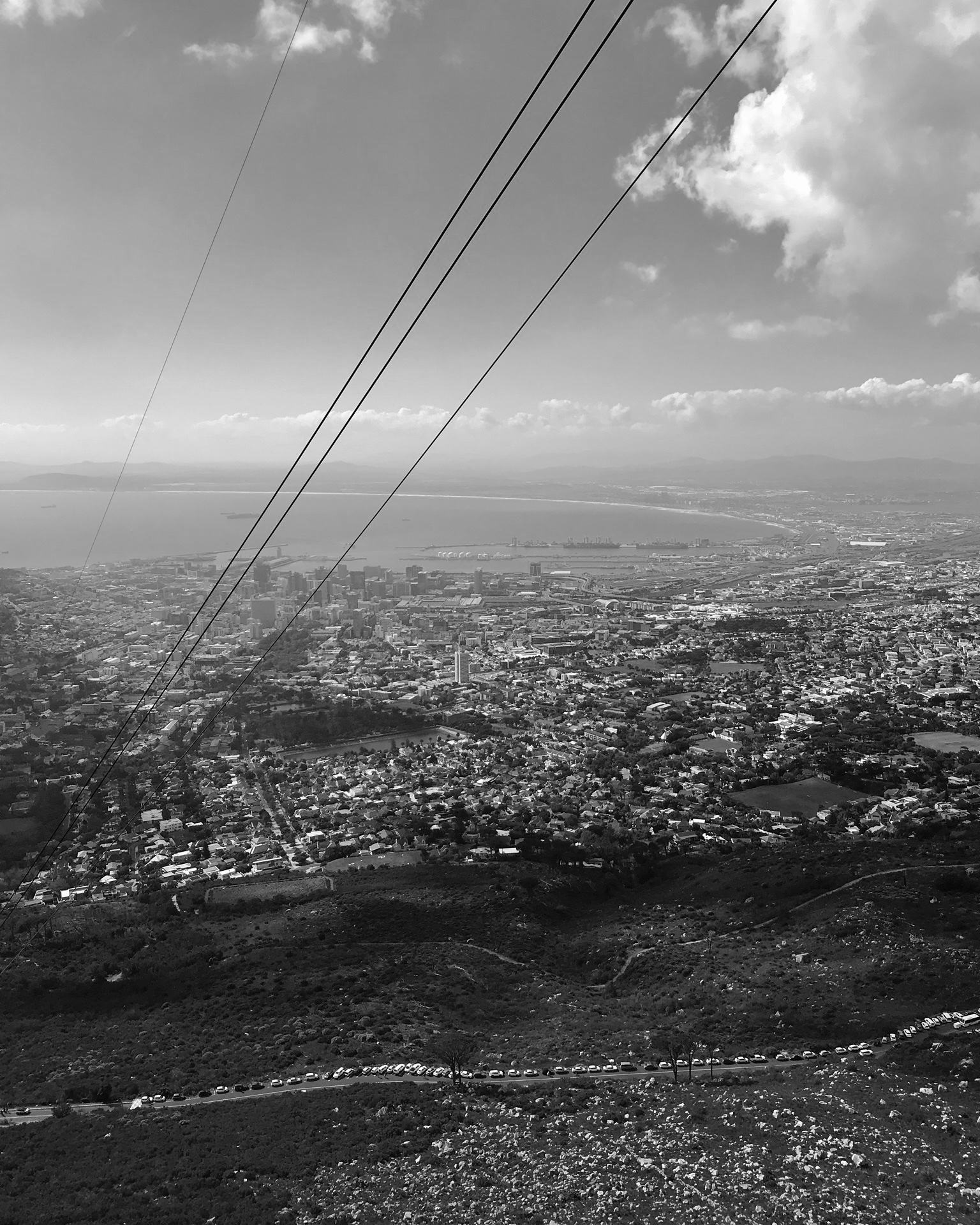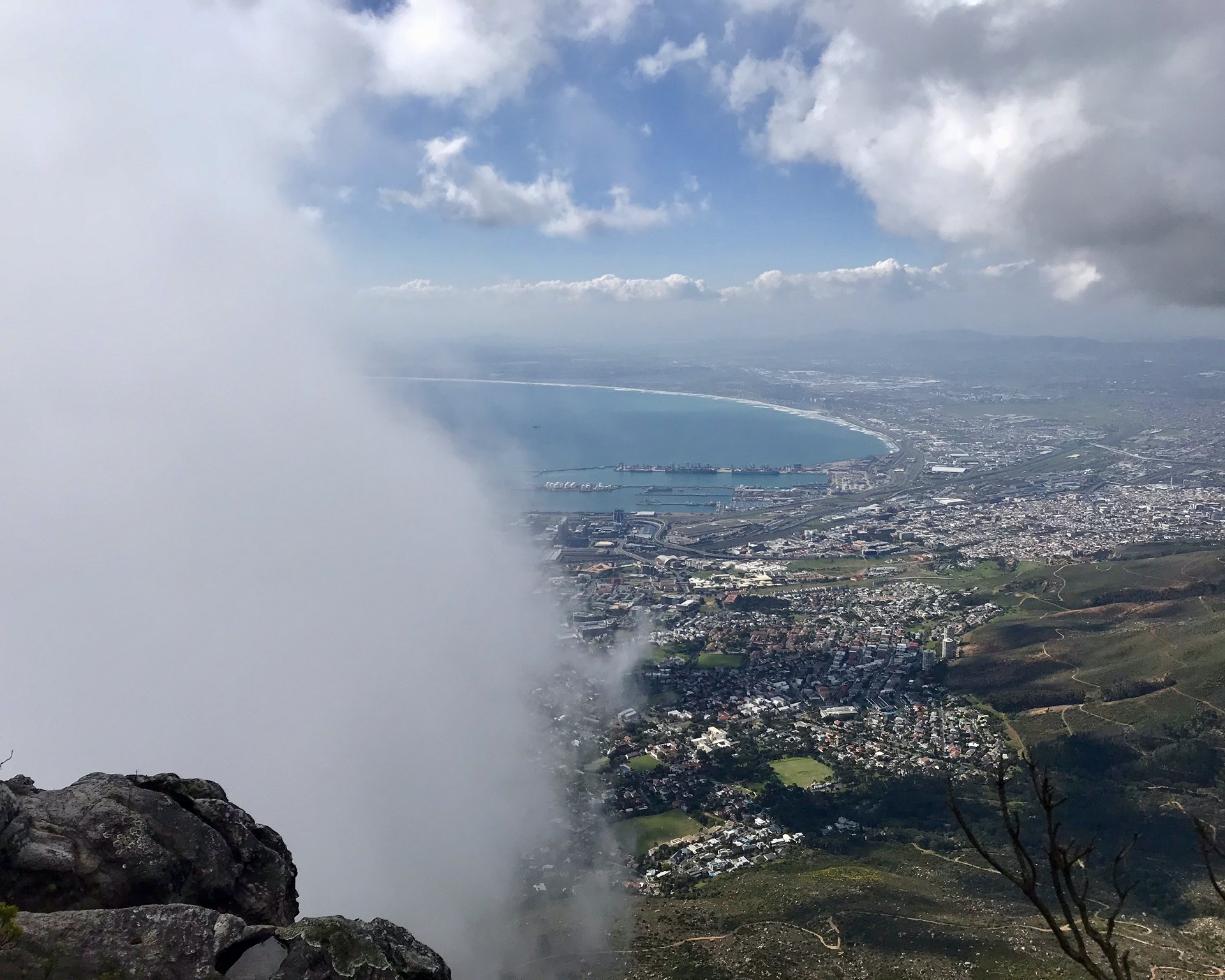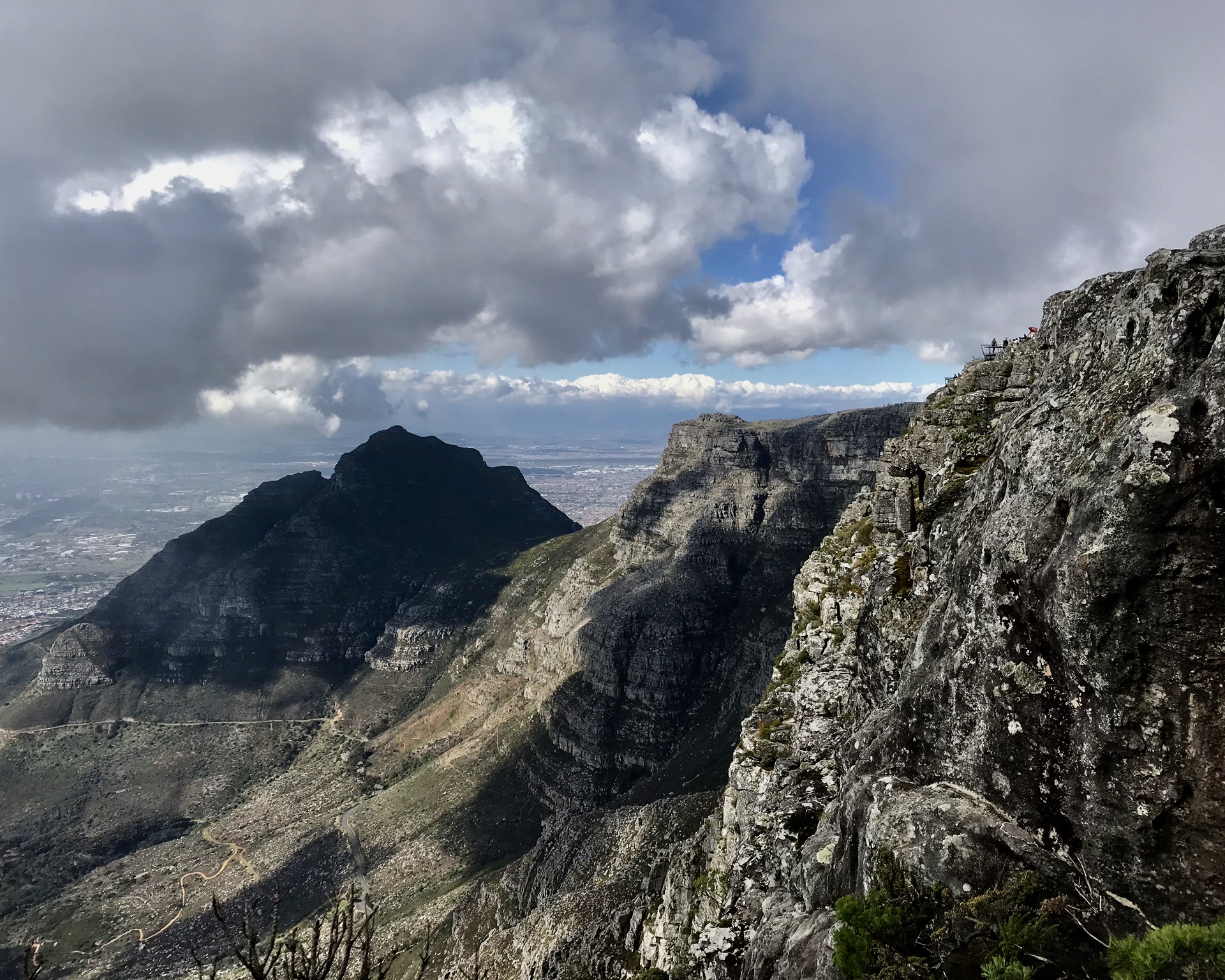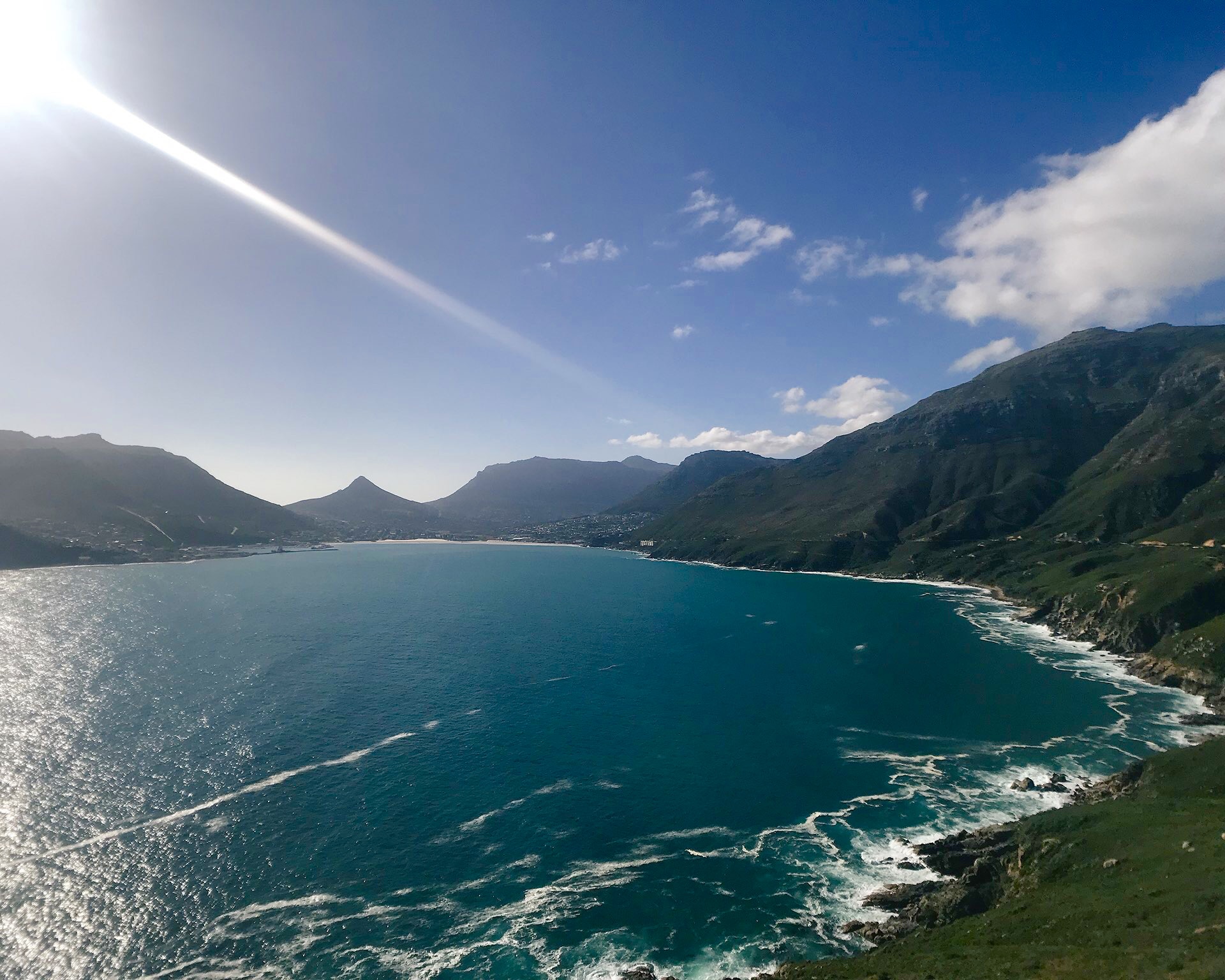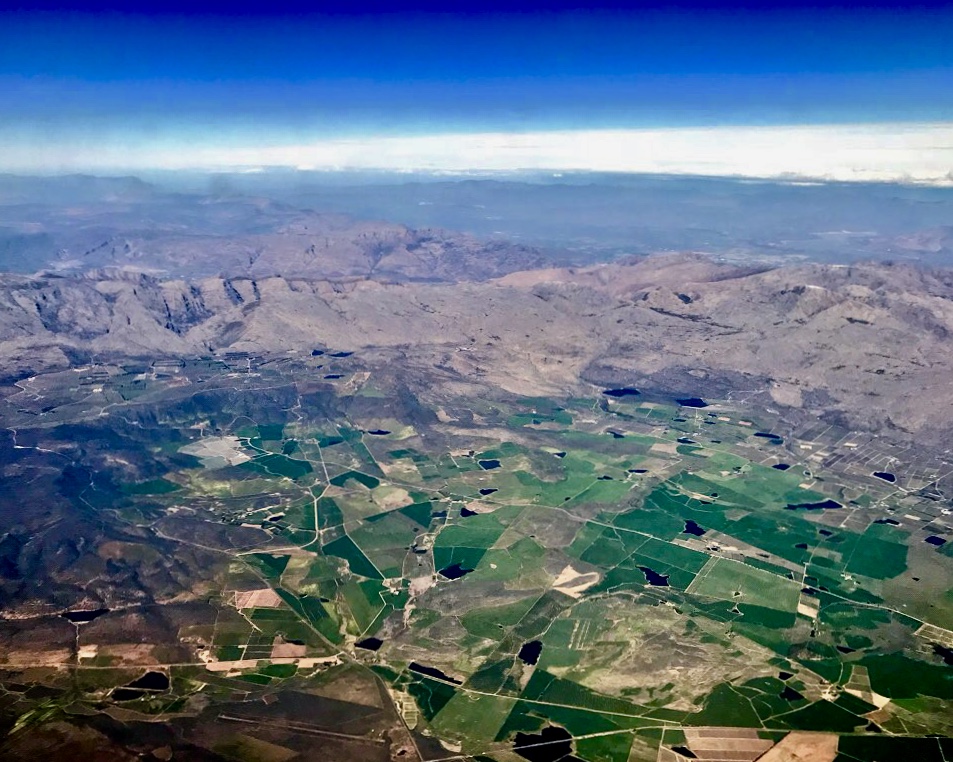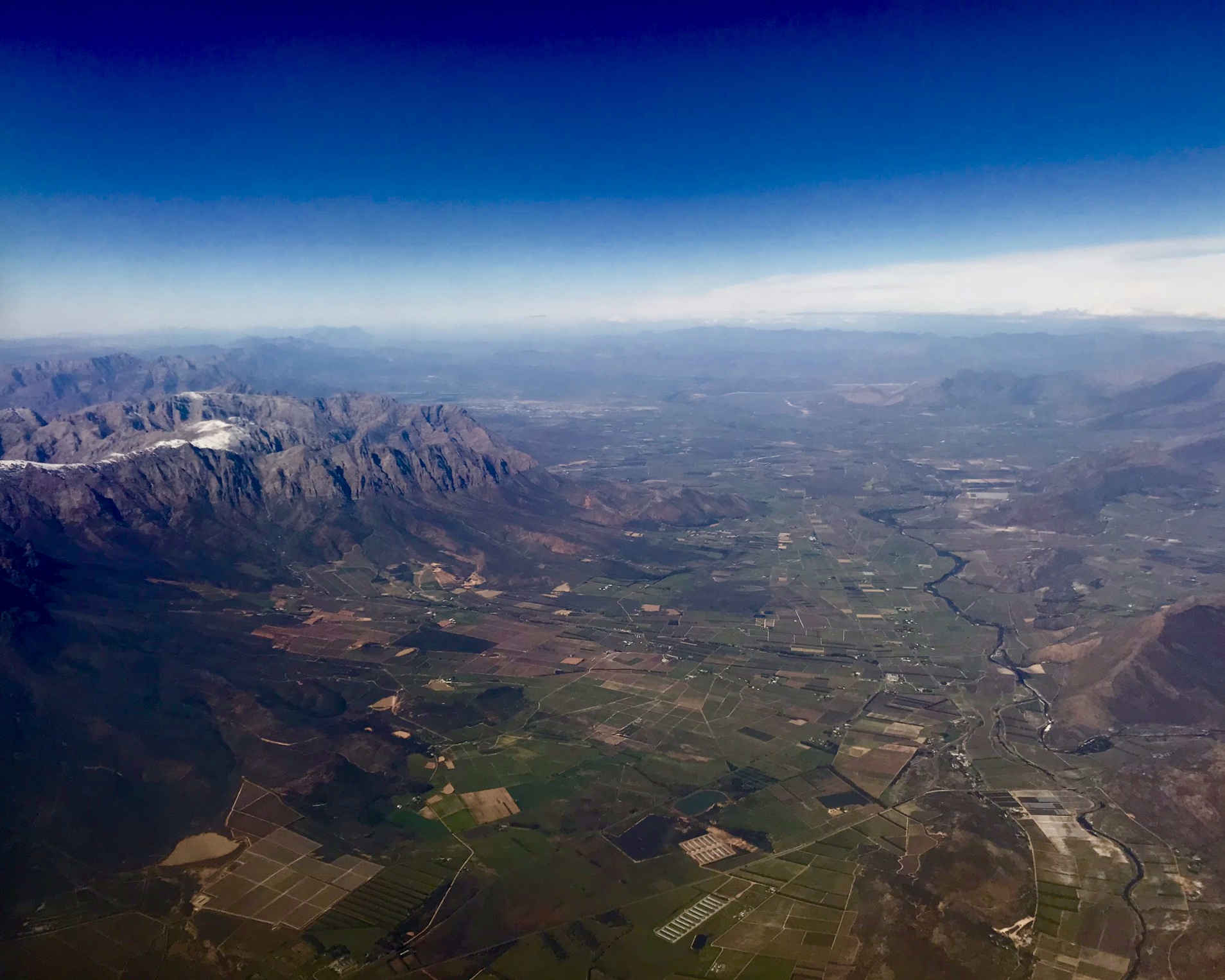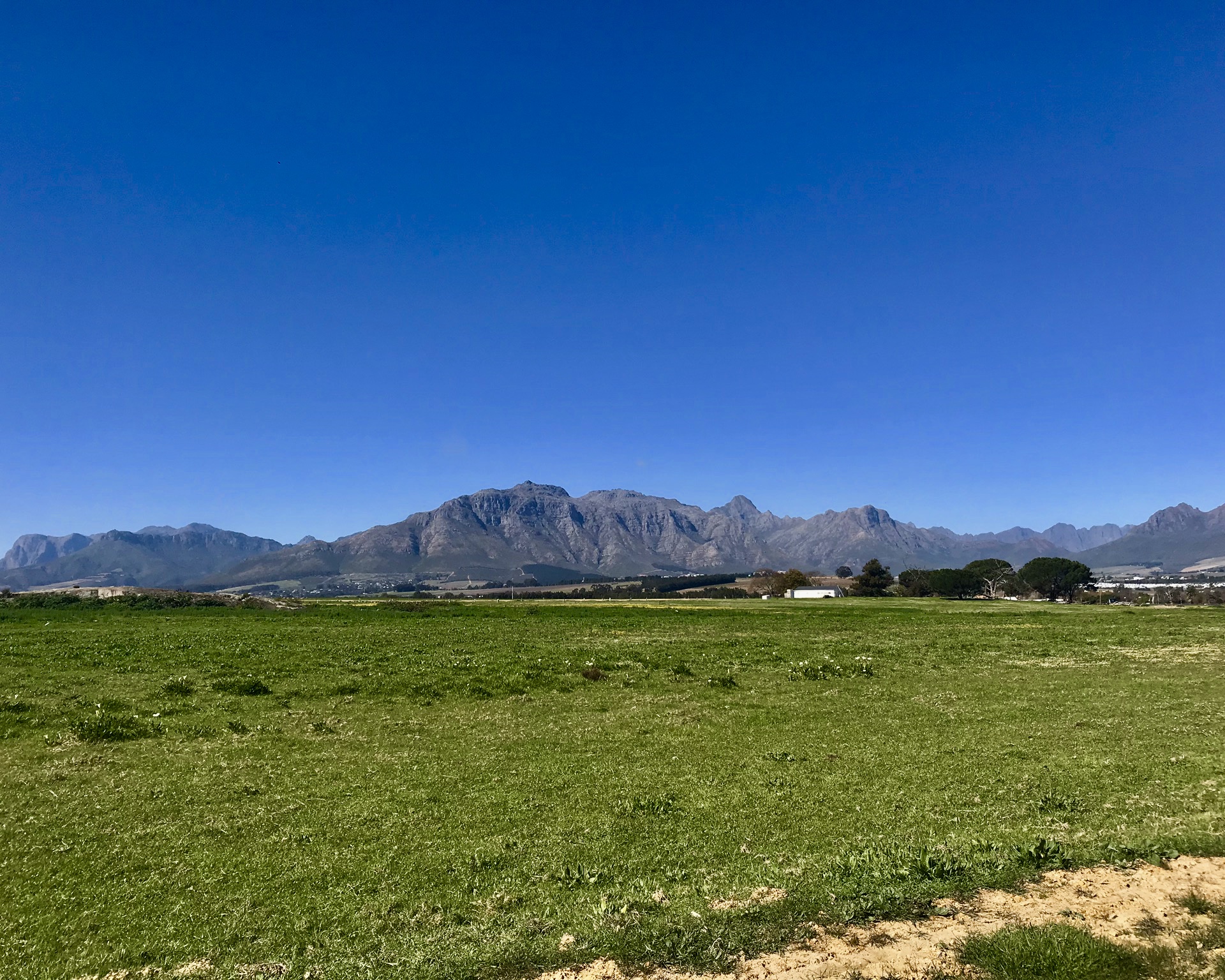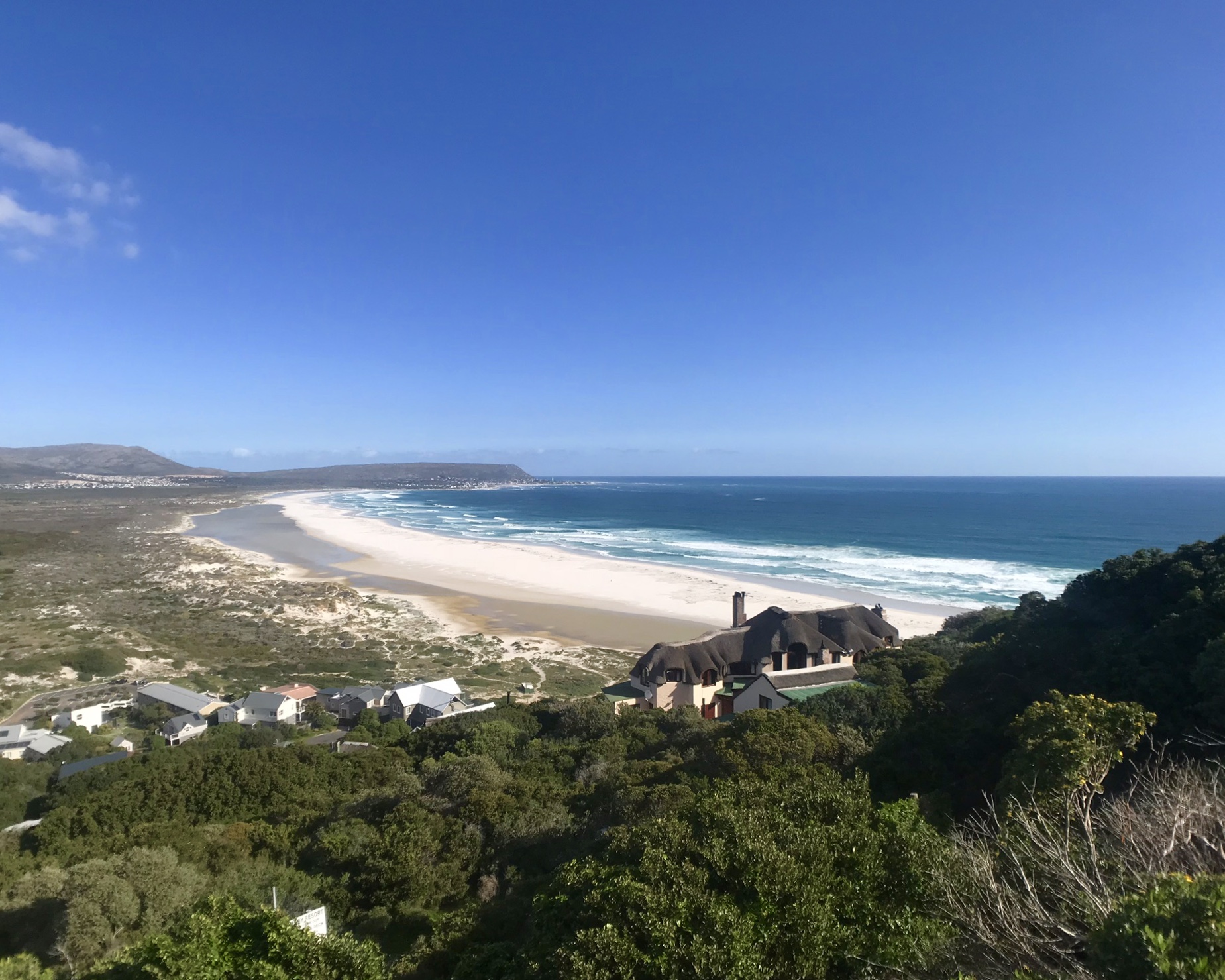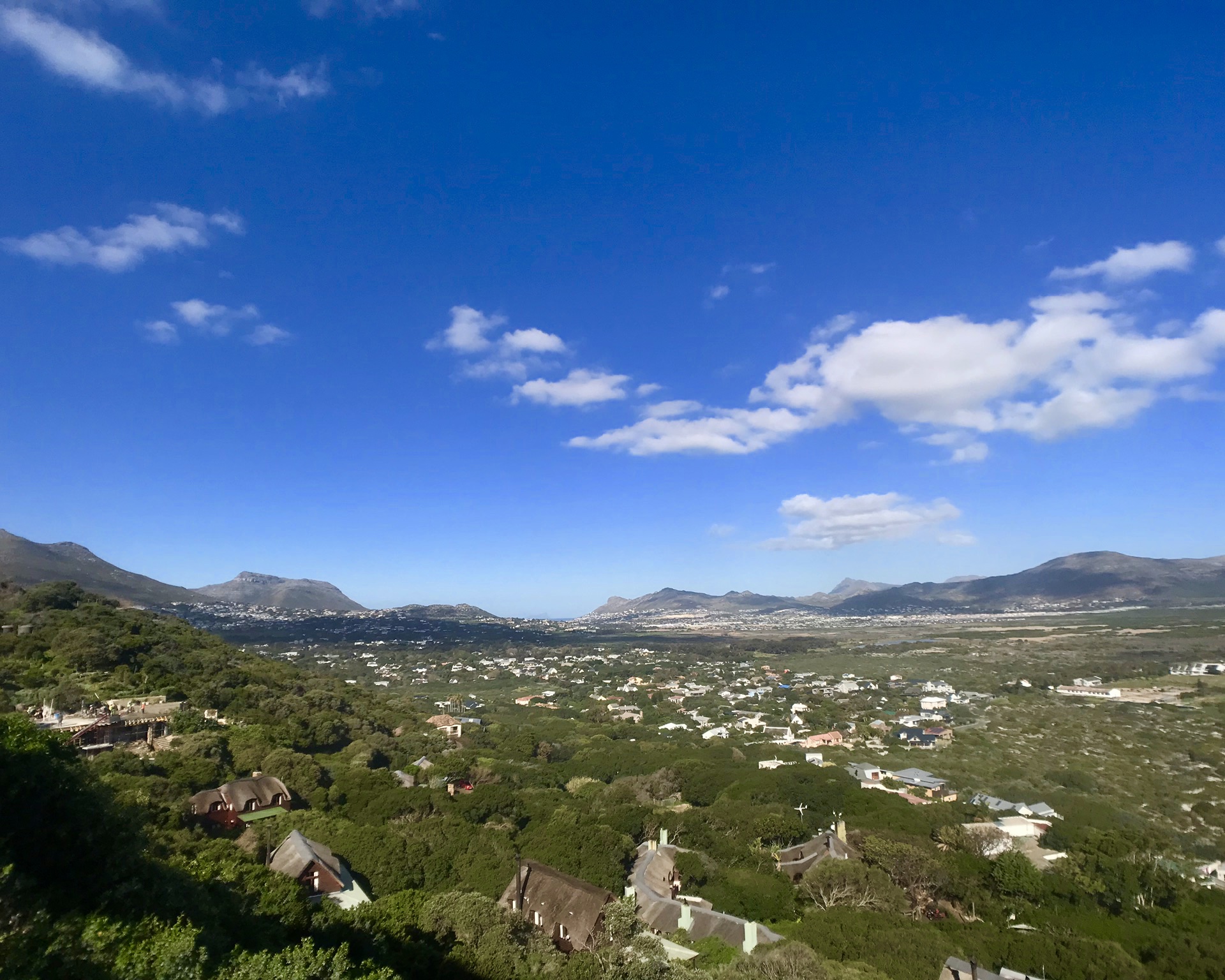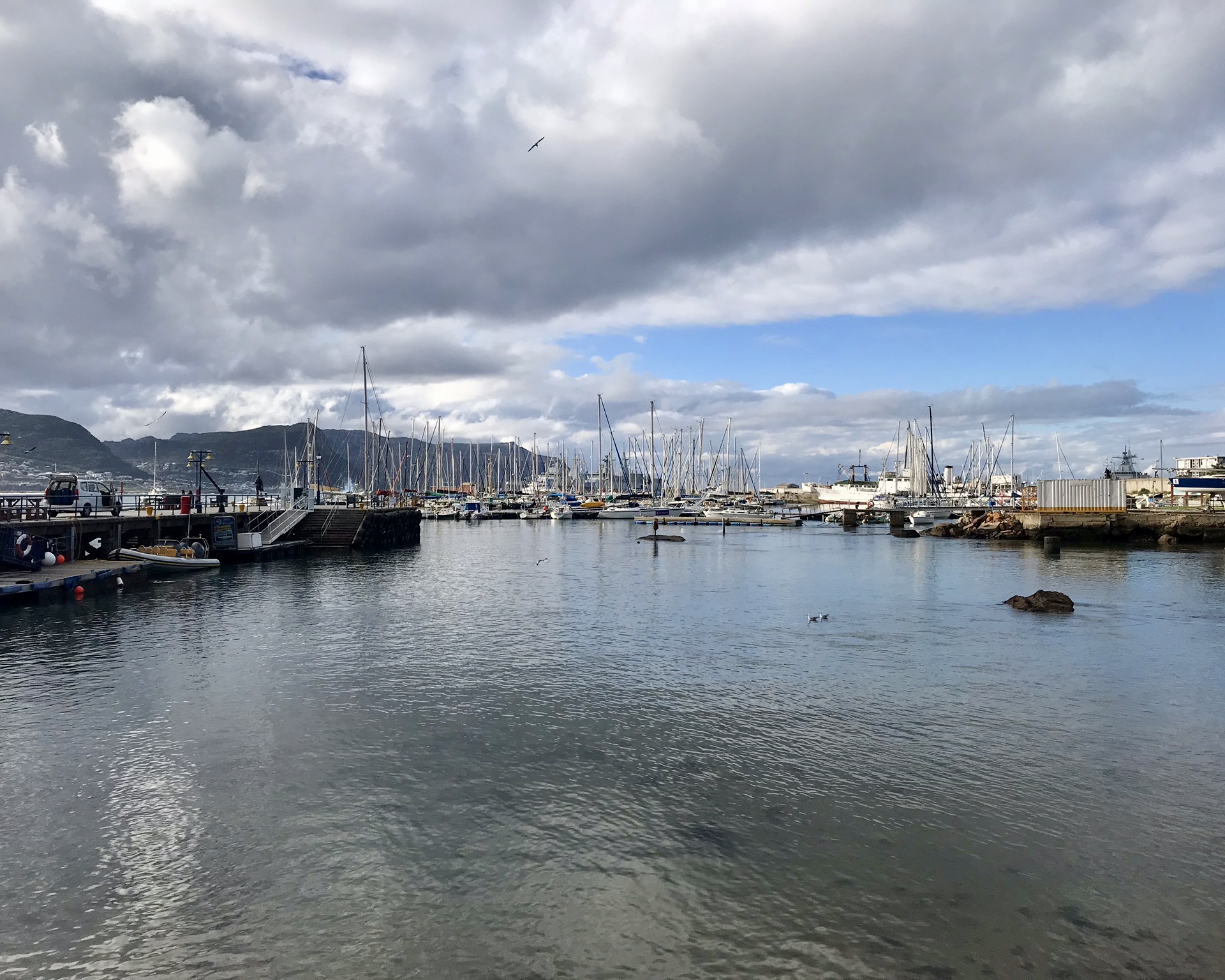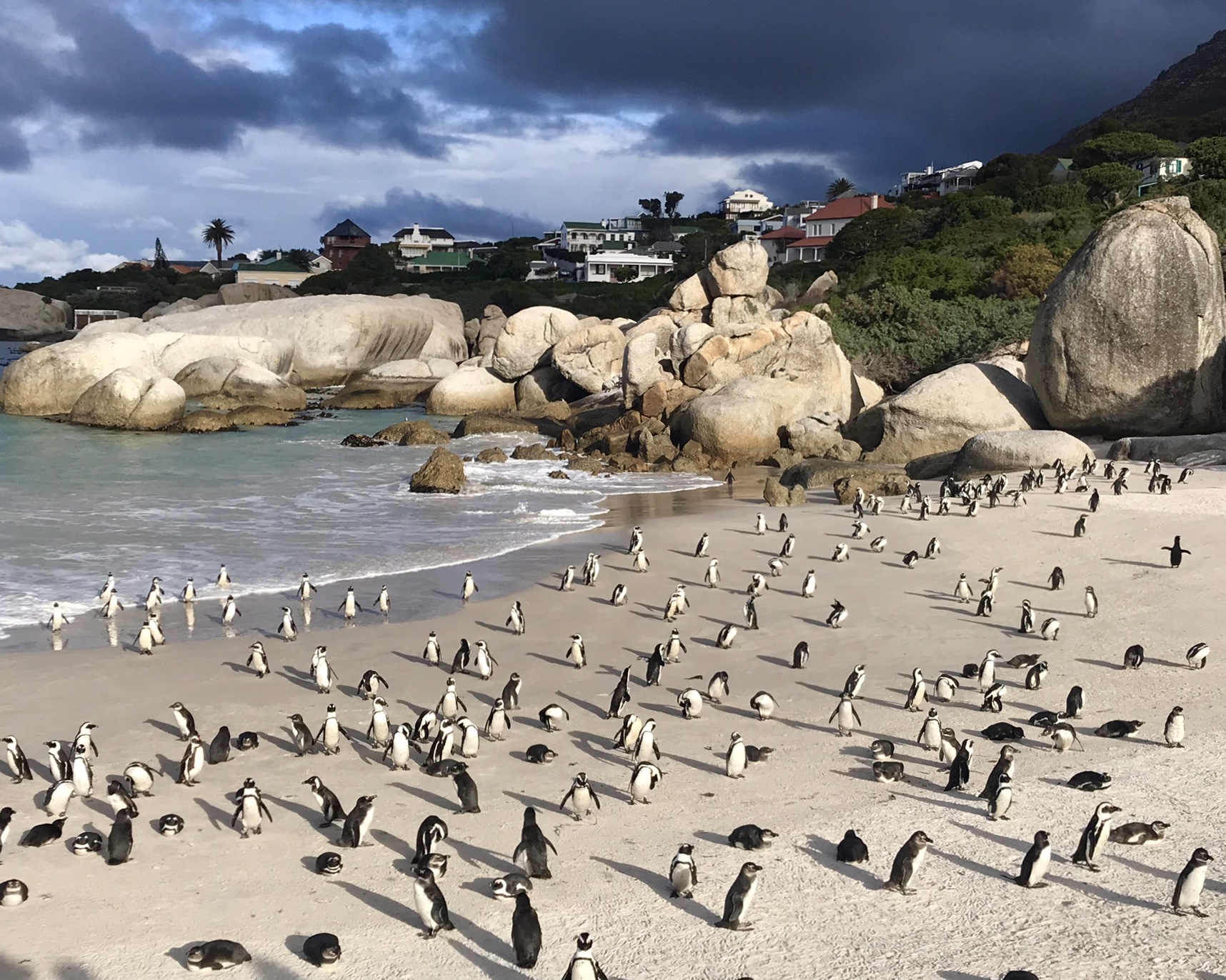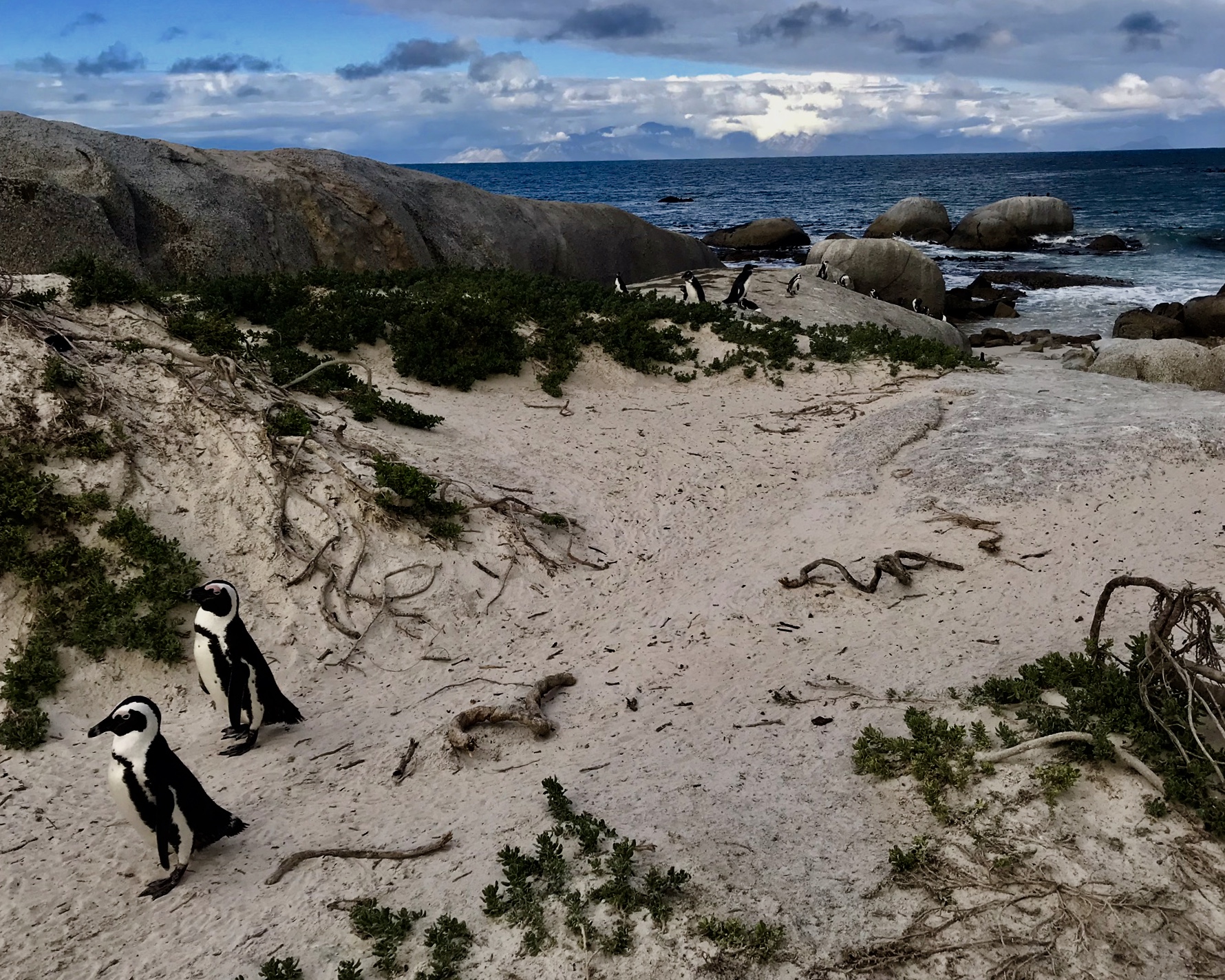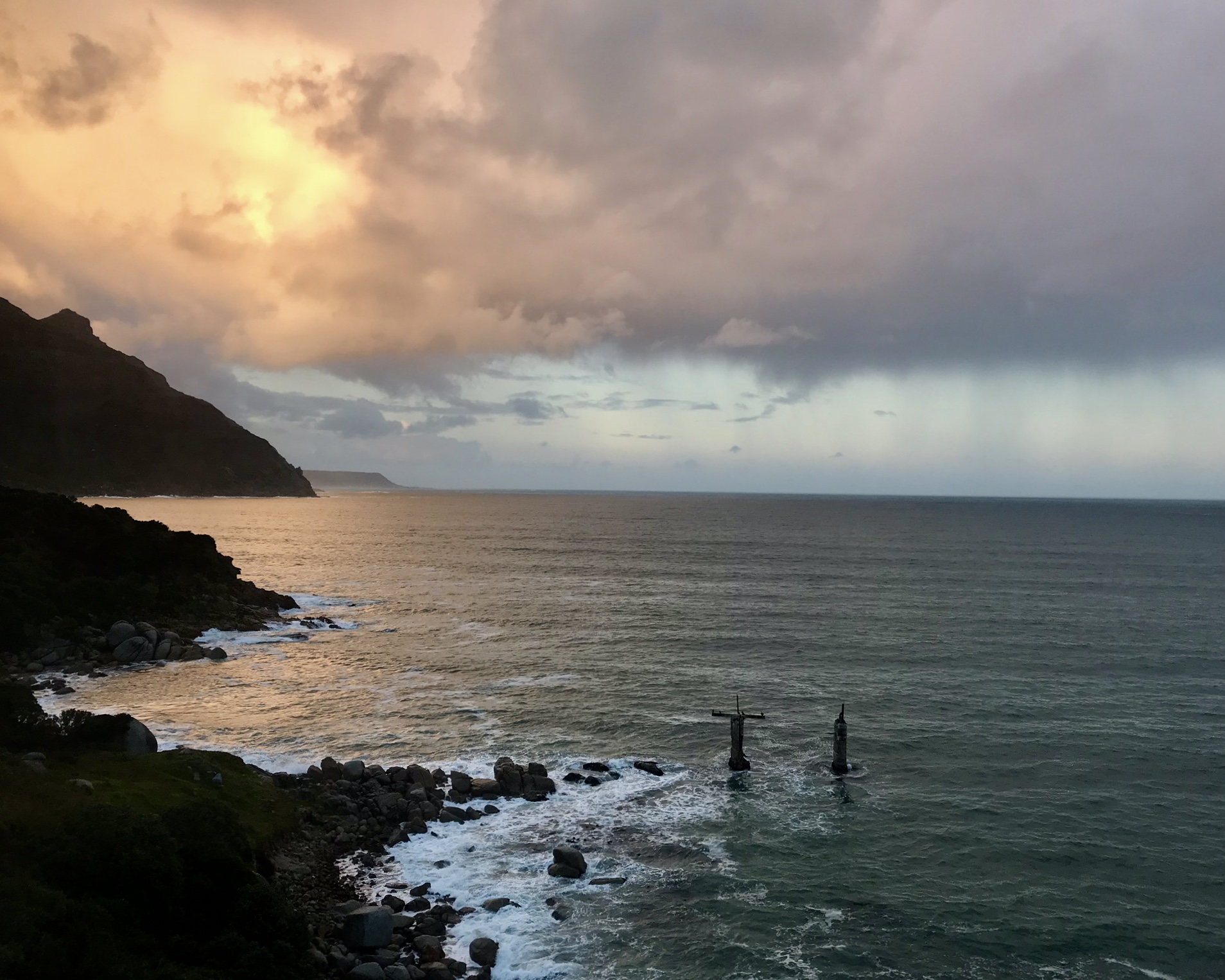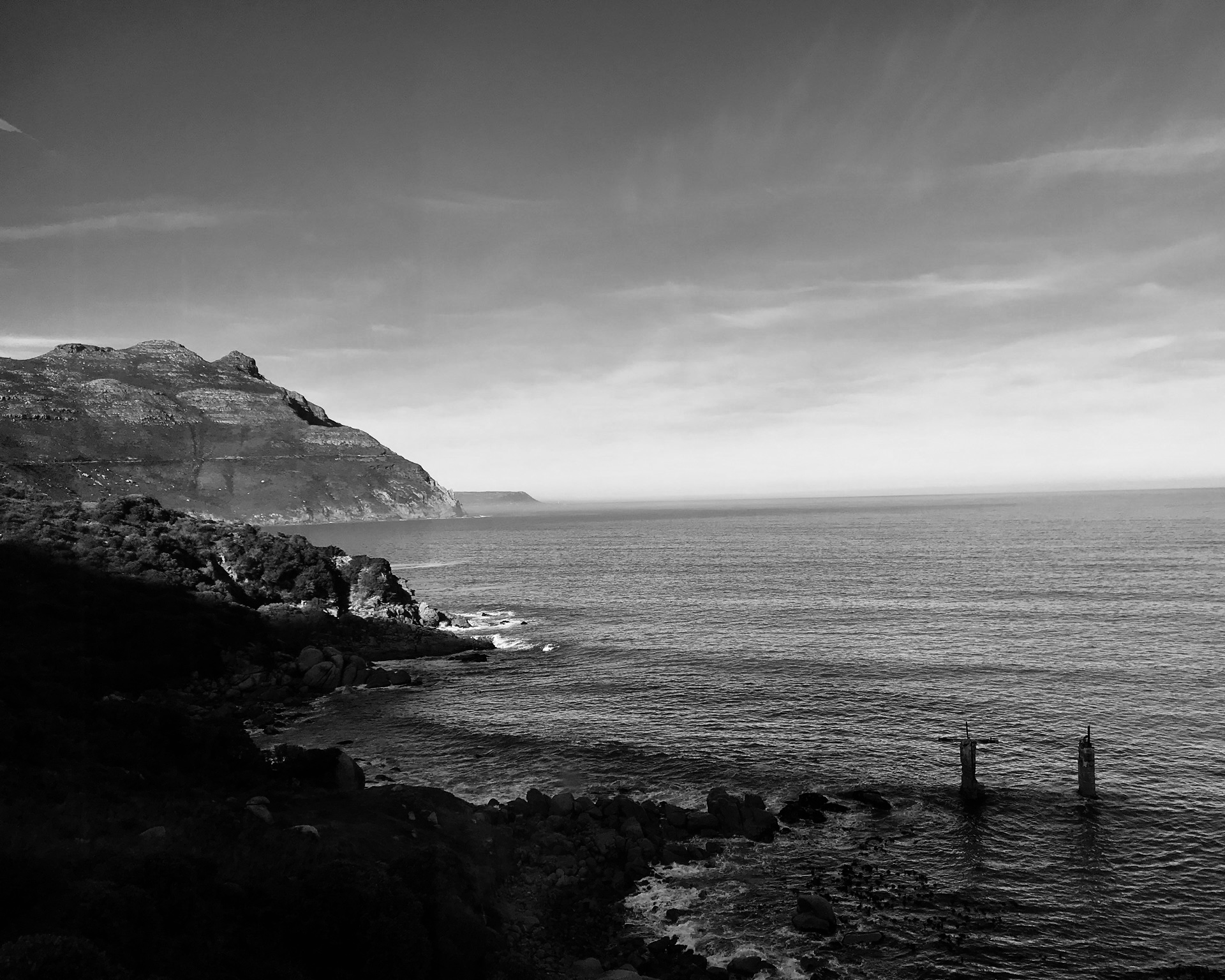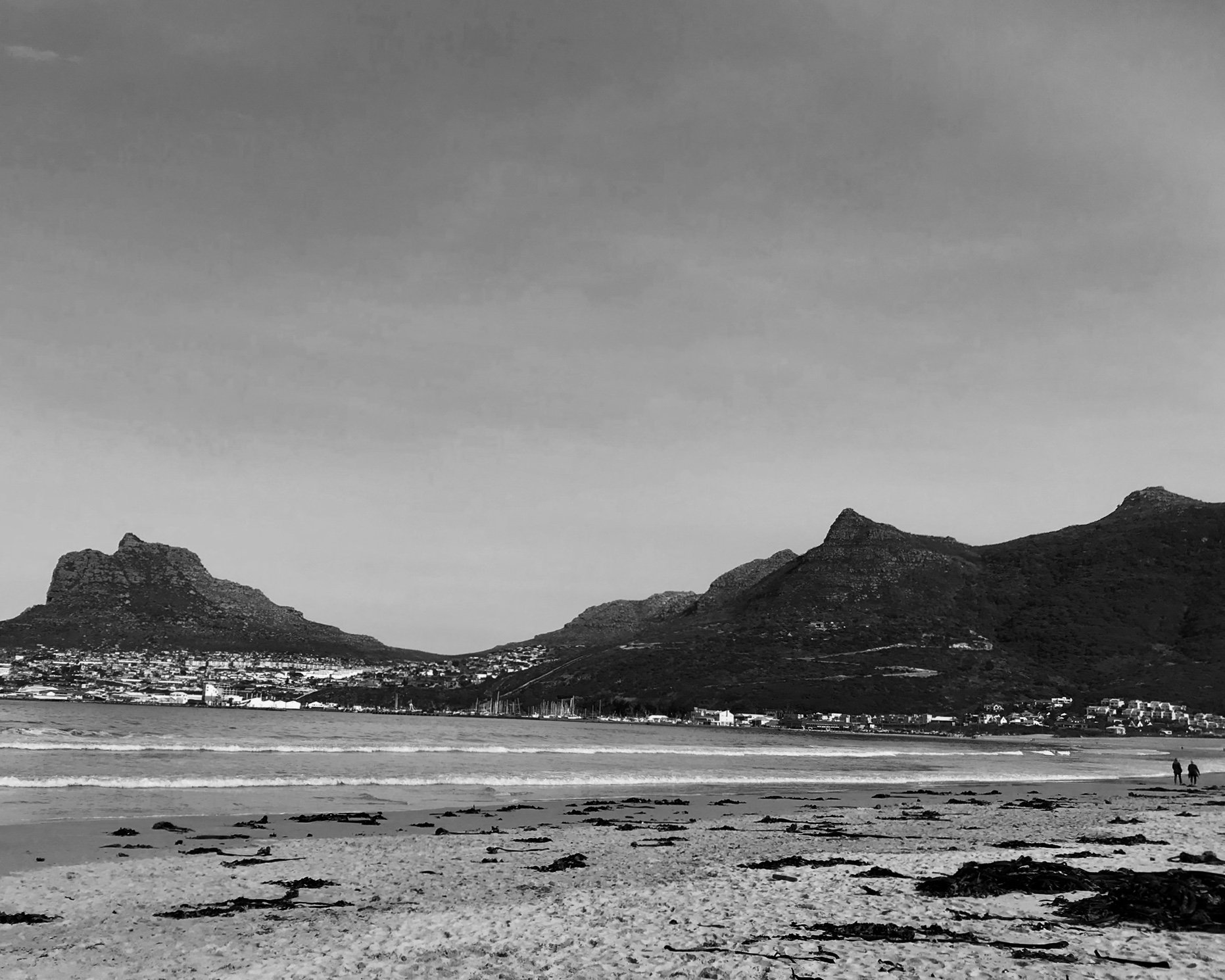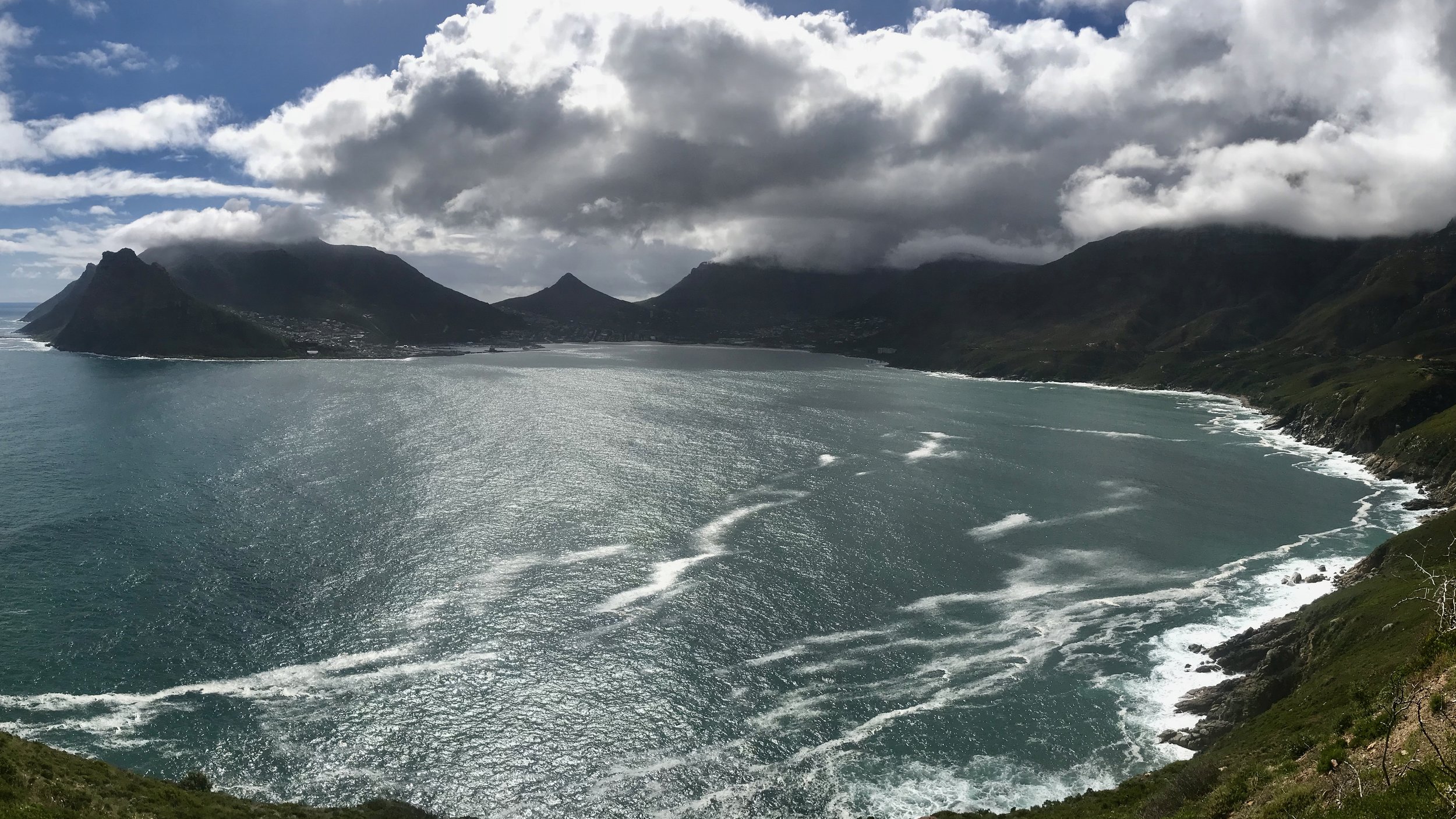 Hover your mouse over the image to see interview quotes and descriptions.